Choate driven to be better for Cardinals in '15
Reliever looking to atone for costly throwing error in NLCS loss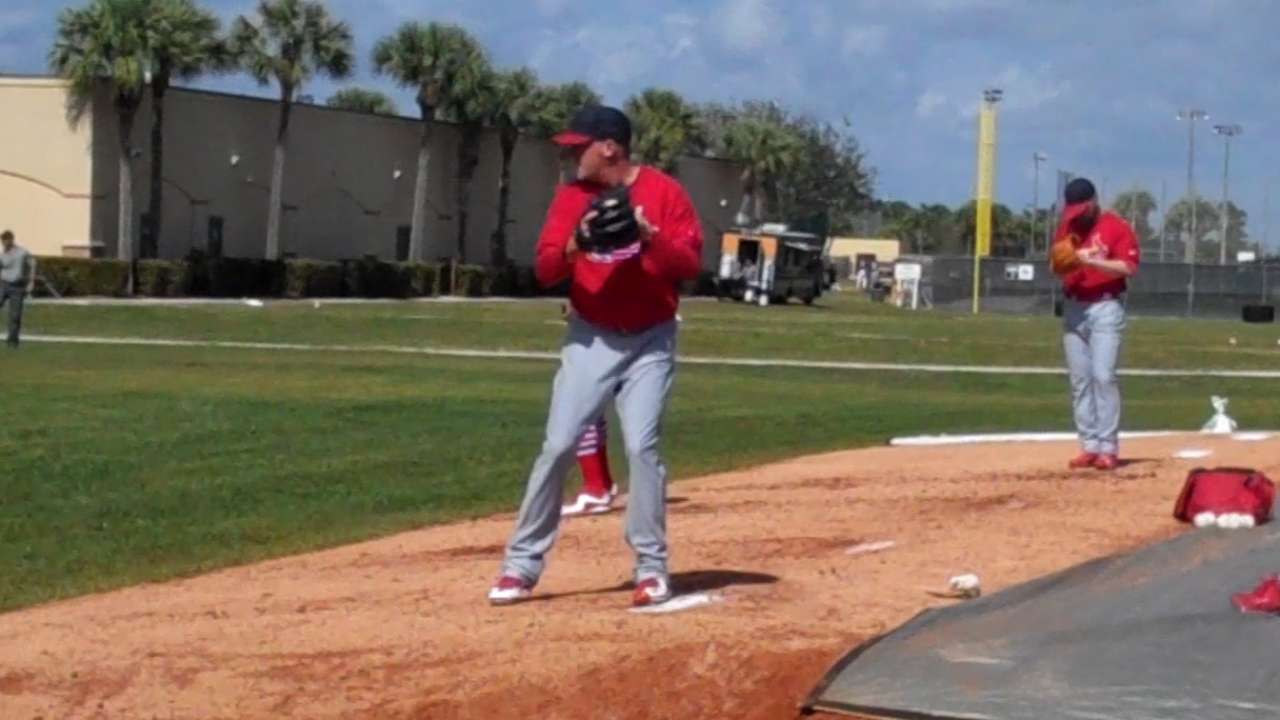 JUPITER, Fla. -- While passing time at his in-laws' home over the Christmas holiday by calling up music on an iPad, Randy Choate's attention briefly drifted elsewhere. He navigated himself to video instead, this one a replay that both hurts and motivates.
The play still nags at the 39-year-old lefty Choate, who wished everyone hadn't tried to make excuses for him afterward. It had nothing to do with Gregor Blanco's speed or the crowd noise or getting caught up in the moment. He simply made a throw wide of first base, one that sailed past Kolten Wong to end Game 3 of the National League Championship Series and set off a San Francisco celebration.
Watching the video later in his Sacramento, Calif., Choate tried to let go of a moment that he doesn't believe should define his career but, in the same breath, still hold to it. That's because it's changed him.
"I think it's part of what drove me to come in here and be a little better," Choate said. "Because when you let your teammates down like that, it just stinks. I don't want to be unprepared."
Choate estimates he watched the replay some 30 to 40 times over a handful of sittings this winter. He watched a second replay almost as regularly, too. That was of his NLCS Game 4 appearance, one which ended with him making a defensive play to stop a rally and preserve a lead.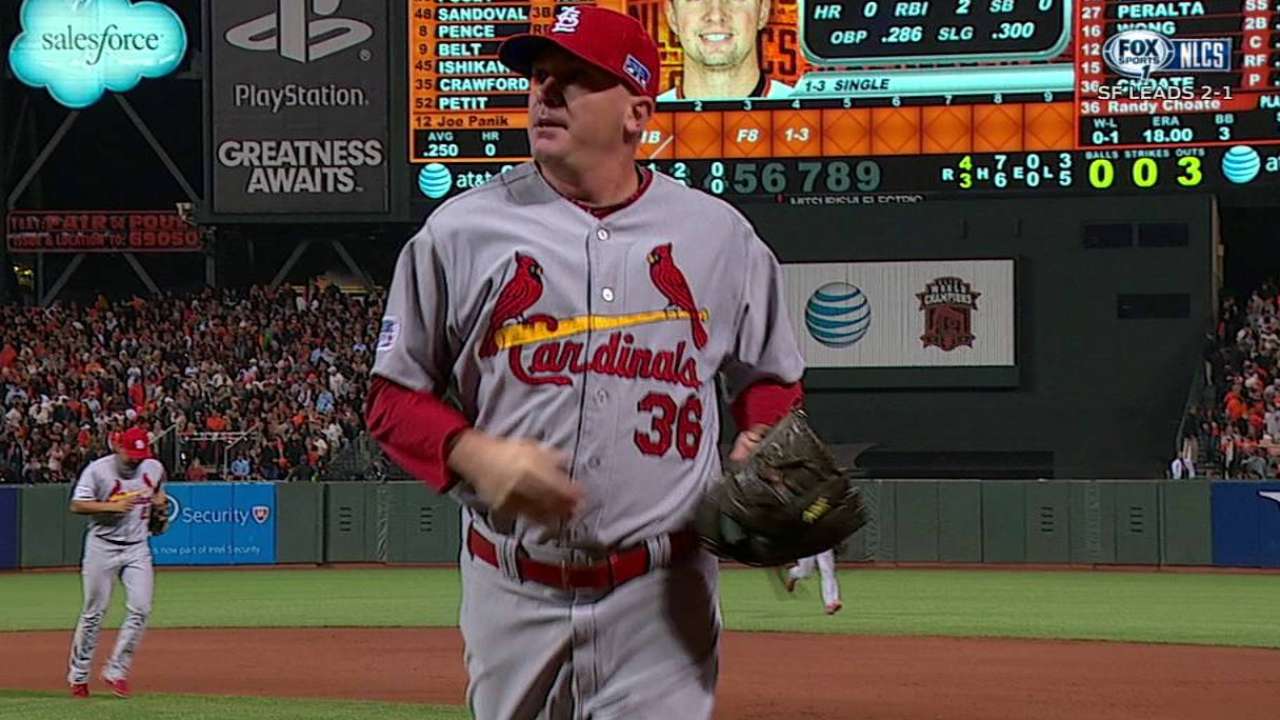 What struck Choate as he replayed that moment wasn't what he accomplished on the field, but the reaction it drew from his teammates.
"It gave me, I don't want to say a renewed love for the game because that's not the right phrase, but it gave me more of an appreciation for feeling like a family in here," Choate said. "These guys knew how tough it was for me in Game 3. The way they know how 3 was and the way they picked me up, Game 4 is just as awesome of a moment as Game 3 was a bad one."
The comments came during a candid Sunday conversation in which Choate admitted to letting frustration with his role affect him too often in 2014. The composition of the Cardinals' bullpen last season didn't allow for Choate to always be held back as a lefty specialist. Instead, he faced more right-handed batters (52) and made fewer appearances (61) than hoped for by the club.
"I think one of the biggest things looking back on it was, I don't think I let myself enjoy it enough," Choate said. "Instead of having a good time, I think I was worried about a lot of things I couldn't control and getting frustrated by them instead of just being myself and letting all of those things take care of themselves."
Part of his re-dedication to having fun involved a commitment to a new offseason conditioning program. He's also encouraged by the message the Cardinals sent with their reliever retooling this winter. The bullpen construction was partially done with him in mind, as St. Louis would like for Choate to shift back to filling a more traditional left-on-left role.
Choate held lefties to a .093/.205/.147 slash line last season.
"It's a great thing for a coach or manager to hear that a guy wants to come in and have a better attitude of how he goes about his work," Matheny said. "He's a guy who wants to throw 162 games, and I have a great respect for that."
Jenifer Langosch is a reporter for MLB.com. Read her blog, By Gosh, It's Langosch, and follow her on Twitter @LangoschMLB. This story was not subject to the approval of Major League Baseball or its clubs.