Inexperienced Jungmann leads Brewers' rotation depth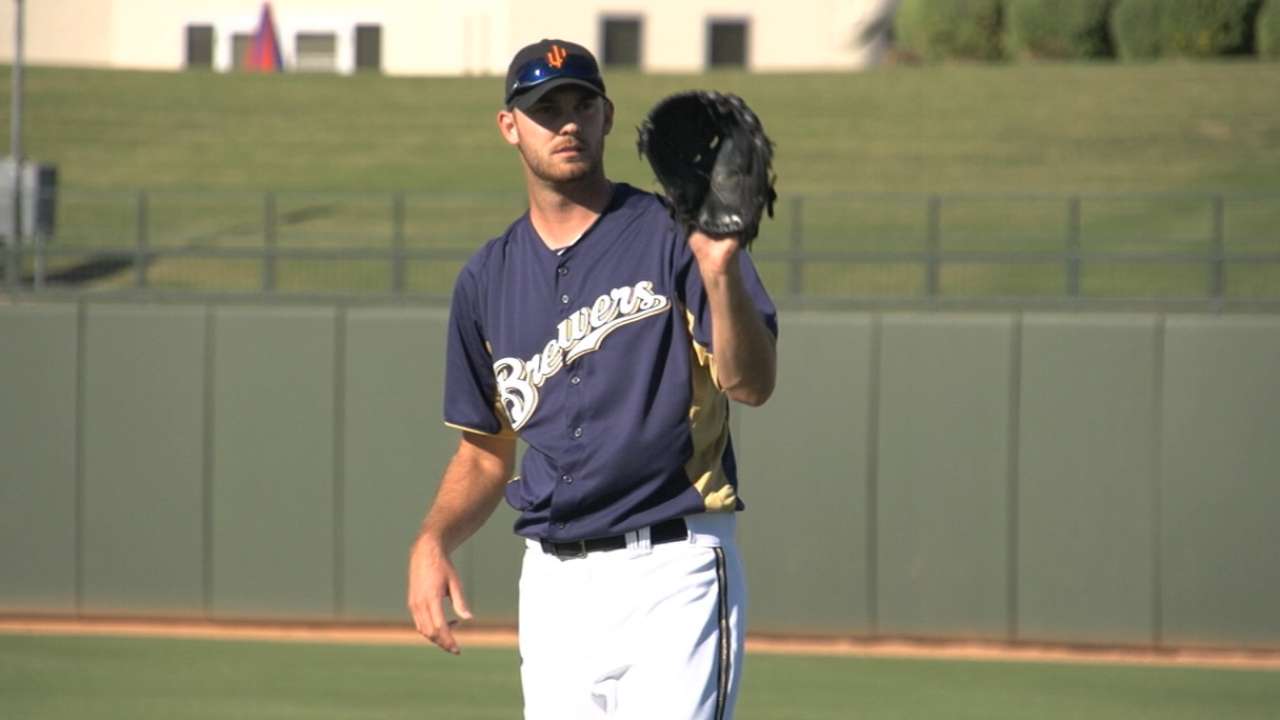 PHOENIX -- Hearing that he's all the way up to No. 6 on the Brewers' starting pitching depth chart did little to move Brewers prospect Taylor Jungmann on Sunday, when the club's pitchers and catchers took part in their first formal workout.
"I haven't thrown a pitch yet for the spring, so I don't think it means a whole lot," Jungmann said.
He hasn't thrown a pitch in the Major Leagues, either, but he's not alone in camp when it comes to light experience. Beyond the five men slated to form the Opening Day rotation, the Brewers have five other pitchers in camp who have started a Major League game, just one of whom (Dontrelle Willis) has any notable track record. Willis has 202 starts to his credit but has not appeared in the big leagues since 2011. The others are Will Smith (17 starts), Tyler Thornburg (10), Johnny Hellweg (seven) and Neal Cotts (five).
At the moment, right-handers Jungmann and Michael Blazek are the Brewers' top backups, though Blazek said he'd yet to be informed of the Brewers' plan to use him as a starter. He finished last season in the Triple-A rotation and prepared over the winter as if he'd stretch out again this year.
General manager Doug Melvin has said he is on the lookout for depth. Manager Ron Roenicke also suggested the Brewers would be open to pulling a pitcher from what should be a prospect-rich Double-A Biloxi staff, should the need arise.
"We've talked about it," Roenicke said. "[Melvin] knows that's always an area we'd like to have as much depth as we can."
The Brewers could increase their options by building up Thornburg's pitch count this spring. He began last season as Milwaukee's long reliever but pitched himself into a setup role before suffering a season-ending elbow injury.
"I'll talk to Thornburg and we'll get a plan on what he feels like," Roenicke said. "That conversation we're going to have in a meeting with all the guys, and that will be in a couple days. I don't want to tell you something when I haven't talked to him about it.
"We're hoping he'll be OK. That's why the conversation needs to happen; we need some input from him. When you talk about injuries and things, there's always the debate on what is truly easier on a guy physically. Is it just physically easier going an inning, and knowing you might have to do it the next day and the day after? Or is it being a starter, where you have all this time off and you know everything prepares for this one day? It's different with different people."
Last season, the Brewers employed seven different starting pitchers, and that was in a largely healthy year. That means Jungmann is well-positioned for a Major League debut.
"I definitely think I'm ready for it, but that's not my decision," said Jungmann, who found Triple-A success late last season after moving to the third base side of the rubber. "I don't have anything on my mind right now [other than] working on a few little things and getting better at those every day."
Adam McCalvy is a reporter for MLB.com. Read his blog, Brew Beat, and follow him on Twitter at @AdamMcCalvy. This story was not subject to the approval of Major League Baseball or its clubs.