Dodgers add reliever McGowan to pitching ranks
Versatile right-hander signs one-year deal; righty Beachy placed on 60-day disabled list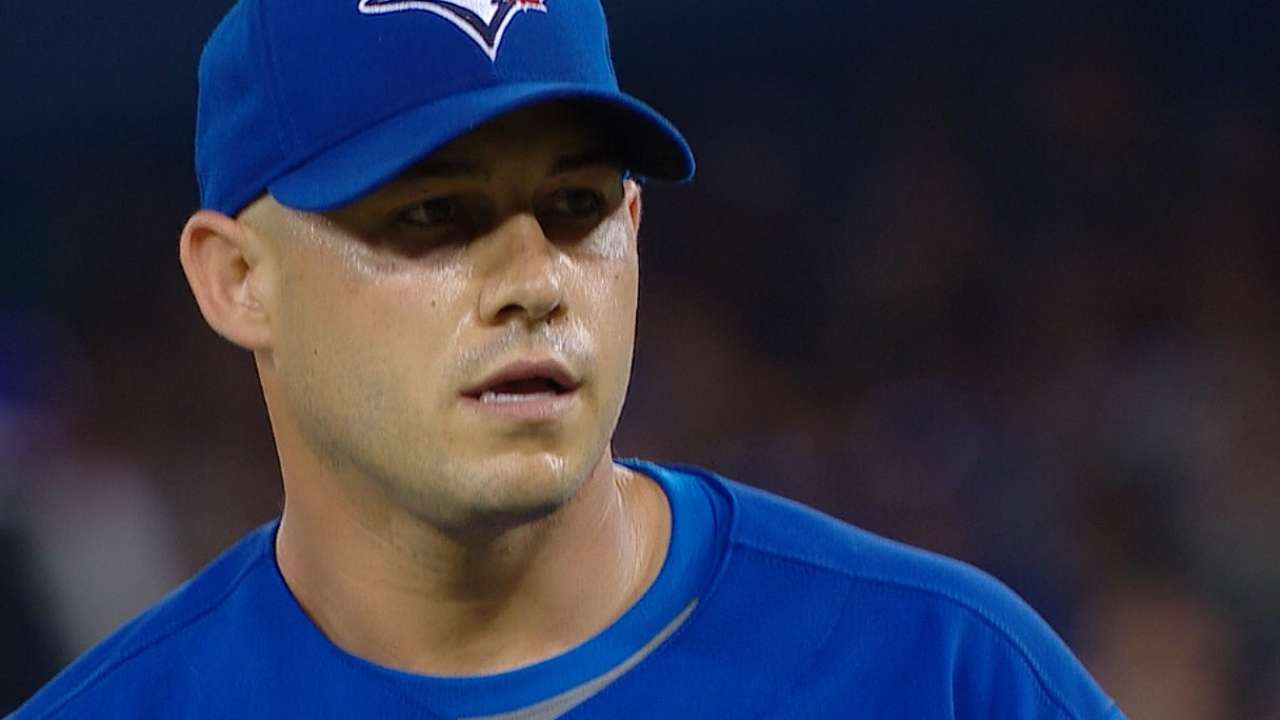 GLENDALE, Ariz. -- The same day that Kenley Jansen hobbled into the clubhouse on crutches, free-agent reliever Dustin McGowan joined the Dodgers, and that's no coincidence.
"It came together pretty quick," said the former Blue Jays right-hander, who officially signed a one-year contract that could pay as much as $3 million.
To make room on the 40-man roster, the club placed newly signed pitcher Brandon Beachy on the 60-day disabled list. Beachy, who is recovering from a second Tommy John surgery, is not expected to be ready until the All-Star break.
McGowan will wear uniform No. 27, previously worn by Matt Kemp.
McGowan, who turns 33 next month, went 5-3 with a 4.17 ERA in 53 appearances (eight starts) for Toronto last year. He joins the mix as the Dodgers piece together a bullpen that will be without closer Jansen for two to three months after his left foot surgery last Tuesday.
McGowan knows all about surgeries and physical ailments. He said he's been healthy for the last 2 1/2 years after this stunning rundown -- three shoulder operations (rotator cuff and labrum), knee surgery, Tommy John surgery, plantar fasciitis, an oblique injury and Type 1 diabetes.
"That's all made me who I am today," McGowan said. "I'm better mentally, and it's made me a lot tougher. Physically, I'm not 24 anymore, but I can still get it up there."
The Dodgers sort of rescued McGowan, who said the phone hadn't been ringing much after he was bought out of his option by Toronto. But after he was moved from the rotation to the bullpen last year, his fastball increased to the mid-90s.
Manager Don Mattingly said McGowan's "power stuff" makes him "another guy with high upside that gives us another option as we evaluate where we're at."
McGowan said starting "is in the past for me. It didn't work out. I had a hard time recovering after the surgeries. The shorter outings, less pitches [have yielded] better velocity, because I don't have to pace myself like a starter when you can't go full throttle. Now it's one inning and let it go."
McGowan is part of a group of new right-handed relievers -- Joel Peralta, Chris Hatcher, Juan Nicasio among them -- joining returnees Brandon League and Pedro Baez. Also among the mix are non-roster invitees David Aardsma and Sergio Santos.
Ken Gurnick is a reporter for MLB.com. This story was not subject to the approval of Major League Baseball or its clubs.