Brave words: Sunday, Feb. 22
Interesting quotes from Atlanta's Spring Training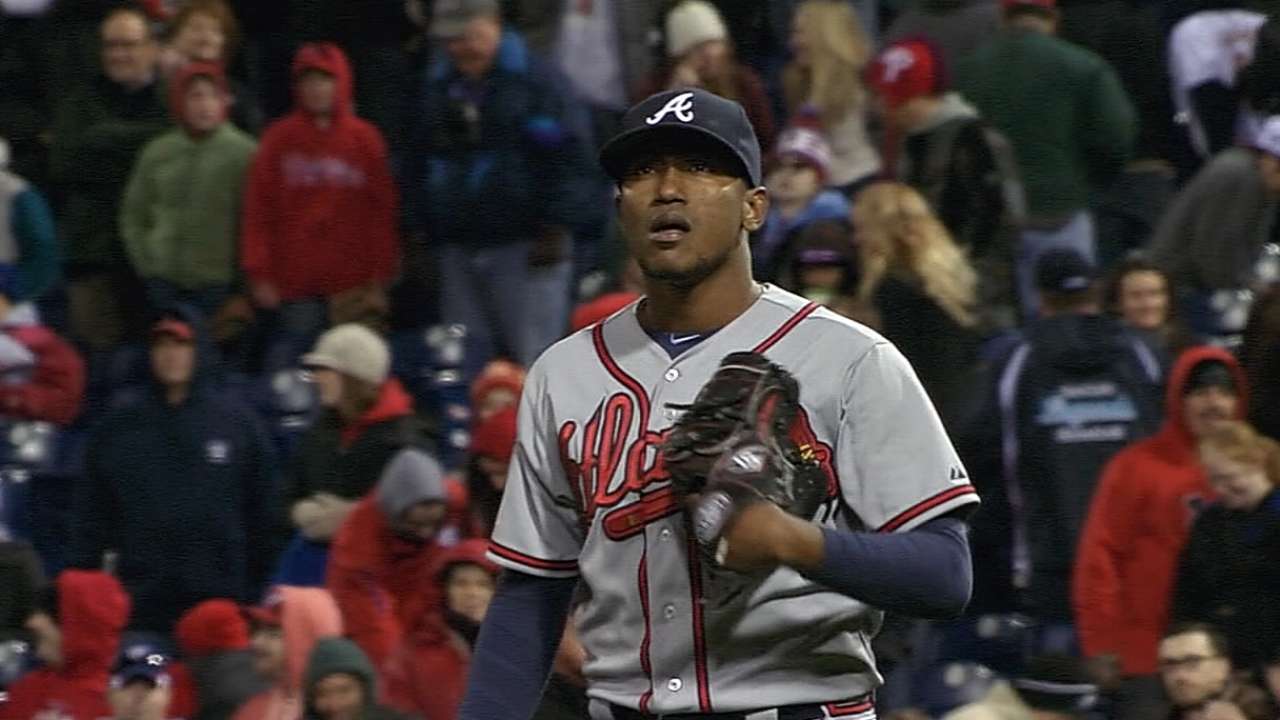 LAKE BUENA VISTA, Fla. -- During the first two days of Spring Training workouts, the Braves have had a chance to get at least one look at the pitchers and catchers they invited to Major League camp. The only no-show as of Sunday was non-roster catcher Jesus Flores, who has not obtained the visa necessary to enter the United States.
Braves manager Fredi Gonzalez and some of the club's executives seem pleased with the energy that the players have created during the camp's early days. Here are a few of the interesting things that were expressed on Sunday.
Gonzalez on what he has seen thus far from Mike Minor, who impressed in 2013 and then endured a disappointing '14 season while battling left shoulder discomfort
"There's no doubt in my mind that he's going to be [like he was in '13]. Everybody has a bad year for many, many reasons. There's no doubt we're going to see the Mike Minor of the 2013 season. There was a time in '13 that he was the guy you wanted on the mound. He pitched Game 2 (of the National League Division Series) and if we would have extended that series, he would have pitched the deciding game back home."
Veteran reliever Jason Grilli's thoughts about entering Spring Training with the Braves, his 11th organization since making his pro debut in 1998
"It's about persevering. It's about wanting to put this uniform on every day and grind through a whole big league season from Spring Training until postseason. It's no different to me. A lot of these guys are still trying to get their feet wet, make their mark and establish themselves as a bona fide big leaguer. This is a blessing to do this every day and put one of these big league uniforms on every day with your name and the team you're playing for."
Gonzalez on the youthful excitement Grilli has brought to camp
"He's out there at 38 years old, and he's bouncing around and keeping energetic. If you're a veteran guy in camp seeing this veteran guy who has done some stuff and been on some championship teams and he's doing his work like you're supposed to, what are the young kids going to do? I've got some history with Jason going back to our days with the Marlins, and that is who he is."
Gonzalez on the veteran catchers -- A.J. Pierzynski and John Buck -- that were targeted to help Christian Bethancourt get ready to serve as Atlanta's primary catcher
"When we were pursuing them, we asked them if they could be mentors. It's funny because both of those guys could be mentors. And if something doesn't go right or we feel Christian is not ready, both of those guys can dial up 120 games behind the plate if you needed them to. It's not like you have strictly backup guys that if something goes wrong with your starter, you're thinking, 'Oh no, this guy isn't going to be able catch.'"
Pierzynski when asked whether he was further encouraged by the moves the Braves made after he opted to sign with them in December
"I said from day one that I wanted to come here and play. I've been saying that my whole career. Anyone who knows me, I grew up a Braves fan, and living in Orlando with Braves Spring Training here is huge. There was never a point where I was worried about the moves they made. I've known [president of baseball operations] John Hart for 25 years. So, I know he's going to make moves to help the team. I always knew John had a plan. We talked about it before I signed here and after I signed here. So, there was nothing I was ever worried about."
Mark Bowman is a reporter for MLB.com. This story was not subject to the approval of Major League Baseball or its clubs.