Harvey throws first bullpen, feels like he 'never left'
After Tommy John surgery, ace now pitching on regular program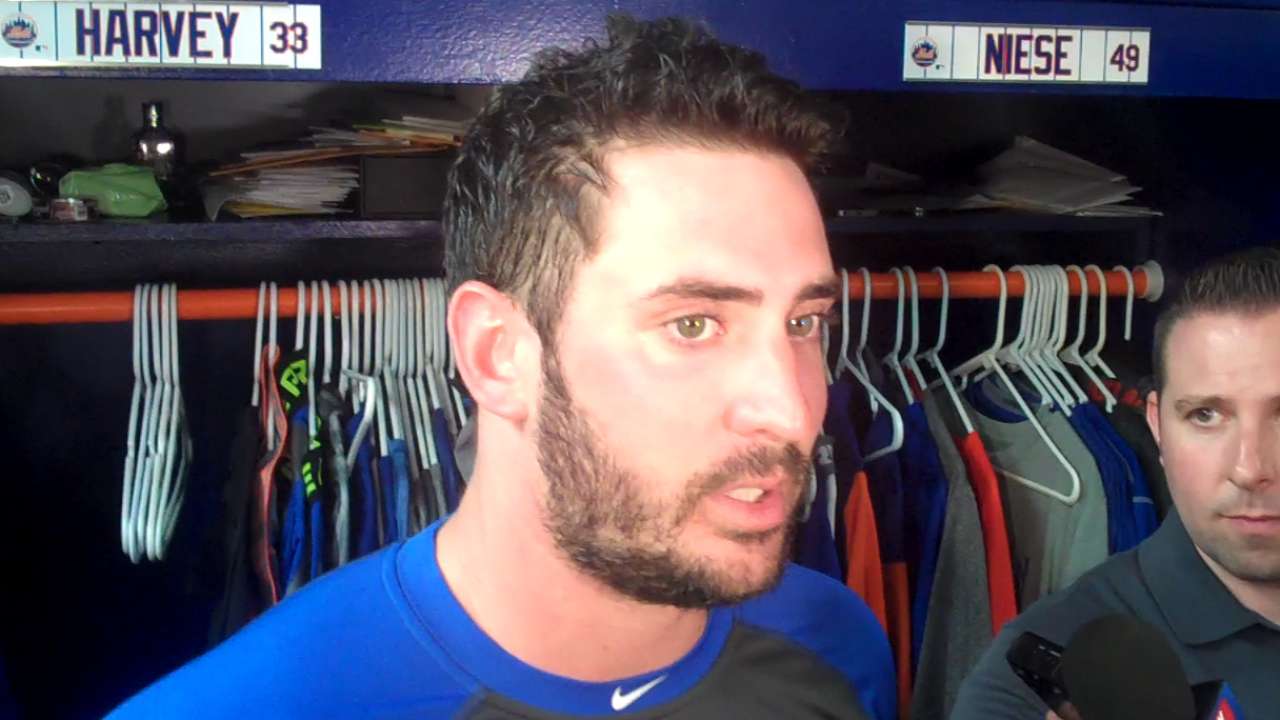 PORT ST. LUCIE, Fla. -- As most of the organization's brass gathered behind him, Matt Harvey climbed atop a mound on Sunday, surrounded by teammates, to throw his first official bullpen session of spring. In zipped a fastball as cameras beeped and clicked. In came a slider. In came a fastball, and so on and so forth.
Then off walked a satisfied Harvey. Though the former All-Star began throwing bullpens shortly before the start of camp, this was his first session since organized workouts began.
"The elbow feels great," he said. "Picking up the ball, it's like I never left. I honestly forget that something happened."
Tommy John surgery did happen, of course, and 16 months later the Mets haven't forgotten. As general manager Sandy Alderson noted last week, the Mets will be somewhat careful with Harvey over the seven weeks of Spring Training. He may lag a few days behind other pitchers when it comes to throwing live batting practice, though that could still occur as soon as this week. He may not start one of the very first games of the regular season, even if manager Terry Collins expects him to pitch in one of the first five.
Yet for all intents and purposes, Harvey is now a regular pitcher on a regular program. Sunday's session was the latest evidence of that.
"It's just great to see him back out there," Collins said. "When you have your No. 1 guy, to get him back on the mound after you haven't had him for a year, it means a lot. When we talked at the end of the year about what our expectations are for this year, a lot of it was based on the fact that he's back.
"It doesn't look like he missed much of a beat. Watching the command of his fastball, he was working both sides of the plate like he's hardly missed anything. Great mechanics. So it's going to be exciting to see Matt when he starts to compete, because that's what makes him special. For me, that's what separates Matt from other guys with great stuff, is that competitive nature that he has."
Anthony DiComo is a reporter for MLB.com. Follow him on Twitter @AnthonyDicomo. This story was not subject to the approval of Major League Baseball or its clubs.