Wright making adjustments to maintain his health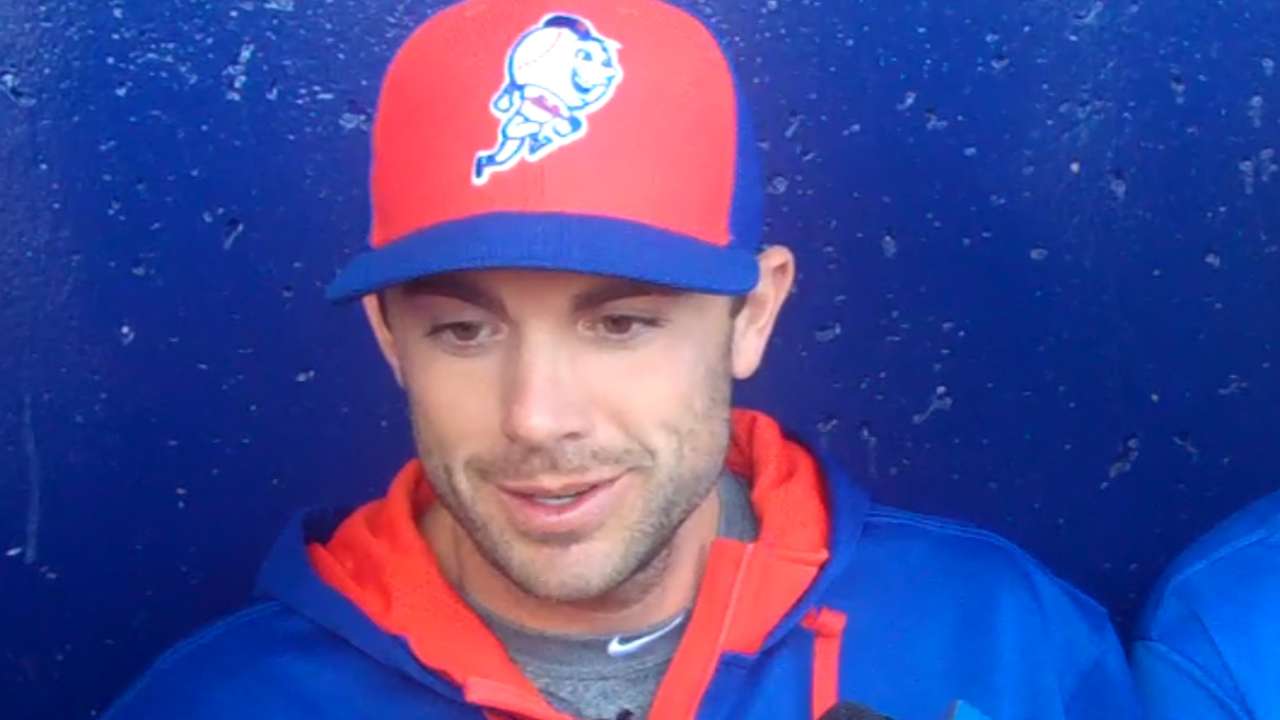 PORT ST. LUCIE, Fla. -- As other, mostly younger players scurried about on Sunday, clutching plastic plates of chicken, rice, beans and plantains, David Wright stepped out of Tradition Field's clubhouse kitchen carrying a metal bowl filled to the brim with greens. "Looks delicious," Wright said as he searched for a place to sit.
The Mets' most important player knows he cannot eat like he did a decade ago, among other things. Wright is also vowing to stop sliding head-first into bases, as well as promising to listen when manager Terry Collins suggests a night on the bench.
With the Mets carrying more potential into this season than at any point over the past half-dozen years, Wright must prove the career-low numbers he posted last summer -- a .269 average, eight home runs and a .698 OPS -- were more due to his inflamed left shoulder than to any effects of the aging process. He must transition back into a middle-of-the-order presence for a club that relies on him.
Wright may never return to the heights he reached from 2005-08, reveling in life as one of the game's best players. But the Mets still need him to be a star.
"I know that if I go out there and do what I'm capable of doing, we're a better offense," Wright said. "There's no question about that. If I do what I did last year, we're going to be not as good."
Those capabilities hinge on his left shoulder, which he insists is currently giving him "zero concern." For months last year, Wright played with discomfort in the joint, finally shutting down for the season with three weeks to go. Even today, Wright refuses to use his injury as an excuse, saying that when he is in the lineup, he expects to be productive. And even Wright cannot say for sure how much of his struggles were due to the inflammation.
But it's clear that a healthy Wright will be a better Wright, as his margin for error in other areas diminishes. At 32, he is entering a time when many players -- particularly hitters -- tend to see their stat lines wane. Already, Wright is no exception. Over the first five years of his career, he posted a .309 batting average, a .389 on-base percentage and .533 slugging mark. In the six years since, he has slashed .289/.366/.460.
For how many of those games Wright was unhealthy is impossible to say. But after avoiding the disabled list for each of those first five years, Wright has landed there three times since. It would have been four had the Mets not had the luxury of an expanded roster last September.
It was a concussion in 2009, courtesy of a Matt Cain fastball to the helmet. Two years later, Wright suffered a stress fracture in his lower back and missed two months. The third baseman played through a fractured pinkie the following year, submitting his best half-season in recent memory, before landing on the DL again in '13 with a strained right hamstring. And then the shoulder inflammation last summer.
Consider the hamstring injury Exhibit A of what to avoid. After straining the muscle, Wright insisted on continuing to play, until by doing so he tore the muscle further. That is who Wright is and part of what makes him successful.
It is also what threatens to be his undoing.
"I've shown throughout this period that I'm pretty resilient," Wright said. "If I can go out there and play, I'm going to go out there and play. But it probably is to the point where, realistically, it's probably not in my best interest or the team's best interest to play 162 games."
That's easy to say now, of course, with the heat of competition still six weeks and thousands of miles in the future. But it is important. And Collins understands he is the one who must enforce it.
"I don't expect him for one second to speak up," Collins said. "But this year, he's going to need that time off."
Anthony DiComo is the Mets beat reporter for MLB.com. He has been covering the team since 2010.
This story was not subject to the approval of Major League Baseball or its clubs.