Developing secondary pitches is Eovaldi's spring goal
'Sky is the limit' with Yankees for high-potential right-hander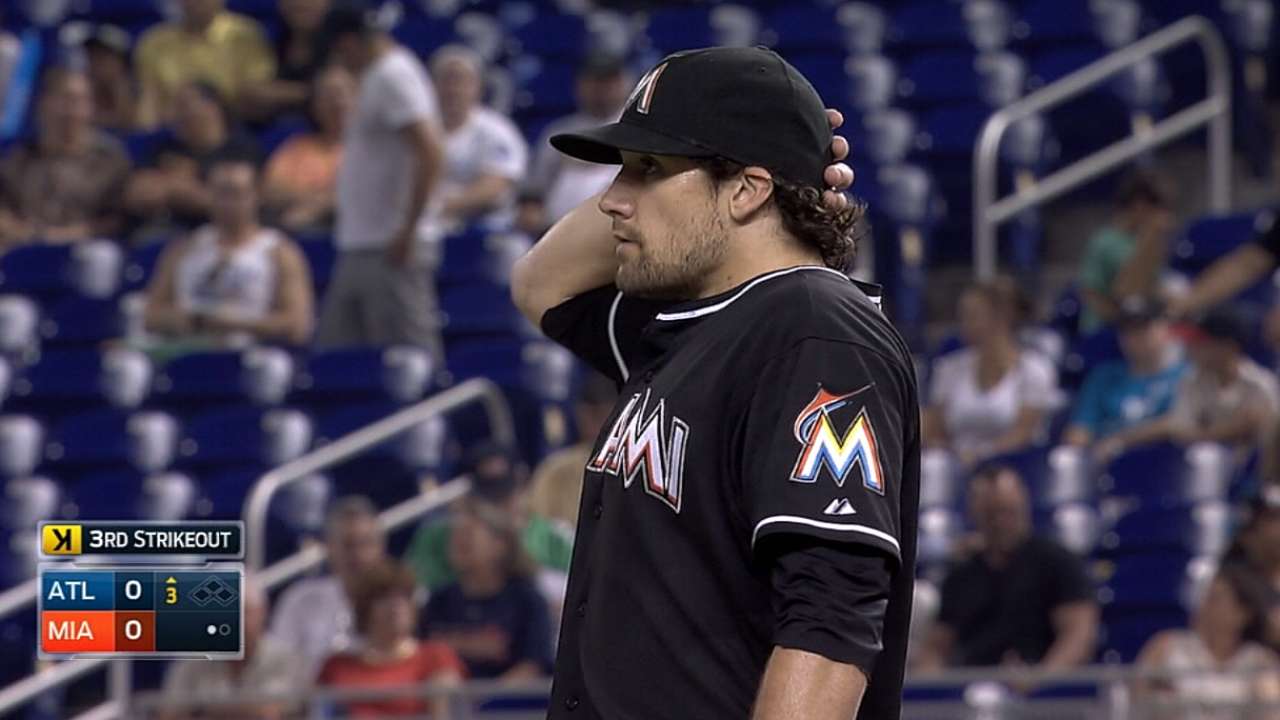 TAMPA, Fla. -- Nathan Eovaldi's fastball sizzled as advertised on Sunday, missing bats in a simulated game at George M. Steinbrenner Field. The first-year Yankee hopes that his electric stuff will translate into strikeouts against the tough lineups of the American League East.
Eovaldi popped the catcher's glove in a 25-pitch morning session that was closely tracked by manager Joe Girardi and pitching coach Larry Rothschild, among others. Eovaldi's goal this spring is to complement that high-octane heater by fine-tuning his splitter, slider and changeup.
"That's one of the big issues I've had, is not being able to finish the batters and trying to do too much," Eovaldi said. "I've got to have better consistency of the offspeed pitches. I think that split is going to help out a lot."
Despite a fastball that ranked fourth in velocity (95.7 mph) among qualified big league starters last year, according to FanGraphs.com, Eovaldi permitted a National League-leading 223 hits with just 142 strikeouts in 199 2/3 innings.
Eovaldi completed the season with a 6-14 record and a 4.37 ERA, and he was swapped to New York in a five-player December deal. Yankees executives are intrigued by his potential, as well as the durability he has already shown in eating innings.
"We've talked about developing his repertoire and having him establish confidence in all his pitches in all the counts," Yankees manager Joe Girardi said. "It's one thing to have three or four pitches, but it's another thing to have the confidence to throw them at any time."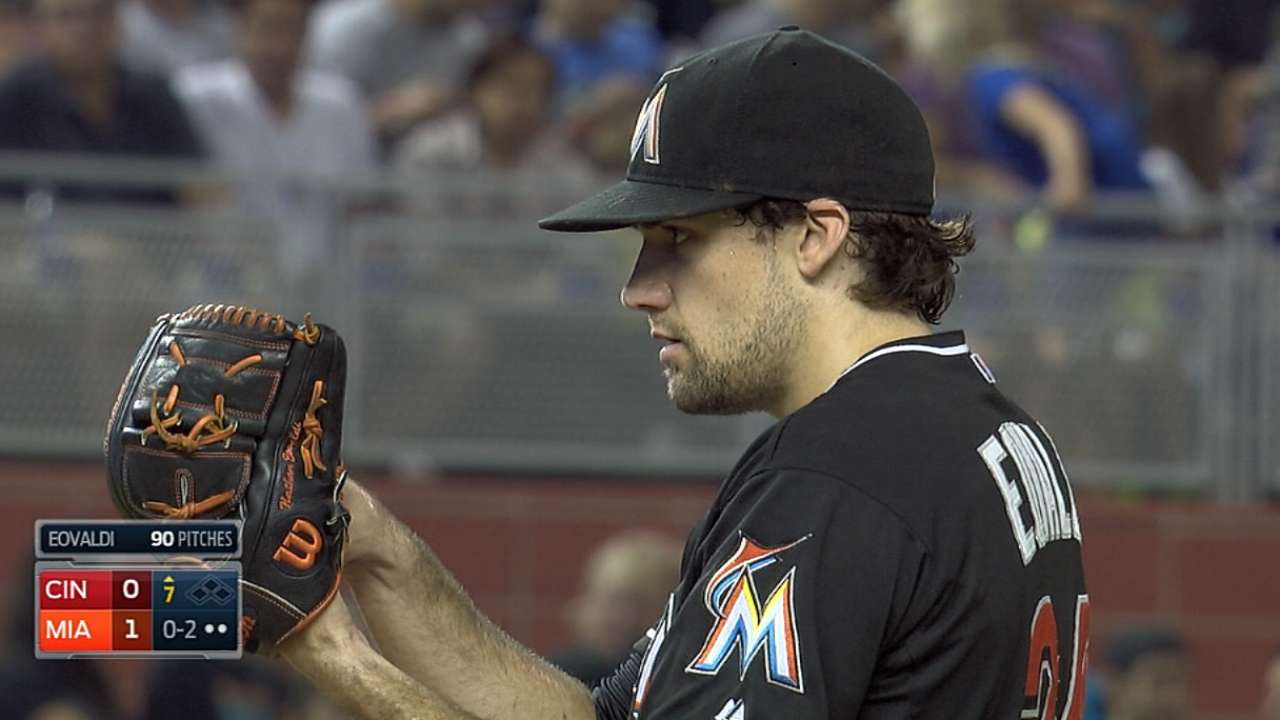 The 25-year-old Eovaldi said that he and Rothschild have been working on a tendency to rush to the plate, as well as that splitter, which he picked up from Marlins pitching coach Chuck Hernandez and showcased during his last two starts with Miami.
Eovaldi said that his high hit total from last season was largely due to missing spots and falling behind in counts with his offspeed pitches, then having to rely on his fastball to get back in the count.
"It's just getting ahead, pitching efficiently," Eovaldi said. "You don't want to go out there and [throw] curveball, curveball, curveball, you're 3-0. You've got to be able to get back in the count, stay ahead, command the count."
Yankees catcher Brian McCann spent part of the winter reviewing video of Eovaldi's starts, and he believes the team is looking at someone who will fit at the top of a big league rotation in future years.
"His ceiling is as high as it can be," McCann said. "You throw 96 mph and you're an uncomfortable at-bat. Then you start learning the ins and outs of pitching, what you can and can't do in certain situations, and when to elevate, when not to elevate, when to bounce a slider. You learn those things, with his stuff, I think the sky is the limit."
Eovaldi is looking forward to working with McCann, and he said that he is "super excited" to take on those levels of expectations.
"The Yankees are rebuilding in a way; a lot of guys are leaving, and we're starting to get a lot more of the younger guys coming in here too," Eovaldi said. "With the Marlins last year, that whole group was young. It's exciting to be part of the Yankees."
Bryan Hoch is a reporter for MLB.com. Follow him on Twitter @bryanhoch and read his MLBlog, Bombers Beat. This story was not subject to the approval of Major League Baseball or its clubs.