Wilhelmsen has no regrets about going to arbitration hearing
Right-hander: 'The way I'm looking at it, I won either way'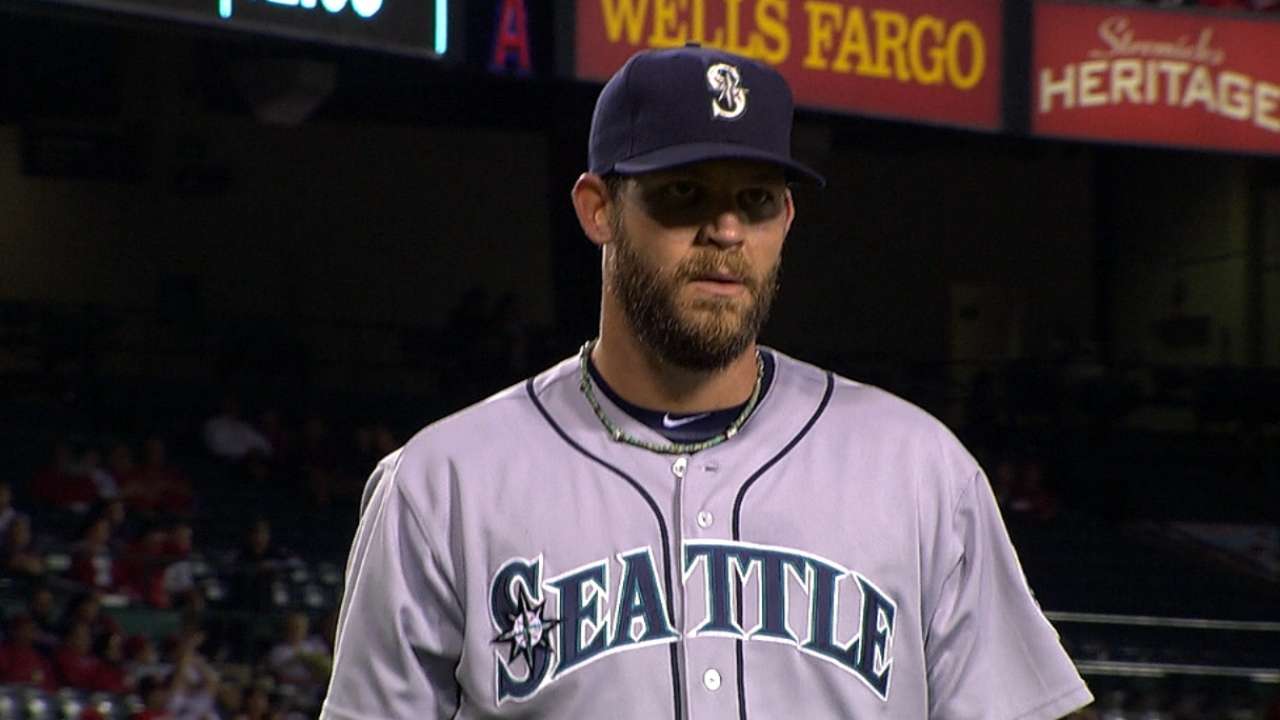 PEORIA, Ariz. -- Tom Wilhelmsen lost his contract arbitration case against the Mariners, but the 31-year-old right-hander said he'd go through the process again if necessary after rejoining the club.
After he and his agents presented his case to a three-person arbitration panel in Florida on Friday, the panel ruled Saturday in favor of the team and set Wilhelmsen's salary at $1.4 million for this season instead of the $2.2 million he'd requested.
All players with between three and six years of Major League experience are arbitration-eligible. However, teams and players don't often go all the way to the arbitration panel. They usually come to an agreement somewhere at the midpoint of the exchanged numbers prior to that point. But the Mariners and Wilhelmsen held firm in their positions, and he became the first Seattle player to go all the way through the process since Freddy Garcia in 2003.
Sitting in a room listening to your team explain why they think you're not worth as much as you think isn't always a pleasant experience, but Wilhelmsen said it wasn't as bad as he expected.
"I didn't really have any expectations going in," Wilhelmsen said Sunday, prior to the team's second workout of the spring. "You hear so many things about it. I don't know. I'm glad I did it. I got to stand up for what I believe in, and that's a pretty cool thing to do.
"The way I'm looking at it, I won either way. So that was my mindset going in. No matter what happens, I'm a winner. I get to do everything I wanted to do, stand up for what I believe in, and I had a great [legal] team to back me. I was able to put together a case, [the Mariners] were able to put together a case, and after that it's out of our hands."
Wilhelmsen said he "learned that obviously it's a little bit more of a business than players want to think," but that he's not going to dwell on it.
"There's no spilt milk here," he said. "It was an interesting process. I'm glad it's over, but I'm glad I was able to be part of it."
Wilhelmsen was an integral member of Seattle's bullpen last season, going 3-2 with one save and a 2.27 ERA in 79 1/3 innings over 57 appearances, including two spot starts. He led all Mariners relievers in innings pitched and ERA while holding opposing batters to a .171 batting average.
The Arizona native earned $528,000 last season. He'll be arbitration-eligible again the next two years before becoming eligible for free agency after the 2017 season.
Greg Johns is a reporter for MLB.com. Follow him on Twitter @GregJohnsMLB as well as his Mariners Musings blog. This story was not subject to the approval of Major League Baseball or its clubs.