Galvis ready to step up as everyday shortstop for Phillies
Club has not needed player in that position since Rollins debuted in 2001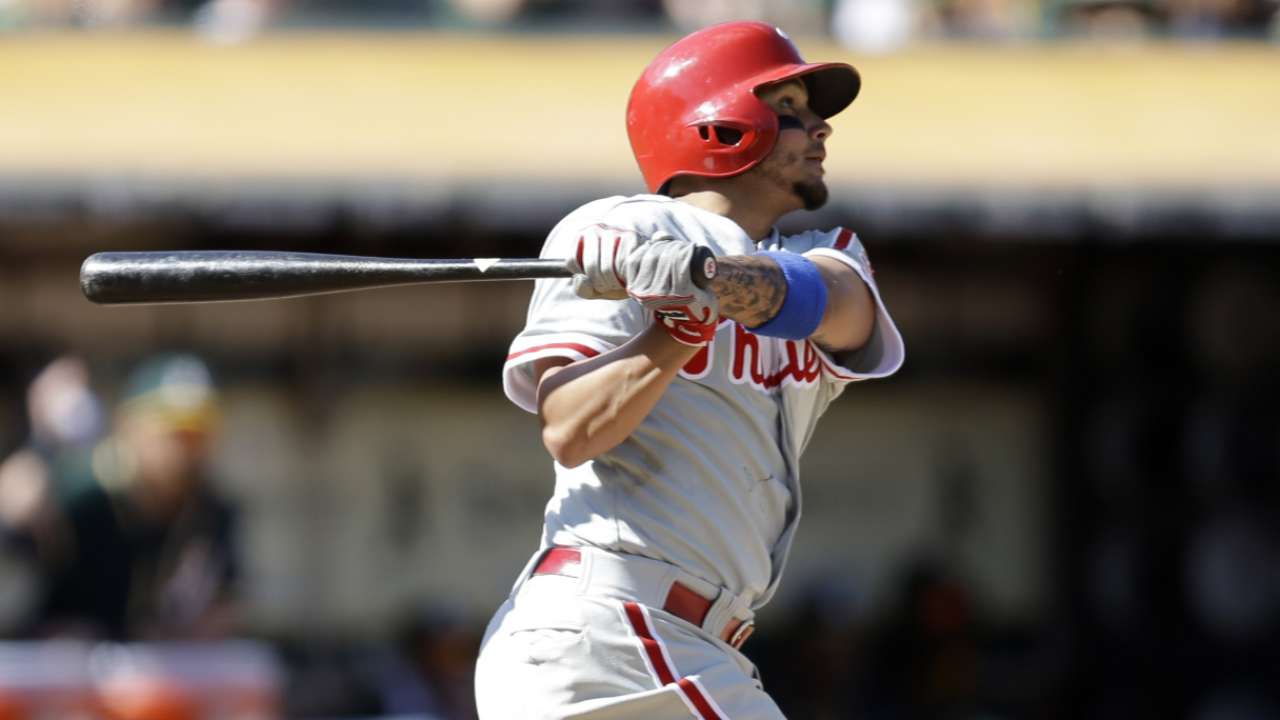 CLEARWATER, Fla. -- Freddy Galvis swears he cannot remember the moment he heard the Phillies traded Jimmy Rollins.
It would seem to be a momentous occasion.
Because when the Phillies traded Rollins to the Dodgers in December for Minor League pitchers Zach Eflin and Tom Windle, Galvis became the organization's first everyday shortstop other than Rollins since Desi Relaford in 2000. It is a role Rollins held from 2001-14, when he became the greatest shortstop in franchise history and surpassed Mike Schmidt to become the franchise's hits leader.
No pressure, Freddy.
"Jimmy was Jimmy," Galvis said. "Jimmy was the man here in Philadelphia. But you have to come here and play baseball. I have to do my game. I don't have to do Jimmy's game. I have to do Freddy Galvis' game and play ball."
But what kind of game can Galvis bring?
He is a fine defensive shortstop, so the pitchers should appreciate him. Phillies manager Ryne Sandberg loves his energy and praises his instincts. But a good glove, enthusiasm and instincts cannot help a hitter at the plate. Galvis has hit a combined .218 with a .621 OPS in 550 plate appearances with the Phils from 2012-14. He has hit a combined .253 with a .646 OPS in eight Minor League seasons.
Galvis, 25, just hit .250 with 12 doubles, one triple, one home run, 18 RBIs and a .652 OPS in 51 games in Winter Ball in Venezuela.
The Phillies probably would take similar production from Galvis in 2015.
They might even take the numbers he put up in 2013, when he hit .234 with five doubles, four triples, six home runs, 19 RBIs and a .668 OPS in 222 plate appearances.
"It's more a mindset than ability," Sandberg said. "I think you start with a .250 batting average with a guy like Freddy. He's athletic. He knows how to play the game. He knows the game situations. Hand-eye coordination. It's a mentality of getting [his swing] too big. He has to be reminded when he does turn on a ball and pop on a ball and hit a home run to the pull side, it happened because he had a good approach."
Galvis is not expected to be the Phils' long-term solution at shortstop. J.P. Crawford not only is the top prospect in the organization, but MLB.com considers him the 21st best prospect in baseball. Many scouts around baseball believe he could be something special. But Crawford, 20, is at least a year away from making his big league debut.
In the meantime, Galvis will have the opportunity to prove he can bring more than his glove and guile to the field.
The Phillies hope he can. They are incredibly thin at shortstop behind Galvis. A short-term, in-game replacement could be Cesar Hernandez. If something would happen to Galvis long term -- he has suffered back and collarbone injuries the past three seasons with a PED suspension and staph infection in his left knee thrown in -- non-roster invitees Andres Blanco and Chase d'Arnaud could play there regularly.
Phillies general manager Ruben Amaro Jr. said they will evaluate their depth at shortstop throughout camp and could find help elsewhere, if necessary.
"I don't think I have to fill anybody's shoes," Galvis said. "I just have to do my game. Jimmy had a different game. He was a speedy guy. Jimmy was good. He was a good player. He was a good guy to me. He was like a father to me. He always taught me how to play the game, how to be ready for the game, so I always listened to him.
"I feel ready for the opportunity. I was waiting for it. I didn't know if, at some point, it could come."
Todd Zolecki is a reporter for MLB.com. This story was not subject to the approval of Major League Baseball or its clubs.