Astros taking advantage of 'getting to know you' stage
Hinch holds daily morning meetings, keeps eyes on as many players as possible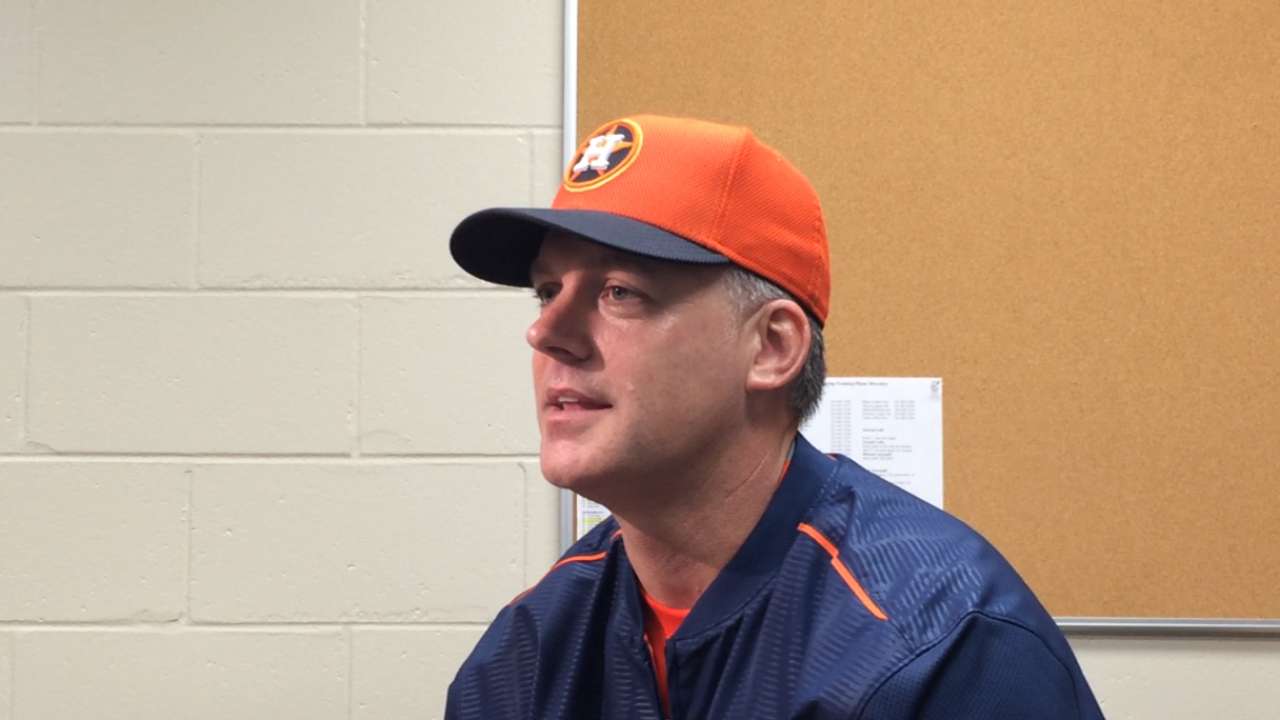 KISSIMMEE, Fla. -- Astros manager A.J. Hinch finally got a good night's sleep Saturday now that camp is underway and much of the anxiety about the start of Spring Training has been calmed. The new-look Astros are still very much in the get-to-know-you stage, however, so Hinch is having daily team meetings in the morning.
"There's a lot of bodies in here, and we've got to walk them through the daily schedule and sort of where some tweaks will be made here and there," he said. "That's a sort of a team-building thing every morning. As games get underway and we're all over the place, we may not congregate every day as groups. We're just taking advantage of these early [days] and have a little get-to-know-you sessions and stuff like that."
Once the players hit the field, which pitchers and catchers did Sunday for the second day of workouts, Hinch is still in the get-to-know-you mode. Although he's watched as much video about his players as he could in the offseason, he tries to put his eyes on as many players as possible.
"There's a fine line between making sure the camp is running well, which is Trey's [Hillman, bench coach] main focus," Hinch said. "There's a little something you want to get out of the day. These early days, it's more just watching guys move and see how they reported to camp and the efficiency and catching the ball cleanly, some basic check marks you want to make. The bullpen sessions are obviously a primary part of the day, and I spend some time with the catchers every day. I've got some catcher bias in me."
Hinch said he's fortunate to have such an experienced coaching staff and has no problem delegating.
"That is the essence of managing," he said, "is being able to let your people work."
Brian McTaggart is a reporter for MLB.com and writes an MLBlog, Tag's Lines. Follow @brianmctaggart on Twitter. This story was not subject to the approval of Major League Baseball or its clubs.