Yelich keeps sense of humor about final out of no-no
JUPITER, Fla. -- If Christian Yelich could jump into the Hot Tub Time Machine and reverse a moment in history, he would make that deep fly ball land in the left-center-field gap at Nationals Park. But since he can't, he must live with the end result, knowing it's a replay that will be shown for years to come.
Yelich found himself on the wrong side of history on the final day of the 2014 season. Washington's Steven Souza robbed Yelich of an extra-base hit in the ninth inning for the final out of Jordan Zimmermann's no-hitter.
As Zimmermann and the Nationals celebrated, Yelich and the Marlins entered the offseason on a crushing low.
"It's going to be on the top plays of the decade or of all-time," Yelich said. "It's going to be there. I'm going to still hope it's going to fall every time, and it's not."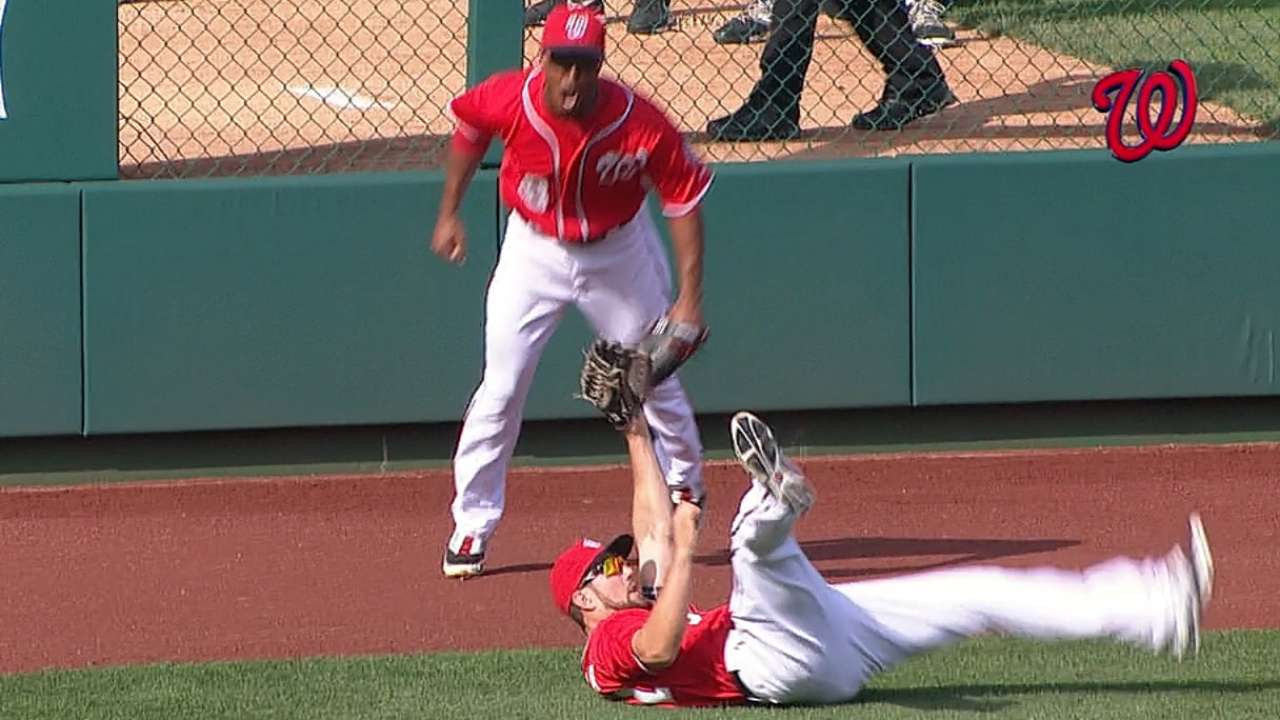 Yelich and the Marlins certainly had plenty to cheer about in 2014. The club made a 15-game improvement from the year before. But in the end, they ran into a red-hot Nationals' team, which ran away with the National League East.
So much hoopla is made over Opening Day, but it is has been closing day that has been memorable for Miami the past two seasons. In the season finale of 2013, Miami's Henderson Alvarez no-hit the Tigers. Last year, it was Zimmermann who held the Marlins without a hit on the final day. Coincidentally, both games ended 1-0.
Making matters worse, Souza's catch meant Yelich ended his season on a 1-for-19 slide.
Still, Yelich, who won a Gold Glove in left field, keeps the game in perspective.
"Stuff happens, man," he said. "That stunk to go out on that note. It sticks with you for a little while in the offseason, but you go, 'It happens.' That is not going to be awesome. I've got to watch that for the rest of my life. Watch that guy make that catch."
Joe Frisaro is a reporter for MLB.com. He writes a blog, called The Fish Pond. Follow him on Twitter @JoeFrisaro. This story was not subject to the approval of Major League Baseball or its clubs.