Robinson's daughter shares inspiring family tale
New Orleans students experience Breaking Barriers program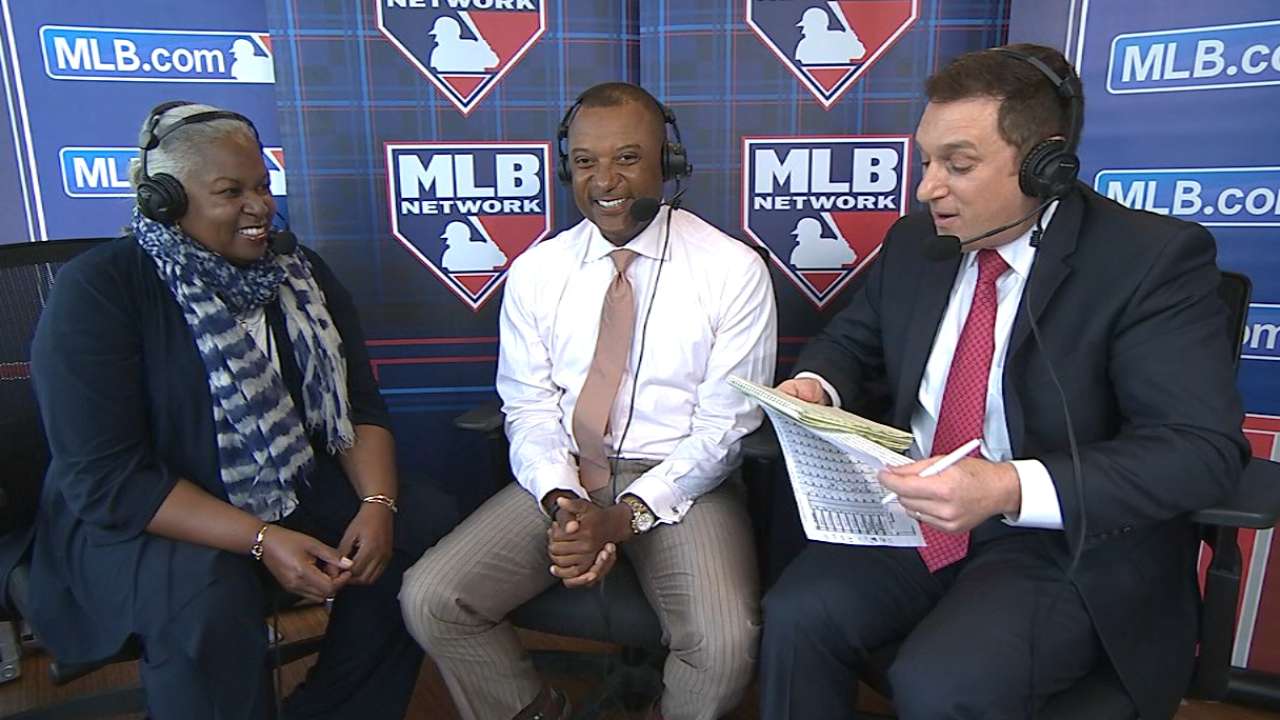 NEW ORLEANS -- Sharon Robinson worked the room Saturday, kid by kid and seat by seat, in an effort to help build character and break down barriers. Robinson, armed with nothing more than her warmth and her wit, wanted the next generation to know that society is invested in their success.
It's a trip she's made many times before and to many different cities, but it still tugs at her heart every time she hears somebody else's story. Robinson, the daughter of famed sports and civil rights icon Jackie Robinson, wants to use her own family tale to inspire as many people as possible.
That's the thrust of her signature program, the Breaking Barriers essay contest, and she uses anecdotes from her father's life to illustrate the points she wants to make. But the truth of the matter, said Robinson, is that every life story matters, not only the ones that make the banner headlines.
"It's your life we're invested in," said Robinson. "It's your life we want to know about."
Robinson, addressing a group of children from the New Orleans Urban Youth Academy, wanted the youngsters to know that there are no insignificant life challenges. There is only your adversity and what you did to overcome it, and it can be inspiring for children to know that they're not alone.
The story, of course, starts at the beginning. Jackie Robinson was born to a family of sharecroppers in Georgia, and he moved to California early in life. He first distinguished himself as an athlete at Pasadena Junior College and later at UCLA before entering Officer Candidate School in the Army.
Robinson was famously court-martialed for refusing to move to the back of the bus while stationed at Fort Hood in Texas, and he was granted an honorable discharge when the facts of the case came to light. He would later go on to star in the Negro Leagues and to be the first player to break the color barrier in the Major Leagues, and his daughter can draw a parallel to the children of today.
"Jackie Robinson faced bullying, essentially, when he entered the Major Leagues. Well, they're facing bullying. You're talking about him facing racism; well, they are too," she said to reporters after her hour-long presentation at the University of New Orleans. "All this stuff is still happening in their lives, so let's look at how he did it. There was a boy that just sat here and talked about having [attention deficit disorder] and he keeps getting in trouble. I asked if he was being bullied and he said yes. ...It helps to know that somebody did it before me, and they found a way around it. And I can do it too."
Robinson has authored many children's books based on her father's life, and she works with Scholastic and with Major League Baseball to bring the family lessons to as wide an audience as possible. Robinson has even boiled down her father's success to nine core qualities: Determination, Commitment, Persistence, Integrity, Justice, Courage, Teamwork, Citizenship and Excellence.
The point of the essay contest is to absorb the life lessons of Jackie Robinson and to share their own life story. Each student is encouraged to choose one of the nine values personified by Jackie Robinson and to descibe how they've been able to exhibit those traits in their lives.
It's all part of the Breaking Barriers program, and Robinson hopes to stress that building character is every bit as important as building skill and ability. It helps for these children to look at their lives and think about the things they've overcome and the things they still need to do to be successful.
"It does teach kids about character," she said. "It's a story that's inspirational and it also teaches about a period in history that is important for kids to understand. I try to tell kids that history repeats itself and is cyclical. It goes in a circle. We're having some of the same issues that we had in the 40's and 50's, and they're coming back around. You sort of learn from how people dealt with it in the past."
And if the kids want to follow a future in baseball, they can do that. Robinson stresses to children that anything they can do outside the game -- attorney, accountant, doctor -- they can also do within it.
Robinson, towards the end of her program, yielded the floor to another distinguished guest. Frank Robinson, one of the game's all-time great players and the first African-American manager in baseball history, strode to the front of the room and gave the kids a tough-love lecture on life.
The elder Robinson joked that he was not related to either Jackie or Sharon, but he said he'd used many of the same traits on his way to the Hall of Fame. He wanted the kids to know they can choose their own path in life, but only if they're willing to work as hard as they can to attain their dreams.
"You only get out of life what you put into it," he said. "Don't let anybody tell you that you can't. If you want something bad enough, work hard for it. Don't expect anyone to give you anything."
One of the lighter moments came when Sharon Robinson discussed the movie "42", which painted a portrait of her parents' lives and the incredible 1947 season in which they made history. One child was surprised to learn that Sharon's mother, Rachel, is still very much alive and vibrant at age 92.
"She should be famous," he said to widespread laughter in the room.
Robinson has seen baseball memorialize her father by retiring his number throughout the league, and she's proud of Major League Baseball's decision to open up Urban Youth Academies around the country. There are already facilities in Compton, Calif., Houston, New Orleans and Cincinnati, OH, and Robinson looks forward to a day when even more children will have access to its programs.
"Our academies are young. They're going to change the game," she said of baseball's mission to impact the inner city. "We just left Cincinnati last week, and it's an incredible facility. I met a young man who told me that five of his friends from his neighborhood died this year. ...He goes to the academy every day. His mother brings him. I mean, this is a 16-year-old kid. A big kid. His mother drops him off and picks him up. And not only is he doing his baseball work there, he works out and he does his homework. It's a blessing in his life. He said, 'Otherwise, I'd have to go home and stay in my room.' "
More than 19,000 students joined last year's Breaking Barriers essay contest, and every year, the field seems to expand just a little bit. And every year, the bar keeps getting raised. Robinson said the children never fail to impress her with their efforts and never fail to touch her with their life stories.
"It's been a real lesson for us about what kids are dealing with," said Robinson of the essay contest. "But they are dealing. So it makes us very hopeful, all of us who are reading the essays. We can't wait to meet these kids because they're so impressive. It's a labor of love. There are about 10 people that are on the judging committee, and they all feel positive about the program."
Spencer Fordin is a reporter for MLB.com This story was not subject to the approval of Major League Baseball or its clubs.