Sabathia comfortable with added weight in 2015
Yankees lefty believes he was 'a little too light' entering last season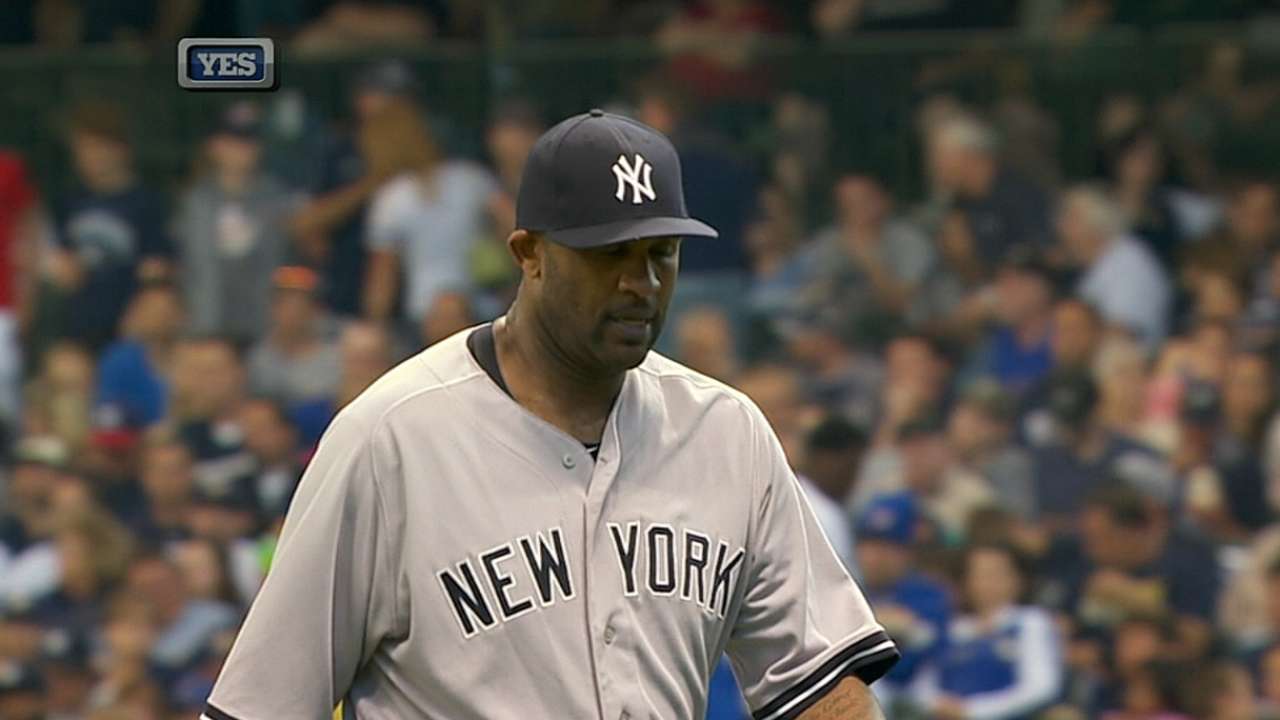 TAMPA, Fla. -- The best seasons of CC Sabathia's career had him tipping the scales heavier than most Major Leaguers, and so as the big left-hander reported to his seventh Spring Training with the Yankees, he showed up comfortable with his weight.
Sabathia said that he put on 10 pounds during the offseason, and though he declined to give his exact weight, he said that he expects to pitch this season between 295 and 305 pounds. At this time in 2014, the 6-foot-7 Sabathia weighed 275 pounds.
"I think last year I came in a little too light," Sabathia said. "By the end of the year last year, I felt good where I was at."
Sabathia's weight has fluctuated during his career, marked down as heavy as 315 during his days with the Indians. In 2011, Sabathia said that he lost 25 pounds just by cutting Cap'n Crunch from his diet -- of course, Sabathia acknowledged he had been eating the breakfast cereal an entire box at a time.
Sabathia has talked about the struggle of keeping the pounds off, particularly in tempting road cities like Chicago and Kansas City, but his weight-loss efforts coming into 2013 could have had unexpected consequences on the mound. Sabathia believes his trimmer form had something to do with that disappointing season (14-13, 4.78 ERA).
"I lost a bunch of weight drastically, pretty quick, two years ago, and kind of was off balance, and didn't know really how my body was working," Sabathia said. "So just talking to Dr. [Chris] Ahmad and to the trainers, I feel like this is a good weight."
Yankees manager Joe Girardi said that Sabathia seemed to be 100 percent coming off right knee surgery, and that his weight has not been a topic of discussion for the coaching staff.
"There was no conversation about that," Girardi said. "Obviously he went through the knee injury, and he's probably had success at a lot of different weights. We're comfortable with where he's at. The big thing for us is to keep him out there. That's what we have to do on a consistent basis, so he can build off of each start. I have no concerns about that."
Sabathia threw a 25-pitch bullpen session on Saturday at George M. Steinbrenner Field, and he said that he already feels more like himself.
"I feel a little stronger," Sabathia said. "I feel my legs under me being a lot stronger, and being able to push off the mound."
Bryan Hoch is a reporter for MLB.com. Follow him on Twitter @bryanhoch and read his MLBlog, Bombers Beat. This story was not subject to the approval of Major League Baseball or its clubs.