Bauer's offseason work paying early dividends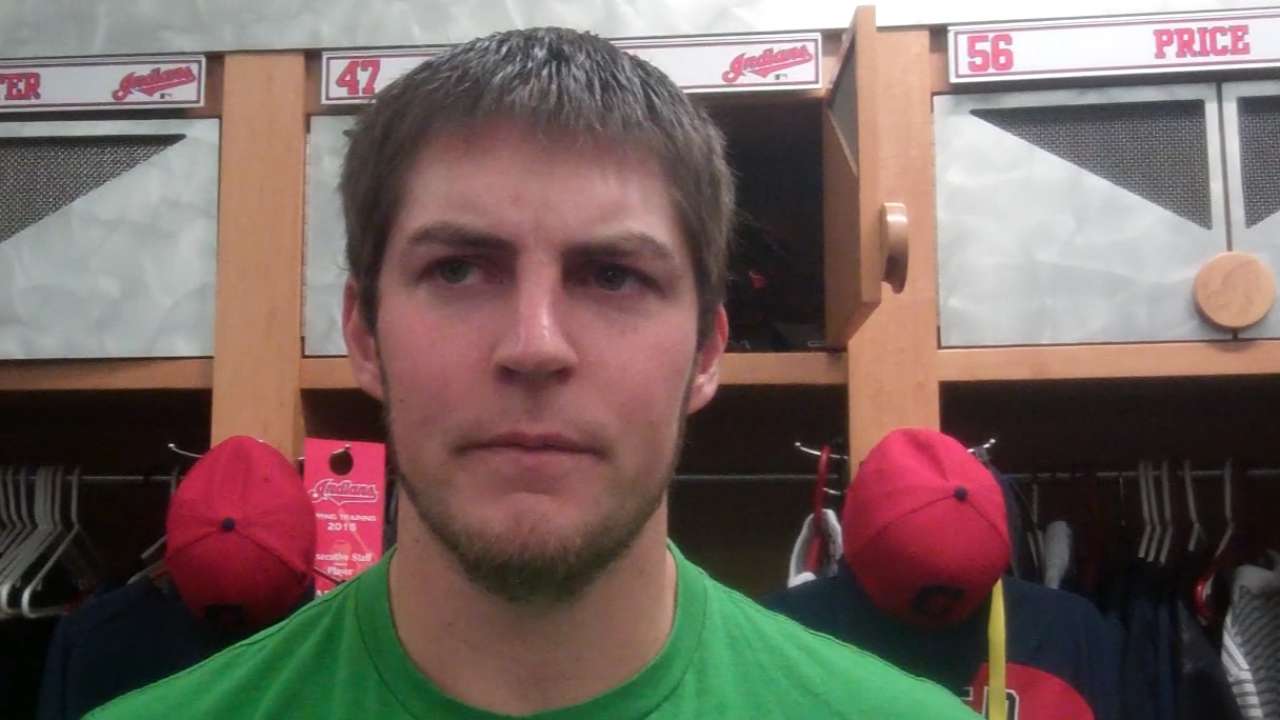 GOODYEAR, Ariz. -- Trevor Bauer headed into the offseason with a long list of goals. Beyond his work to enhance his velocity and overall command, one project that the young Indians pitcher tackled was finding a way to improve his two-seam fastball and splitter.
Bauer began that process last year, when he filmed bullpen workouts of teammates Corey Kluber and Danny Salazar to study their two-seamer and splitter, respectively. Bauer then found clips of Blue Jays starter Marcus Stroman's sinker and Yankees righty Masahiro Tanaka's split to add to his offseason film study sessions.
"They're two of the better come-back two-seams I've seen," Bauer said, referring to Kluber and Stroman. "Then, I looked at Tanaka and Salazar for my split, getting the axis right. I had some high-speed video that I took last year of [Kluber and Salazar's bullpen sessions]. I also grabbed some off MLB on Tanaka and Stroman."
During Bauer's mound session on Friday at Cleveland's spring complex, the right-hander tested out the refined pitches. While it is very early in camp, Indians pitching coach Mickey Callaway was impressed with the early results of the work Bauer put in over the winter.
"It was probably the best command we've seen out of him, especially for the first time," Callaway said. "It's got that axis of spin that he was looking for in the offseason. That's going to contribute to the movement that he wants. Obviously, it's still a work in progress for the consistency of it, but I definitely saw some pitches [Friday] that had some pretty good movement."
Bauer spent portions of his offseason traveling around the country to visit an assortment of pitching specialists. Along the way, the pitcher continued on his usual program of using high-definition, slow-motion footage of his delivery and pitches (and the pitches of others) to make adjustments. For a bulk of the winter, Bauer said he does a three- to four-hour throwing program six days per week.
Callaway met with Bauer in Seattle at one point over the winter to check in with the pitcher.
"We're seeing very intense focus on command, which is what we'd like to see," Callaway said. "He had a really good winter, and he did a really good job of communicating with us and keeping us in the loop, and it was in line with what we talked about going into the offseason. It was a great offseason for him. I see a ton of maturity coming out of him in camp so far."
Last season, the 24-year-old Bauer went 5-8 with a 4.18 ERA, 143 strikeouts and 60 walks in 153 innings (26 starts) for the Indians. Bauer had eight Major League outings prior to 2014, so he was pleased to head into this past winter with nearly a full season's worth of innings to evaluate.
"Until you pitch for a while in the big leagues, or at any level, you don't really know," Bauer said. "You can guess, but you don't really know a lot of things. So, it definitely gave me a path to go down or a guiding line. I had some ideas on what I did well and what I needed to improve on that you can't really have until you pitch and experience it. That was definitely helpful in deciding what I was going to work on."
Jordan Bastian is a reporter for MLB.com. Read his blog, Major League Bastian, and follow him on Twitter @MLBastian. This story was not subject to the approval of Major League Baseball or its clubs.