4 things to know about Reds righty Iglesias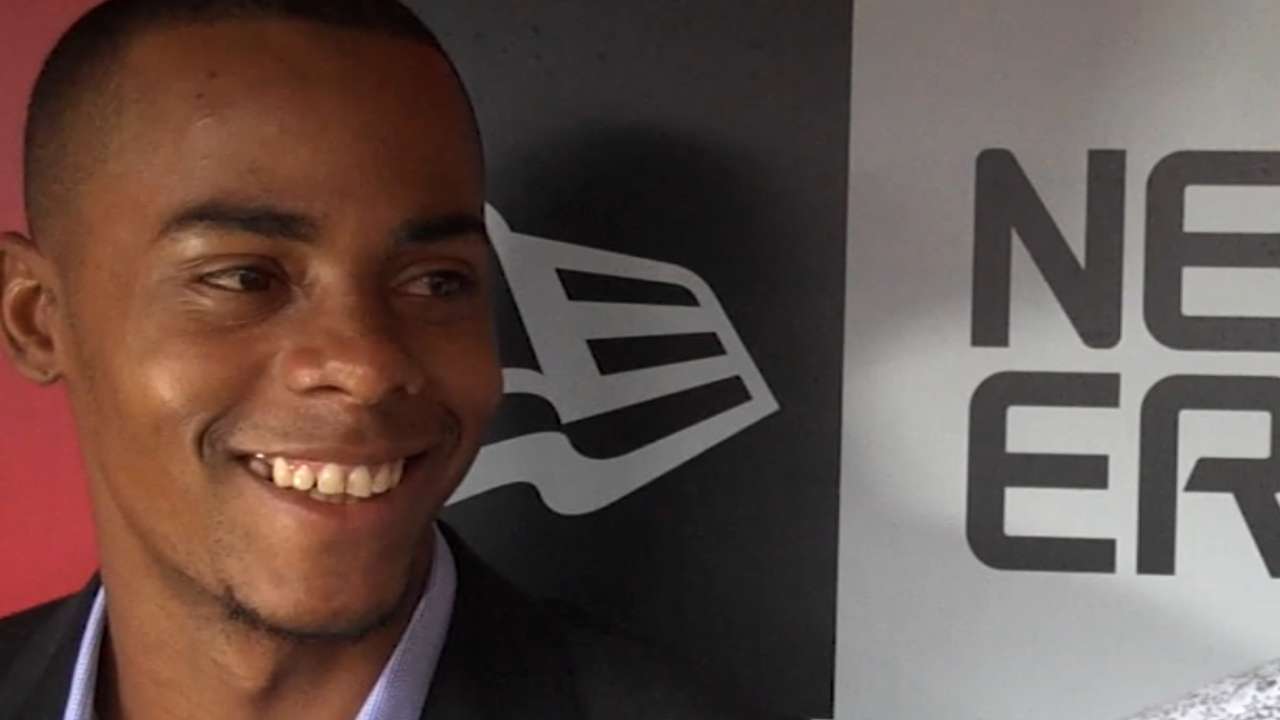 GOODYEAR, Ariz. -- Cuban pitcher Raisel Iglesias is in his first Spring Training in the United States and he is competing for one of two open rotation spots in the Reds' rotation.
Back on June 27, the 25-year-old Iglesias signed a seven-year contract worth $32 million and was projected to be a starting pitcher. Ranked the No. 2 prospect in the organization by Baseball America recently, he could be a big addition to the pitching staff if he meets expectations.
Here are four other things to know about Iglesias:
1. Iglesias left Cuba in November 2013 and became eligible to sign with a Major League team after he established residence in Haiti. Once in the United States, Iglesias moved to Miami. His mother and several family members also are in the U.S. but his father, Juan, and an older brother remain in Cuba.
"I hope soon that I can have my dad and older brother with me, too," Iglesias said. "My dad is really happy. He's really proud of the step that I did to get here to America. He always backed me up. Not only him, everybody in my family backed me up for my decision that I made to come over here. Every time he talked to me [he said], 'You went to America to play baseball. All you have to do is play baseball. You don't have think about nothing more than just playing baseball.'"
2. In Cuba, Iglesias pitched in Serie Nacional, that nation's top league. With his Isla de la Juventud club, he was 8-12 with a 3.47 ERA over 88 games, including five starts, with 202 hits, 115 walks and 169 strikeouts over 223 1/3 innings. Iglesias also pitched for Cuba in the 2013 World Baseball Classic.
While he praised his homeland's game, Iglesias likes how things are done in the Majors.
"Baseball in Cuba is a really strong baseball. It's hard," Iglesias said. "It gets better and better every year. The big difference for me, and the bad thing about there and how it compares with here is the organization. The discipline and how they organize the day, the daily schedule here, is way better."
3. Iglesias appreciates having two Cuban teammates in closer Aroldis Chapman and catcher Brayan Pena.
"I enjoy it a lot, having them around me, because when you turn around, everyone here is American," Iglesias said. "Everyone speaks a different language. That we have some Dominicans and other Latinos next to me is good, and to have guys like them that are my countrymen and the experience they have in the big leagues has helped me a lot."
4. When not playing baseball, Iglesias' other favorite pastime is fishing.
"I do a lot of fishing. I go fishing every day," he said. "My life is on the seas. I want to be on the ocean."
Mark Sheldon is a reporter for MLB.com. Read his blog, Mark My Word, and follow him on Twitter @m_sheldon. This story was not subject to the approval of Major League Baseball or its clubs.