Freese seeking strong start in second year with Angels
Third baseman struggled early last year, but makes no excuses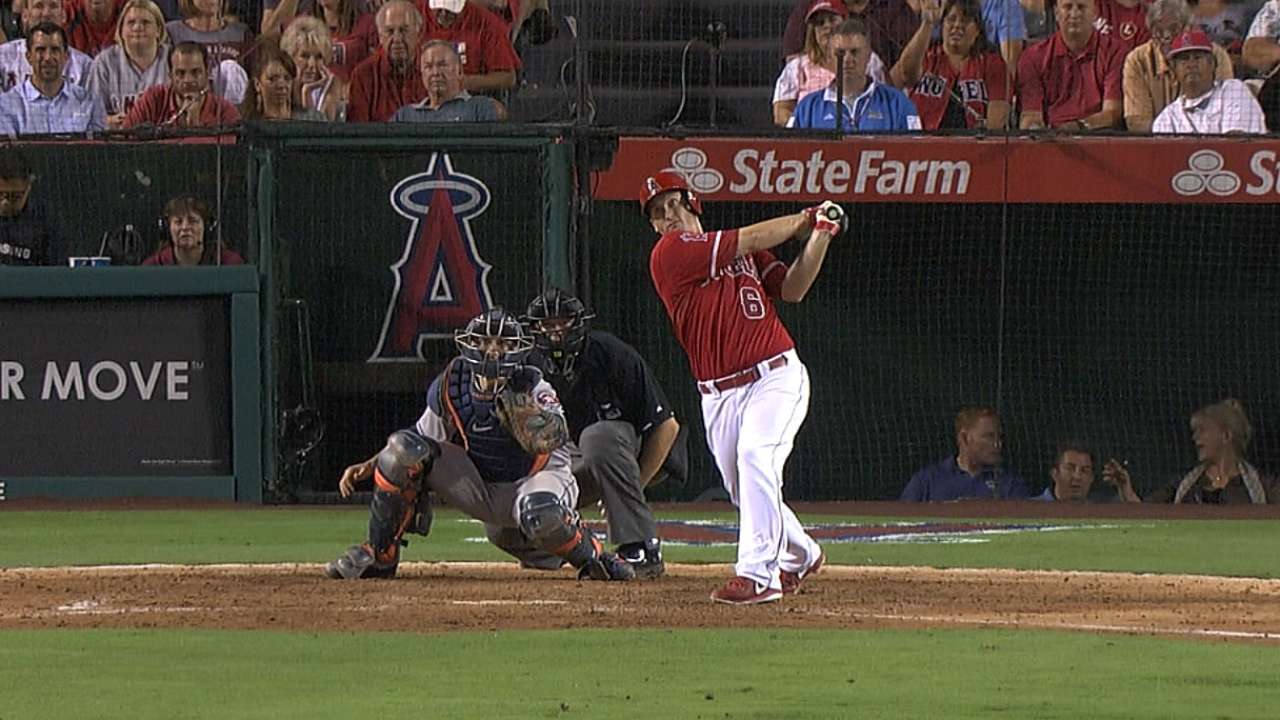 TEMPE, Ariz. -- If you could just eliminate the first two months, David Freese would've had a very good first year with the Angels in 2014. But you can't. April and May happened, so Freese's final numbers were subpar -- almost identical to the ones from 2013 but well below what he did as an All-Star in 2012.
So, why did he struggle so much in those first two months?
Freese was searching for answers upon reporting for Spring Training on Saturday.
"I can't take the sick card, because that's already been used," Freese said, a veiled reference to C.J. Wilson recently saying that pitching with the flu was part of the reason he struggled last season.
"I'll just say I was terrible," Freese said.
The 31-year-old third baseman finished those first two months with a .203/.262/.273 slash line, a stretch that saw him miss 16 games with a fractured right middle finger. From the start of June to the end of September, though, Freese batted .281/.343/.425, adding eight home runs and 41 RBIs.
With Howie Kendrick gone and Josh Hamilton in the early stages of his recovery from shoulder surgery, the Angels basically need June-to-September Freese for the entire six-month season.
"I think I can do more," said Freese, who finished with a .260/.321/.383 slash line in 2014 after batting .262/.340/.381 in 2013 and .293/.372/.467 in 2012.
"Sometimes it doesn't serve a purpose to take out chunks of a bad year from a player," Angels manager Mike Scioscia said. "But I think with David Freese, it gives you a better snapshot of the player he can be, especially the way it happened. As he got into the season, you really saw the at-bats improve and you saw everything go the right way."
Freese needs everything to go the right way this year, because the Angels will lean on him heavily and because a big offseason awaits.
He's headed into his final season before free agency, and it's almost a certainty that Freese will be signing elsewhere next winter. The Angels used 17-year-old starter Ricardo Sanchez to acquire third-base prospect Kyle Kubitza from the Braves in January, giving them a guy they feel can take over at third base in 2016.
"I think having quality players in Triple-A is a good thing," Freese said, dismissing the notion that the Angels have his replacement in hand. "Next year is so far away. I hope nobody is thinking about that. Obviously management is, but as players, we're thinking about what we can do in camp to get ready for a season."
Freese and Kubitza, a 24-year-old left-handed hitter who will likely start the season in Triple-A, figure to spend a lot of time taking groundballs together this spring.
Freese doesn't expect it to be awkward, though.
"Absolutely not," he said. "I was a Cardinal and there were two or three first-round Draft picks playing third base with me. We're all Angels here, and the competition is great. I worry about myself. That's all you should do."
Alden Gonzalez is a reporter for MLB.com. Read his blog, Gonzo and "The Show", and follow him on Twitter @Alden_Gonzalez. This story was not subject to the approval of Major League Baseball or its clubs.