Harvey happily leaves specialized workout routine behind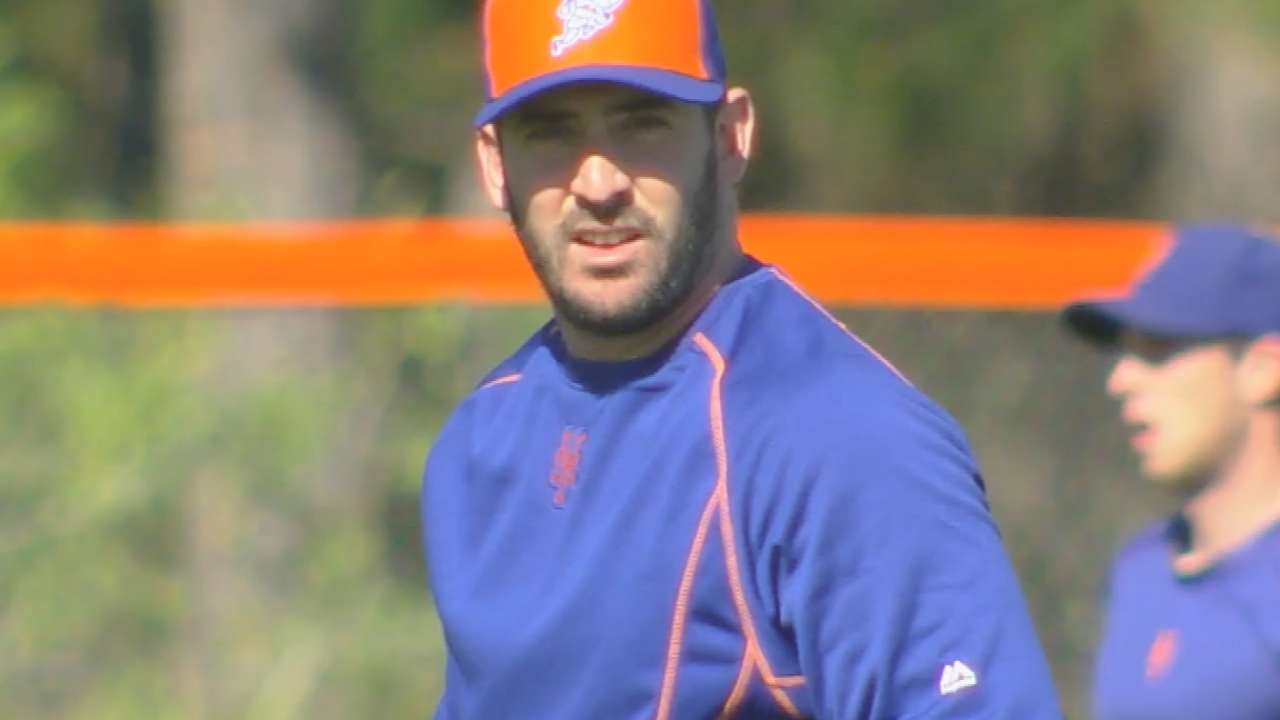 PORT ST. LUCIE, Fla. -- Even the most discerning eyes could tell no difference between Matt Harvey and the other 30 pitchers in Mets camp. Dressed in standard-issue blue and orange, Harvey trotted from mound to mound with his teammates on Saturday, completing pitchers' fielding practice. He joined in the laughs as Josh Edgin threw a ball into right field. He listened intently as a coach barked instructions.
Pitchers are not supposed to enjoy fielding practice, which tends to be banal at best and mind-numbing at worst. Yet Harvey, for one day at least, relished in it.
"Being there and being able to do it is … something you don't think you're going to miss," he said after completing his first official fielding practice since 2013. "But once you get back into it and you've missed an entire Spring Training, you definitely appreciate that stuff a lot more."
It was only one year ago that Harvey found himself relegated to a back corner of the clubhouse near the shower, discouraged from talking to reporters and disheartened by the Tommy John surgery set to steal a year from his prime.
Contrast that to Saturday, when Harvey used his second news conference in as many weeks to throw about buzzwords like "great" and "excitement" and "fun," over and over again.
About the only time his smile faded was when a reporter referenced the perception that Harvey stepped too far out of line during his rehab -- making waves for his desire to work out in New York City rather than the team's Florida complex, and generating headlines with his social circles away from the field.
Harvey bristled at the notion of a rift between him and the team, going as far as to call most of the tension "made up." Then he went back to looking forward to the summer.
"I'm excited to be here and be able to do everything like everyone else, and not be on my own program," Harvey said. "It's nice to just throw."
Over the next six weeks, the Mets will watch Harvey and dream of something similar to what he accomplished in 2013, posting a 2.27 ERA in 26 starts before tearing the ulnar collateral ligament in his right elbow. The Mets mourned the loss of their best pitcher at the time, then did all they could to prevent Harvey from returning too soon, understanding how critical an extra six months would be to his rehab.
As a result, Harvey enters this spring essentially without restrictions. The Mets plan to use him in one of their first five games, and while they will monitor Harvey throughout the summer, cutting short some of his starts or even skipping him if need be, they don't expect to keep his leash particularly tight. If healthy, Harvey should at least pitch 180 innings. He may even surpass 200.
"One of the things that people don't see with this guy is his work ethic," manager Terry Collins said. "Take a look at him right now. He is absolutely strong as an ox and he gets himself ready to pitch. So to have him back in the clubhouse -- not only is he a great pitcher, but he portrays what you want in a leader in the clubhouse. He does things by example. He's in the weight room. He's running. You watch the drills today, everything was 100 percent. He didn't just catch the ball and toss it; this guy threw the ball around the field like you're supposed to. He's a professional."
In determining what might be possible for Harvey, the Mets drew a direct comparison to Cardinals starter Adam Wainwright, who threw 213 2/3 innings in his first year back from Tommy John surgery -- including playoffs. Though Wainwright submitted the highest ERA of his career that year, he made it through healthy enough to compete for Cy Young awards in each of his next two seasons, pitching well over 200 innings in both of them.
Harvey is not nearly at that level yet. But trotting around Saturday in the Port St. Lucie sunshine, he allowed himself and his teammates to dream.
"There definitely is [a mental hurdle]," said Mets starter Jacob deGrom, who sat out the entire 2011 season after undergoing Tommy John surgery in October 2010. "You miss a year of time and there's always that thought, 'Am I going to be able to pitch again?' So you've just got to have the right mindset, and go out there and compete."
Anthony DiComo is a reporter for MLB.com. Follow him on Twitter @AnthonyDicomo. This story was not subject to the approval of Major League Baseball or its clubs.