Betts could be odd man out in Sox's outfield
Youngster may start season at Triple-A, depending on Victorino, Castillo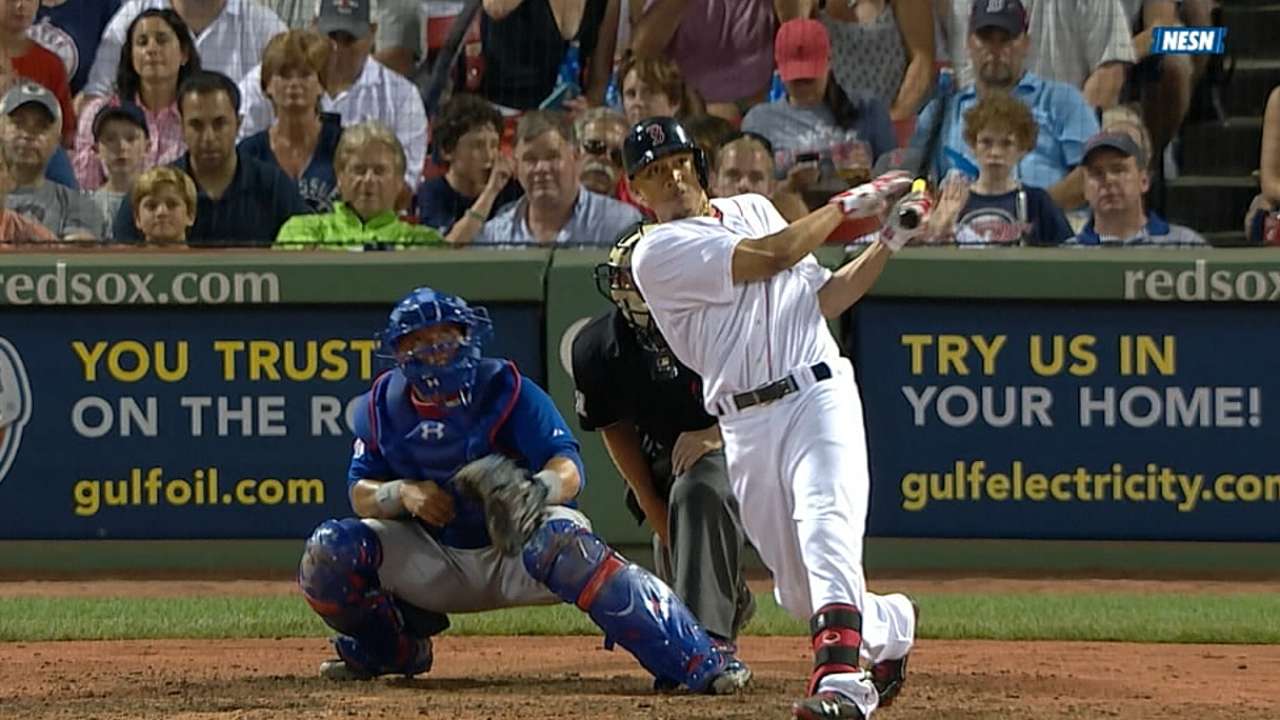 FORT MYERS, Fla. -- If Shane Victorino emerges from camp healthy and opens the season as the starting right fielder, what happens to Mookie Betts and Rusney Castillo?
Considering the Red Sox made a seven-year, $72.5 million commitment to Castillo, it's hard to believe he won't start the season in center field.
Could that leave Betts as the odd man out?
As much as the Red Sox love the highly-athletic outfielder and potential leadoff man, he still has Minor League options and is only 22 years old.
"Well, we're going to get him exposure to both center and right field," said manager John Farrell. "There's some decisions to be made on what the roster looks like when we break camp, and that's a starting point for the season. I think what's most impressive about Mookie is the way he continued to advance each of the three times he was promoted last year. I thought he handled himself very well offensively overall, and continues to be more efficient in the outfield."
If everyone is healthy at the end of camp, the Red Sox might have to ask themselves if Betts is best off rotating around the outfield or playing regularly in Triple-A.
"You know, sitting here today, I don't know that we would say that he wouldn't be flexible in terms of the alignment," said Farrell. "But the more that we can have players understand where the position is, what their role is, that's the ideal goal. Where he plays and how many times a week is going to be dependent upon the 25-man roster breaking camp."
Betts is keeping an open mind.
"I can't really think about it," Betts said. "Wherever they put me is where they put me. Whatever they do is that they have to do is what's best for the team. If that's me playing, it is. If it's not, it's not."
The Red Sox still haven't seen much of Castillo, who was signed last August and had a 10-game crash course in the Majors before the season ended. More time in the Minors seems unlikely for Castillo, but something will have to give from a numbers standpoint. After all, the Red Sox can only take 25 players with them to Philadelphia for Opening Day.
"Very similar. Similar situation [as Betts]," said Farrell. "Some might view it as, well, these are difficult decisions. I look at it like there's a luxury of talented guys and a lot of depth and options in that outfield group, in particular."
Allen Craig and Daniel Nava are two other players accustomed to regular playing time who could be squeezed out of Boston's crowded outfield.
Ian Browne is a reporter for MLB.com. Read his blog, Brownie Points, and follow him on Twitter @IanMBrowne. This story was not subject to the approval of Major League Baseball or its clubs.