Pedroia begins camp with a purpose
Red Sox second baseman all business as Spring Training gets underway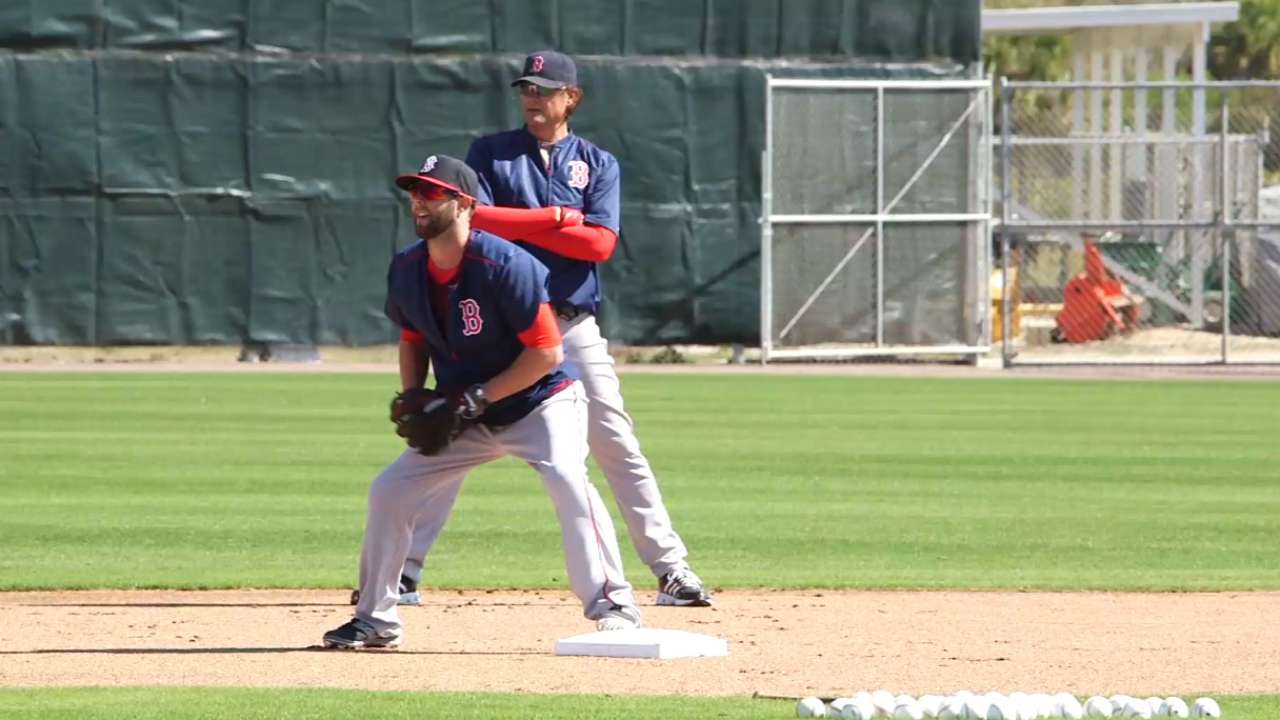 FORT MYERS, Fla. -- Dustin Pedroia is a two-time World Series champion, a four-time Rawlings Gold Glove Award winner and a former Most Valuable Player Award winner. And he didn't get there by coasting through Spring Training.
Pedroia arrived in camp on Saturday morning, and made it clear how important it is to be all business, even at a time of year that some view as more casual.
"Just put the work in," said Pedroia. "Don't go through the motions out here. This is the time where you can get better and form that team bond. We're going to be together every day for the next eight months or whatever it is. We have to find a way to figure out what makes our team tick and go play from the start. If you start well, it continues, it snowballs. We want to make sure we do that."
That's why Pedroia will take every drill seriously, no matter how monotonous it might seem. And that's why he is the player who sets the tone for the Red Sox, and has for several years.
"You've got to build your identity as a team," said Pedroia. "It doesn't matter what you're doing. If it's running the bases or taking groundballs, you've got to do it with a purpose. That's how you've got to practice if you want to be the team that ends up winning the whole thing.
"I don't think teams that show up to Spring Training and go through the motions and do not execute and do what they're supposed … if they kind of do it half-you-know-what, it's probably not going to work out for them. We've got to make sure we pay attention to details and go to work. This is work. We want to make sure we're good at the end."
Pedroia flashed his witty side when asked about the new rule changes that will be implemented to improve the pace-of-games this season.
"I don't know," said Pedroia. "My kids go to bed at 8 so I'm not in a rush. I don't make the rules and I don't break them."
Ian Browne is a reporter for MLB.com. Read his blog, Brownie Points, and follow him on Twitter @IanMBrowne. This story was not subject to the approval of Major League Baseball or its clubs.