Brave words: Saturday, Feb. 21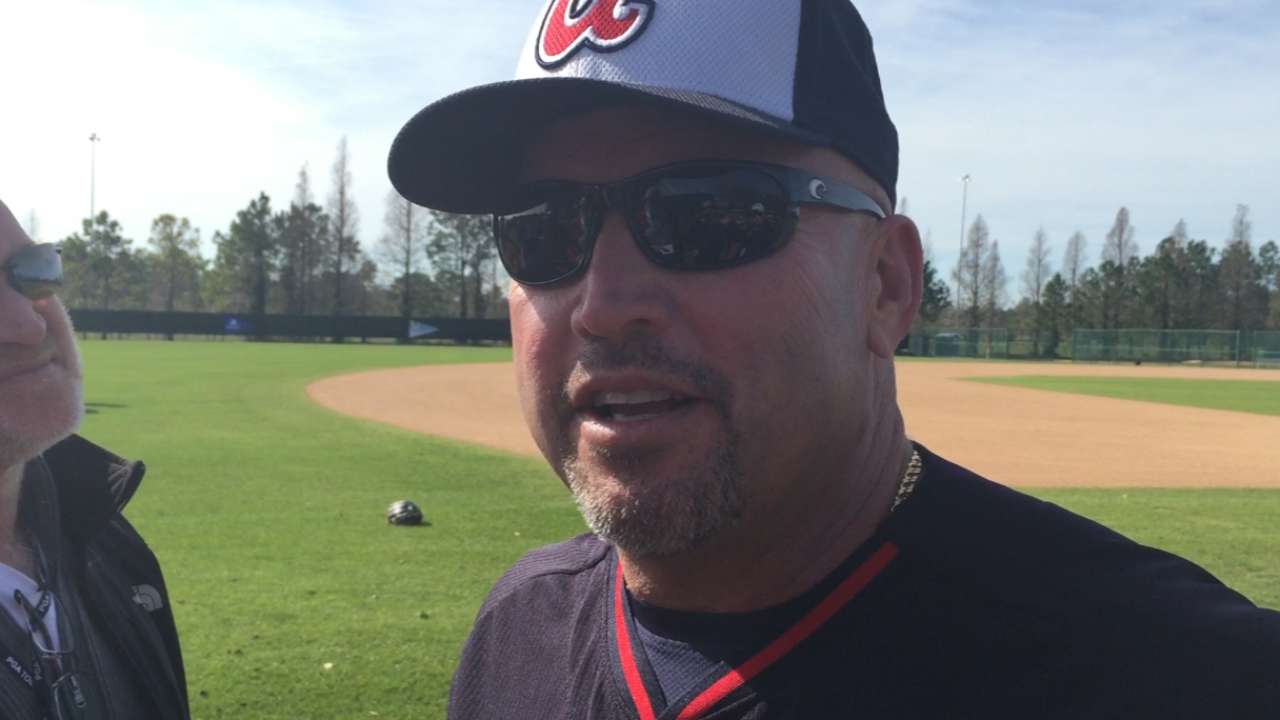 LAKE BUENA VISTA, Fla. -- Braves manager Fredi Gonzalez got a look at some of the unfamiliar members of his new-look roster as Atlanta's pitchers and catchers completed their first workout of the season on Saturday morning at ESPN Wide World of Sports complex.
Below are thoughts expressed by Gonzalez and some of his players during this first official day of Spring Training.
Gonzalez on the dawn of a new season
"Non-baseball people, which is the majority of the people in the world, think Jan. 1 is the first day of the year. But I think baseball people say the first day of the year is pitchers and catchers [reporting]. I'm really excited about being out here."
Gonzalez on Christian Bethancourt, who is slated to begin his reign as Atlanta's starting catcher this year
"Christian Bethancourt has all the tools to be an impact player in the Major Leagues, there is no doubt about it. Now, it's just a matter of getting the seasoning. You never get the experience until you experience it. It's a little different animal at Triple-A and Double-A than it is at the Major League level. He's going to have to work with [pitching coach Roger McDowell] on game plans and work with video, but he can do it. He's a smart guy that has great aptitude. We're going to keep him working towards that."
Veteran backup catcher A.J. Pierzynski on the less-than-optimistic expectations surrounding the Braves
"I've been on teams that are expected to lose 100 games and we've won a division. I've been on teams where we were expected to win 100 games and we lost 100. Every year is different. All it takes is for some guys to have good years and for some other teams to not live up to what the media says and some things can work out."
Top pitching prospect Mike Foltynewicz on his reaction to learning he had been traded to the Braves from the Astros in January
"It was shocking to me. My name has never really been thrown around in trade rumors. So, it was a different experience for me. But that is part of baseball. Trades are going to happen. So, if your name gets thrown around, you just have to go with it. I'm just excited to be here with the Braves and to start a new chapter."
Right-handed pitcher Shelby Miller on former Cardinals teammate Adam Wainwright, who was Atlanta's top pitching prospect before being traded to St. Louis before the 2004 season
"Waino is a guy who is always going to be there for you, not only on the field, but off the field. He's a guy who is just a great leader. I wish I could be more like Wainwright. He's a huge Christian guy and a great father to his kids. He's a great teammate and a guy you look up to. I learned a lot of great things from him and I enjoyed playing every second with that guy."
Mark Bowman is a reporter for MLB.com. This story was not subject to the approval of Major League Baseball or its clubs.