Camp opening signals start of Molitor managerial era
First-year Twins skipper brings familiarity, emphasis on running game
FORT MYERS, Fla. -- Spring Training is officially here for the Twins, as all 37 pitchers and catchers reported on Sunday, with the first official team workouts slated for Monday at the newly renovated CenturyLink Sports Complex.
Position players don't report until Friday, with the first full-squad workout scheduled for Satuday. But several position players have already started working out at the complex, including Torii Hunter, Joe Mauer, Brian Dozier, Trevor Plouffe and Aaron Hicks, as well as top prospects such as Miguel Sano, Jorge Polanco and Eddie Rosario.
"I think we have a majority of our 40-man here even though our position players don't have to report for a week or so," Twins general manager Terry Ryan said. "This place, there's no reason why you wouldn't want to come early."
It marks the first Spring Training as manager for Hall of Famer Paul Molitor, who replaces longtime skipper Ron Gardenhire. Given Molitor's familiarity with the way the Twins have held Spring Training in the past, Molitor has indicated the core of the program won't change much, but he plans on making a few tweaks.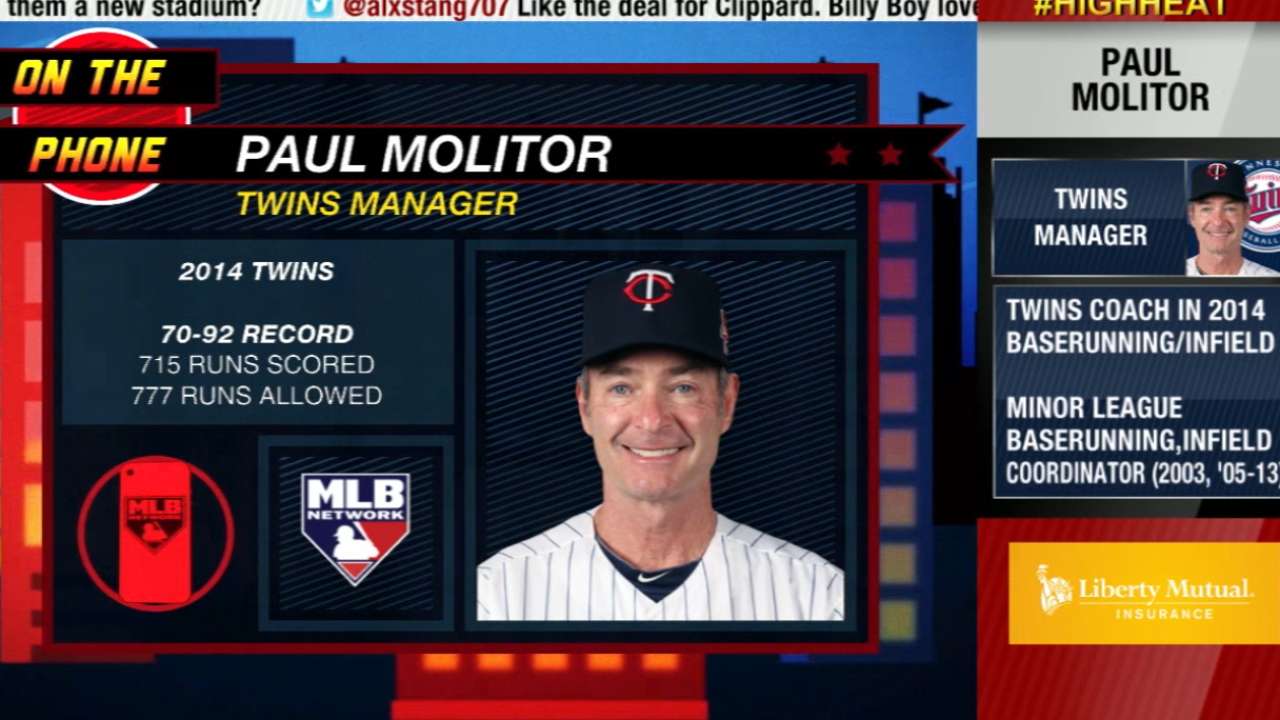 "It's a new year and a new start with some new faces with Mollie running the show," Mauer said. "But I'm assuming we'll do a lot of the same things. But he'll have his twists and takes on things, and I'm excited to get in there and see what happens."
Molitor plans on emphasizing the running game -- both stopping opposing basestealers and being smarter on the basepaths -- while also looking to improve the defense with better positioning.
"I think he's going to hang on to the things he's seen that he really likes and I think he'll tweak some of the areas he has different beliefs about," Ryan said. "You have to expect some change. Obviously, he has ideas and approaches he's gone through over the 40 years he's been in professional baseball."
Molitor will also work hand-in-hand with new pitching coach Neil Allen, who joins the Twins after serving as the pitching coach for the Triple-A affiliate of the Rays. It'll be the first time Allen is seeing most of the pitchers at camp, giving the pitching staff a fresh start.
But the first four spots in the rotation are essentially set, as Phil Hughes, Ervin Santana, Ricky Nolasco and Kyle Gibson are considered locks The Twins have plenty of options for the final spot, including Tommy Milone, Mike Pelfrey, Tim Stauffer, Alex Meyer and Trevor May.
Minnesota will also have competition for spots in the bullpen, but the club is set at closer with two-time All-Star Glen Perkins, while Casey Fien figures to be the club's top setup reliever. Lefties Brian Duensing and Caleb Thielbar are also in that mix, while the Twins have plenty of intriguing arms in camp such as Ryan Pressly, Aaron Thompson, Michael Tonkin, Lester Oliveros, A.J. Achter, Stephen Pryor and non-roster invitees Blaine Boyer and Mark Hamburger. Rule 5 Draft pick J.R. Graham will also compete for a relief role.
Veteran Kurt Suzuki leads a group of eight catchers in camp, but there figures to be a battle for the backup role. Josmil Pinto is the heavy favorite given the offense he provides, but his defense has been a concern over the past few seasons. Other catchers in camp include Eric Fryer, Chris Herrmann, Stuart Turner, Dan Rohlfing, Mitch Garver and Tyler Grimes.
It all leads up to the first Grapefruit League game against the Red Sox on March 6 at renovated Hammond Stadium. The Twins open the regular season on April 6 against the Tigers in Detroit.
Rhett Bollinger is a reporter for MLB.com. Read his blog, Bollinger Beat, and follow him on Twitter @RhettBollinger. This story was not subject to the approval of Major League Baseball or its clubs.