Sabathia excited to get back on the field
Veteran southpaw ready to prove doubters wrong after injury-shortened 2014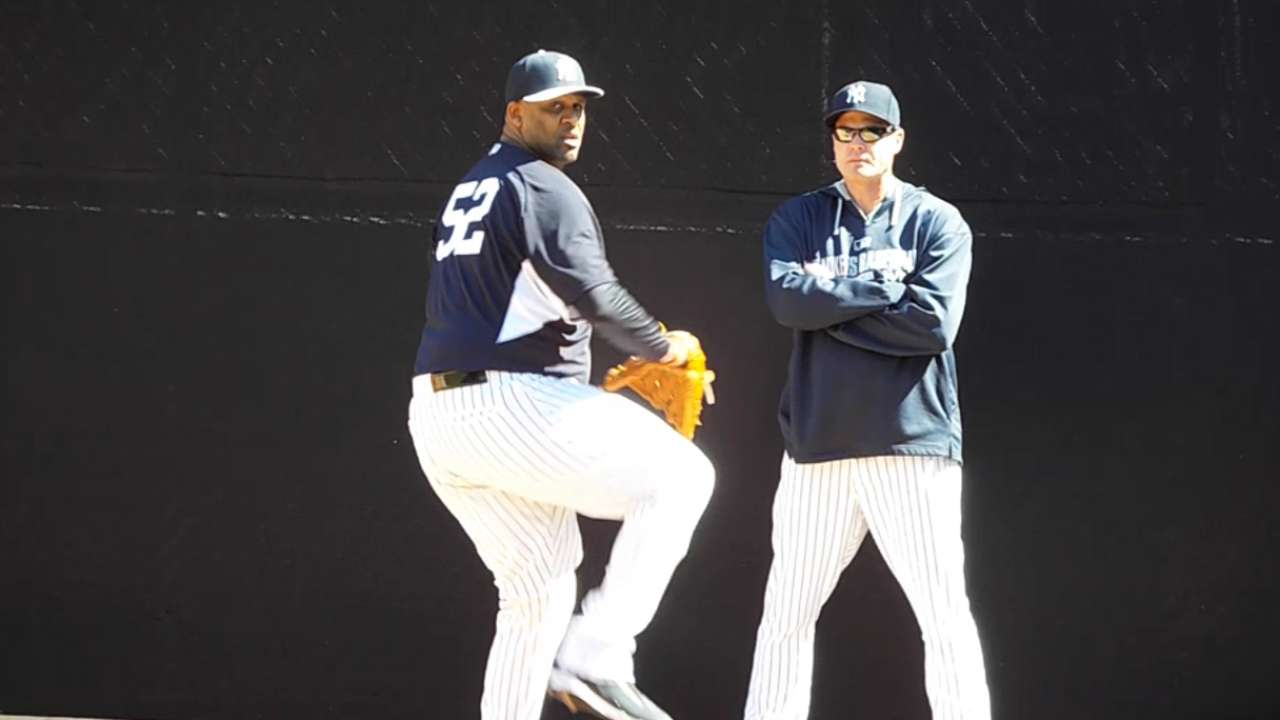 TAMPA, Fla. -- CC Sabathia made the drive to Yankee Stadium over icy highways from his suburban New Jersey home two or three times each week during what felt like his longest offseason ever. He fueled the rehab of his surgically repaired right knee with a desire to prove his doubters wrong.
As Sabathia prepared to step on an outdoor mound for the first time this year on Saturday morning, the big left-hander could not hold back a toothy grin. He understands the questions -- especially having been limited to just eight starts last season -- and is looking forward to the challenge ahead.
"I've kind of taken things for granted, I guess," Sabathia said. "Not being able to perform and play last year was tough. Sitting at home all summer and watching these guys play was hard. I come into [Spring Training] appreciating every little moment, and I'm just excited to get a chance to get back on the field."
Sabathia's first session of the spring was set to consist of 25 pitches, fastballs and changeups. His 2014 season ended abruptly on May 10 in Milwaukee, as he attempted rehab before undergoing arthroscopic surgery in July. Sabathia said the knee is no longer giving him issues.
"It feels good," he said. "It's something that I'm excited about -- just playing catch, long-toss, everything. I'm able to go 100 percent and not feel anything."
At the time of the procedure, general manager Brian Cashman described Sabathia's injury as "degenerative." With a laugh, Sabathia referred to it on Saturday simply as "a bum knee."
It will require attention going forward. Part of the prescribed regimen has included three platelet rich plasma (PRP) injections, and Sabathia said that he shouldn't need another until the end of the first half -- as long as he ices regularly to keep the swelling down.
In returning to the mound, Sabathia plans to pick up where he left off in adjusting to the second phase of his career, understanding that his high-90s fastball velocity is unlikely to suddenly reappear. He has been talking with Andy Pettitte about the changes that will be necessary to be successful.
"[I am] just making sure that my control is where it needs to be, my two-seamer is good and my changeup is better than it's been," Sabathia said. "Just making sure that I can spot up and throw the ball where I need to. I've been talking to Andy a lot about how he would attack guys later in his career, so I think I've got a pretty good plan."
After winning a World Series in 2009 and then making three straight All-Star teams, Sabathia has gone just 17-17 with a 4.87 ERA in his last 40 starts since the beginning of the 2013 season. He believes that, if healthy, there is no reason to lower his expectations of success.
"Not being able to play last year, and performing horribly in 2013, I have a lot to prove," Sabathia said. "I have to try to help this staff and help this team get back to the playoffs."
Bryan Hoch has been covering the Yankees for MLB.com since 2007.
This story was not subject to the approval of Major League Baseball or its clubs.