Red Sox extend Farrell through 2017
Manager 'ecstatic' about deal, ready to lead turnaround in 2015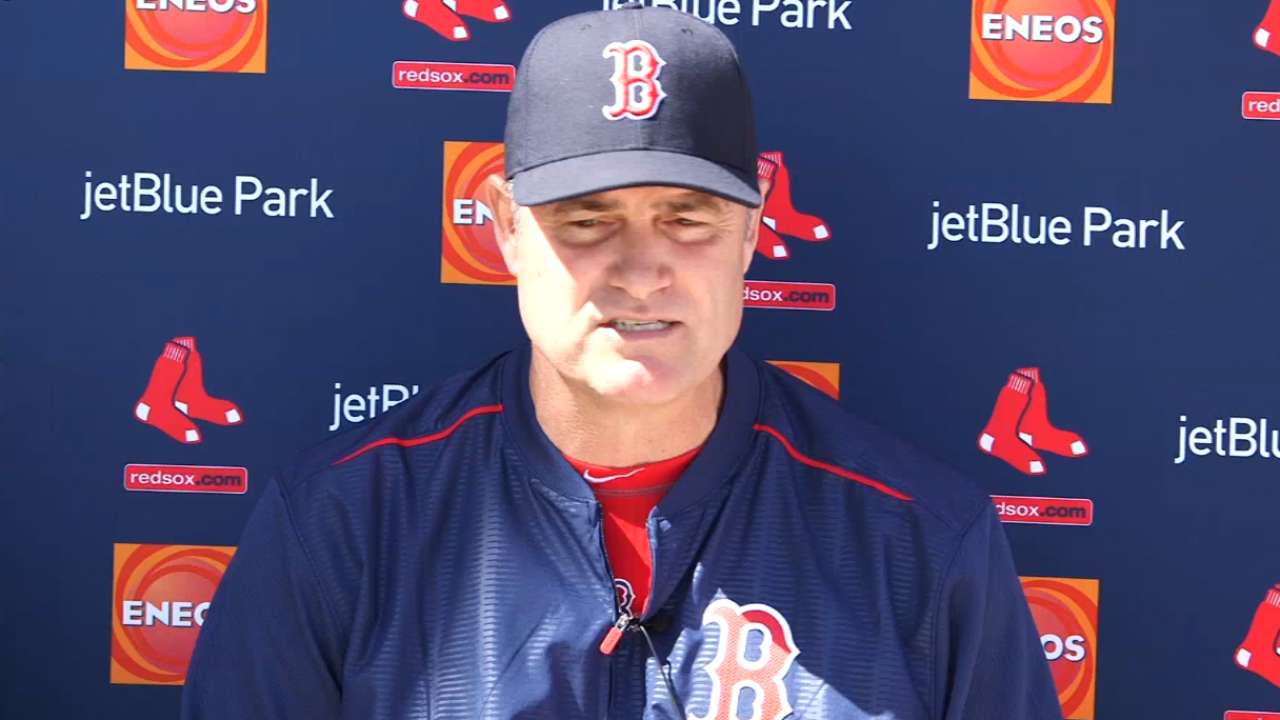 FORT MYERS, Fla. -- The Red Sox didn't need to see John Farrell engineer another worst-to-first turnaround before deciding he should be their manager for not just now, but also the future. Roughly a half-hour into the first official workout of Spring Training on Saturday, the club announced the extension of Farrell's contract through the 2017 season with an option for '18.
"Clearly, we want him to be our manager for a long time. On behalf of ownership, there was no question in our mind that John is the right man to manage this team," said general manager Ben Cherington. "Given that he had been entering the final year of the original contract he signed here, we wanted to get something done with him prior to Spring Training. We almost made it -- first day of camp, I guess."
The Red Sox won the World Series in 2013, Farrell's first season at the helm. He had served as Boston's pitching coach under Terry Francona from 2007-10 before managing for two seasons in Toronto.
Even a trying 71-91 season in 2014 did nothing to dissuade the Red Sox that Farrell is what they want in a manager.
"Well, first and foremost, I'm ecstatic to have the extension, to be able to work alongside Ben and [assistant general manager] Mike [Hazen] and many others in our front office," said Farrell. "This is a very special place. And to be able to be here for at least the number of years that are in place, we don't take for granted one moment what the expectations are and how we have to deliver on those expectations."
Dustin Pedroia, who has long shared a strong relationship with Farrell, was pleased to hear his manager will be sticking around for a while.
"He's been great," said Pedroia. "Obviously this is great news. I'm excited to have him here leading us. He's always been consistent, and that's all you can want. He's always communicating and you appreciate that."
By getting the extension with Farrell completed so early, the Red Sox avoided it becoming a distraction.
"It's a great group to work with, and particularly when you look at the roster we have in place, and this is setting up, I think, to be another special year," Farrell said. "But the fact it was handled in the way it was -- very low key -- was appreciated on my part. I always feel that the focus should always remain on the players and that will always be the case. I'm ecstatic about this coming together."
Before signing the extension, Farrell's contract was set to expire following this season, though it included a club option for '16.
In other words, there was no rush for the Red Sox to do this. But they didn't see any reason not to.
"I think you guys know there's a lot that goes into a manager's job in Boston. What happens between innings one and nine is just a very small part of it," Cherington said. "John is one of the few guys that has the ability, we think, to thrive and excel in everything that comes along with being a manager in Boston. It's just very clear to us that he's the right guy. We want to be working together as a group and with him for a long time."
The Red Sox thought so highly of Farrell that they sent compensation (infielder Mike Aviles) to the Toronto Blue Jays to free him from the remainder of his contract there. Farrell managed Toronto in 2011-12.
The Red Sox had also tried to hire Farrell as manager after the departure of Terry Francona, but wound up going with Bobby Valentine for the 2012 season.
"As John said, we understand that ultimately, we've got to perform on the field, and that's up to us to make happen," said Cherington. "But I felt when we hired John prior to 2013 that there was no doubt in my mind he was the right person for the job, and I still feel that way."
Over his first two seasons with Boston, Farrell has led the club to a combined 168-156 (.519) record. In 2013, he became just the sixth manager to win a World Series with Boston, and the fourth to do it in his first year at the helm.
Farrell finished second in the 2013 AL Manager of the Year voting.
"John's awesome," Pedroia said. "He's always a guy you can go to and talk about any kind of problems. He's there for you. He wants you to be the best you can as a player. If you have something going on off the field, you can always go to him. We have a great relationship. I'm happy he's going to be here."
Ian Browne is a reporter for MLB.com. Read his blog, Brownie Points, and follow him on Twitter @IanMBrowne. This story was not subject to the approval of Major League Baseball or its clubs.