Cuban prospect Lopez: Joining D-backs dream come true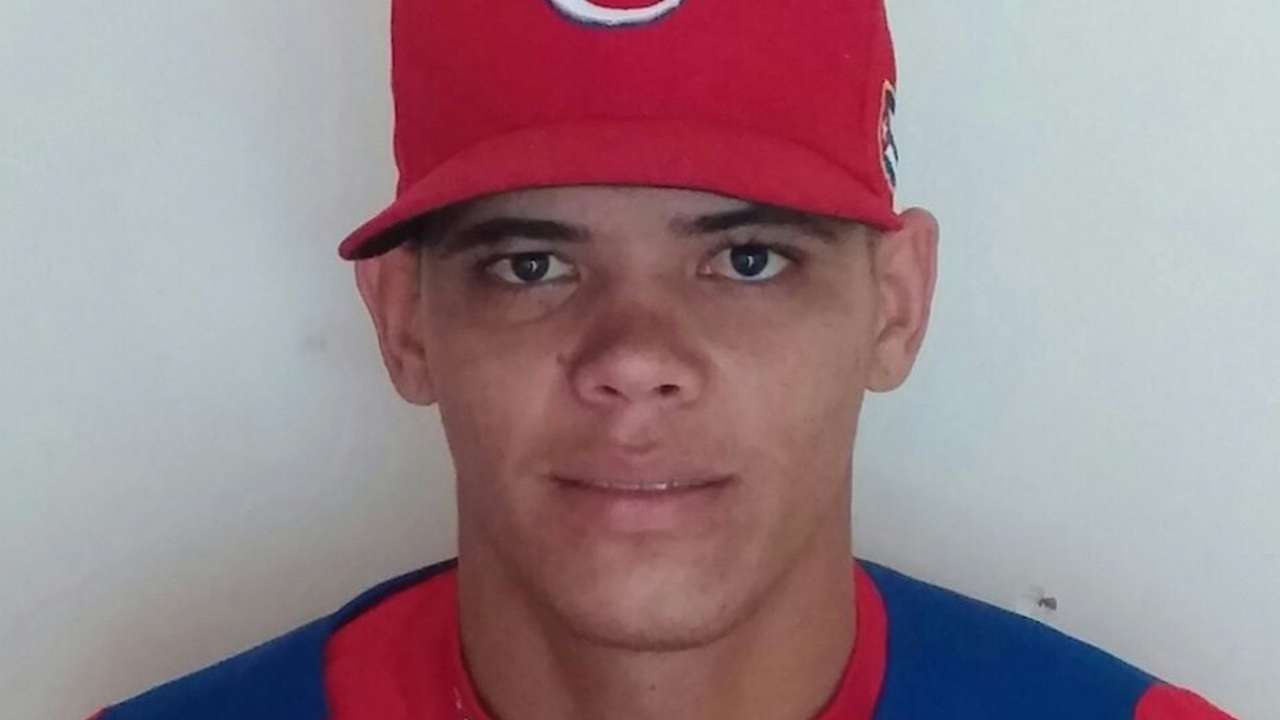 SCOTTSDALE, Ariz. -- Growing up in Cuba, Yoan Lopez was a fan of the Arizona Diamondbacks.
The team became a big fan of Lopez this past winter after watching him pitch, and it gave Lopez a signing bonus of a little more than $8 million to join the organization.
Lopez threw a bullpen session Friday during the first workout for pitchers and catchers at Salt River Fields, and afterward he met with the media for the first time.
"Actually when I was young in Cuba, I followed this team," he said through interpreter Hatuey Mendoza. "I saw guys like Randy Johnson, and this was the team that gave me a great opportunity, and this was the one that I wanted. They were my favorite team when I was in Cuba, and thank God this was a dream that came true."
Speaking of Johnson, the Hall of Famer was in camp and was watching bullpen sessions while Lopez was throwing.
"I had the opportunity to meet him and share some words with him," Lopez said.
Lopez had friends that worked in a hotel in Cuba, and they had access to the Internet there and would get him information on the D-backs.
When Lopez was signed, the thinking was that he would need some time in the Minors to develop, but GM Dave Stewart said he would allow the 22-year-old to compete for a spot in the rotation this spring, and that's exactly what Lopez intends to do.
"I came from Cuba with one purpose," Lopez said. "It's to reach the big leagues, and I'm sure that I will be there. I know what I'm capable of giving out there on the field, and that's exactly what I'm going for."
Lopez did not want to discuss the details about how he defected from Cuba.
"It was a hard transition coming from Cuba," he said. "But I'd rather just keep that in my heart."
Lopez has certainly impressed the D-backs with the three bullpen sessions he's thrown.
"We were all probably more impressed with his command," D-backs chief baseball officer Tony La Russa said. "I don't see a guy that had any kind of fear."
Lopez throws a fastball, slider, curve and changeup. Non-roster catcher Blake Lalli caught Lopez's bullpen session Friday.
"He's got very good stuff," Lalli said. "That was the first time I've seen him, and he looks promising. Looks like he would be fun to catch. He's pretty polished."
Steve Gilbert is a reporter for MLB.com. Read his blog, Inside the D-backs, and follow him on Twitter @SteveGilbertMLB. This story was not subject to the approval of Major League Baseball or its clubs.