MLB Tonight puts pace of game rules to the test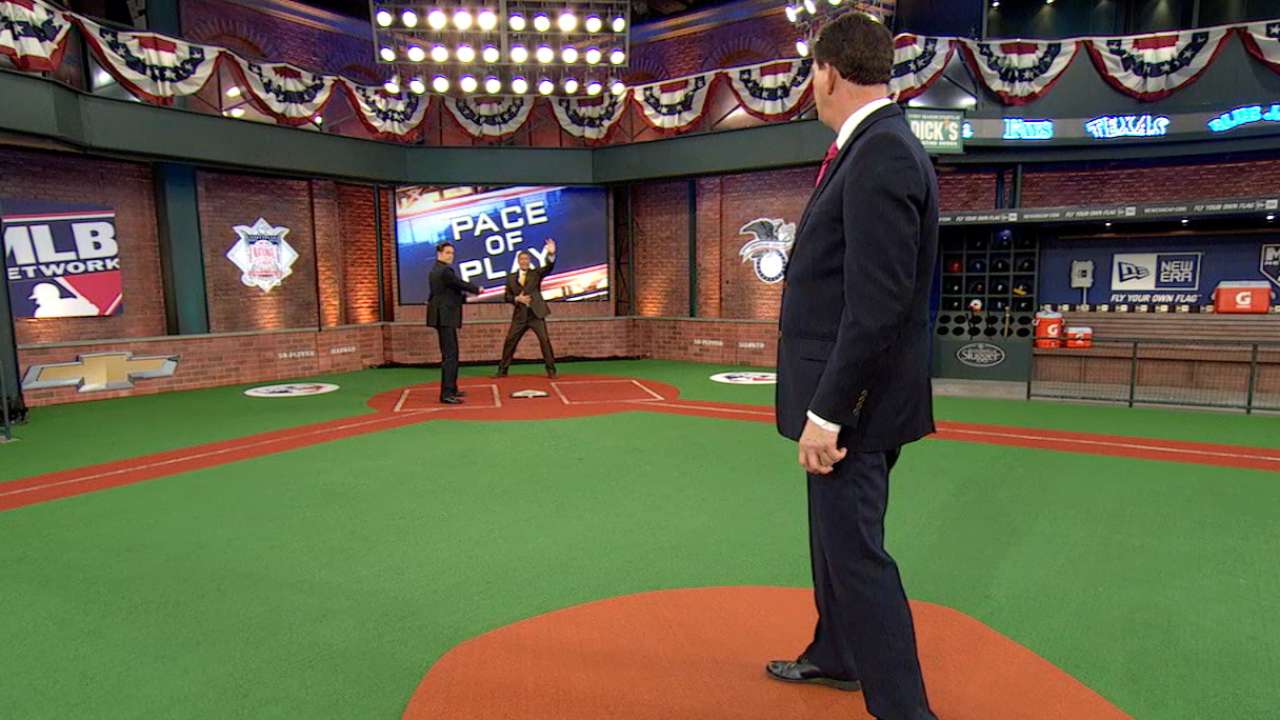 The panel of MLB Network's "MLB Tonight" spent Friday night breaking down how the new rules instituted Friday by Major League Baseball to quicken the pace of play will impact hitters and pitchers this season.
Among the key points of the new rules:
• Umpires will enforce Rule 6.02(d), which requires hitters to keep one foot in the box during an at-bat, subject to certain exceptions.
• Timers will be used to ensure that the game resumes promptly at the end of inning breaks.
• Managers will no longer come out of the dugout to initiate a replay challenge. A manager will also keep his challenge after each call that is overturned. Last season, a challenge was retained only after the first overturned call.
During the breakdown, analyst Dan Plesac headed to the mound, host Greg Amsinger acted as the hitter and analyst Ron Darling acted as the umpire.
As the umpire, Darling was constantly chattering and making sure Amsinger, the hitter, kept one foot in the box.
"That's how the umpire is going to have to run the game," Darling said. "If he runs the game like that, it's going to be nice, soft, smooth. You're going to see guys running to their position. It's going to be fun."
Darling, using Blue Jays left-hander and famed quick worker Mark Buehrle as an example, figured an 11- or 12-second break between pitches could shorten games by 10 to 15 minutes.
Players throughout the sport voiced their opinions Friday, and Plesac said both hitters and pitchers should be able to adjust their routines during Spring Training so they're ready for the regular season.
"Once players try it, after a couple weeks I think players will adjust to it," Plesac said. "Will there be some that will have a more difficult time? Without question."
Darling also thinks the fans will like the quicker game.
"It's not a country club anymore. We're playing baseball here, trying to put on a show for the fans," Darling said. "Our new fans want to watch action. They need action all the time."
Cash Kruth is a reporter for MLB.com. Follow him on Twitter at @cashkruth. This story was not subject to the approval of Major League Baseball or its clubs.