Rockies voice concerns over new pace-of-game rules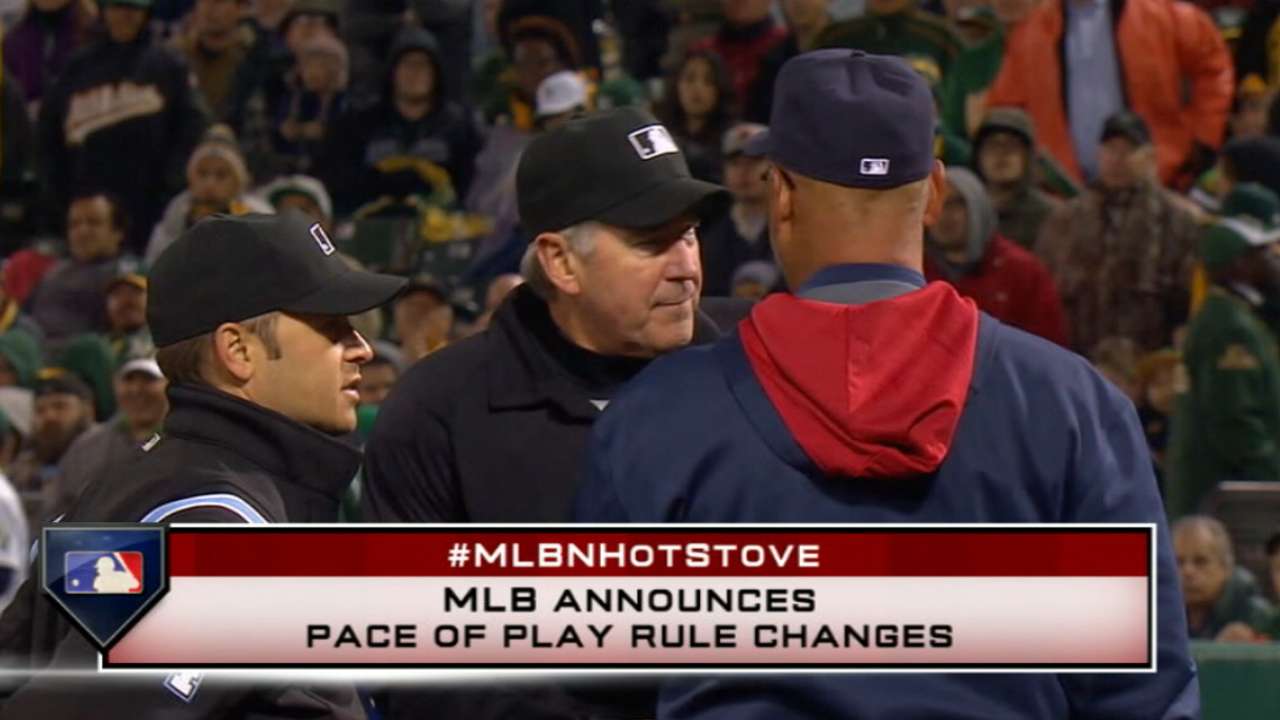 SCOTTSDALE, Ariz. -- Pace-of-game initiatives announced Friday by Major League Baseball with the blessing of the MLB Players Association weren't directed at the Rockies, but they could not be blamed for being poked -- or shoved.
According to Fangraphs, using Pitch F/X data (with some credit going to the Rockies Zingers blog for publishing a recent article on the issue), the Rockies possess several players who take baseball's timelessness literally:
• The 27.9-second average that shortstop Troy Tulowitzki took between pitches and the 27.5-second average between outfielder Corey Dickerson's pitches were second- and third-longest of the 443 batters with 100 or more plate appearances last season. Only the Dodgers' Hanley Ramirez, who took his snail's pace to the Red Sox, was slower, at 28.1 seconds.
• Left-hander Jorge De La Rosa's 26.0 seconds between throws was second in the Majors among starters with 100 or more innings to David Price, who took 26.6 seconds between pitches for the Rays and the Tigers.
• Among relievers with at least 30 innings, LaTroy Hawkins (27.5 seconds), Tommy Kahnle (26.8) and Adam Ottavino (25.6) all were slower than the MLB average. Rex Brothers was dead on the average at 24.3.
According to the Baseball-Reference Web site, the 3-hour, 12-minute average game at Coors tied with games at Wrigley Field for second-longest in the National League. Only games at Dodger Stadium, 3:14, were longer.
The most notable initiative was the enforcement of a rule that requires hitters to keep one foot in the batter's box under certain conditions, such as not swinging at a ball or a strike. Yes, the instant replay challenge system was modified for speed. But with umpires allowed to call automatic strikes against batters, and with timers being used between innings to make sure pitchers' warm-ups don't delay games -- all with the ability to issue fines for slowness -- there is a message to players to hurry.
Some Rockies players didn't take kindly to being prodded, not because they're personally offended but because it works against thinking and strategy. Defending NL batting champ Justin Morneau, interestingly a faster-than-average hitter at 22.1 seconds, said the one foot in the box rule becomes problematic if a hitter doesn't like a called strike.
"If … you're still angry and you're still thinking about that last pitch and you haven't cleared it out yet, sometimes you need an extra five seconds or whatever it is to reset your mind," Morneau said. "If you start changing those things then I think you're changing the way the game's played."
Tulowitzki, who likes long walks around the circle at home plate and meticulously adjusts the straps on his batting gloves, was not available to comment Friday. Dickerson said his wandering is just part of a thought process that is important to hitters. He said he will adjust, but he trusts that those enforcing the rules are flexible.
"The umpires will start looking at each player, and they'll know their routines," Dickerson said.
De La Rosa said hitters delay as much as he does, especially when he's ready to throw and they're tinkering with their gloves. As for speeding up, he'll try to work that into his style.
" I want to pitch quick, too, but I have to think about the game," De La Rosa said. "I don't just have to throw the ball."
Game times have increased from 2 hours, 33 minutes in 1981 to 3:02 in 2014. Hawkins said replay pushed the average past the tipping point.
"We figure that out, we'll be fine," Hawkins said.
Hawkins said shortening between-innings breaks would make sense. They're 2 minutes, 25 seconds for most games, and 2:45 for nationally televised games. He agrees with a suggestion floated by former Rockies teammate Michael Cuddyer, now with the Mets -- incorporating commercial content into the telecast.
"Maybe do a minute and a half of advertising and the other minute, run it during the inning," Hawkins said. "Run it on the side [of the screen]. There's got to be another way, other than speeding the game and speeding the players up.
"You can only have the umpires doing so much. And they do a great job of calling balls and strikes, then you've got instant replay helping them. But you've got them looking at the clock, timing guys, giving them warnings. It's too much."
Thomas Harding is a reporter for MLB.com. Read his blog, Hardball in the Rockies, follow him on Twitter @harding_at_mlb, and like his Facebook page, Thomas Harding and Friends at www.Rockies.com. This story was not subject to the approval of Major League Baseball or its clubs.