A's, Mesa celebrate upgraded Arizona facilities
Hohokam Stadium now decked out in green and gold; Fitch Park expanded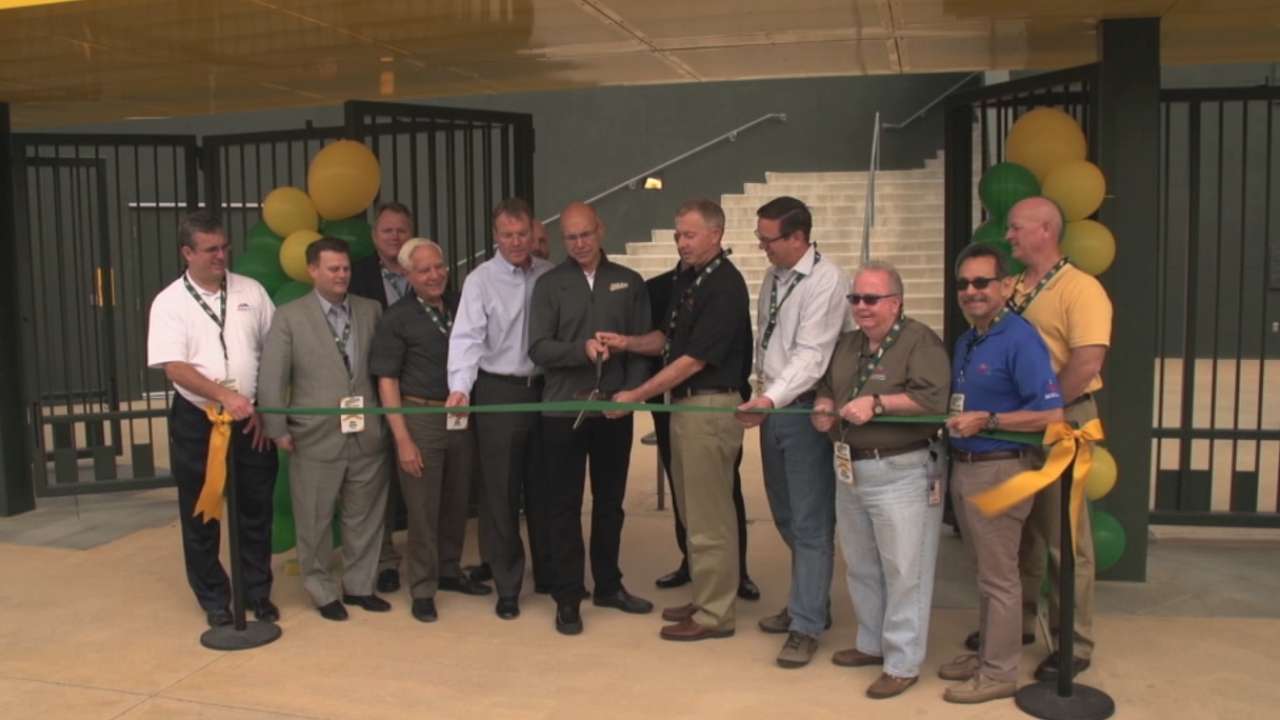 MESA, Ariz. -- A ribbon-cutting ceremony was held at Hohokam Stadium on Friday to celebrate the completion of upgrades to the A's new Spring Training home and extensive enhancements to the Fitch Park training facility.
The mayor of Mesa, John Giles, joined Oakland co-owner Lew Wolff and president Michael Crowley for the event, which marked a new partnership between the A's and the city they trained in from 1969-78, before moving to Phoenix. The Cubs played at Hohokam from 1979-2013.
"This is just terrific for us," said manager Bob Melvin. "Phoenix Muni was obviously a little restricted as far as space goes and maybe a little outdated, and now we're coming into what is essentially a new complex, not only on the big league side but the Minor League development side, and we're ecstatic."
• Photos of Hohokam Stadium and Fitch Park
"It's amazing," added A's pitcher Sean Doolittle. "You can't even tell that this was the Cubs' facility all those years. They came in and totally redid it. They thought of everything. They really did an awesome job with it."
The improvements to Hohokam Stadium are noticeable at first glance, as the entire park has been rebranded in a green and gold color scheme. It also features new seating, an expanded clubhouse and a state-of-the-art video scoreboard, now the largest in the Cactus League.
Over at Fitch Park, which will serve as the year-round home for A's Minor League training and player development operations, the grounds have been expanded by more than 25,000 square feet to a total of 55,433 square feet.
Jane Lee is a reporter for MLB.com. This story was not subject to the approval of Major League Baseball or its clubs.