Price, Bailey discuss pace of play initiatives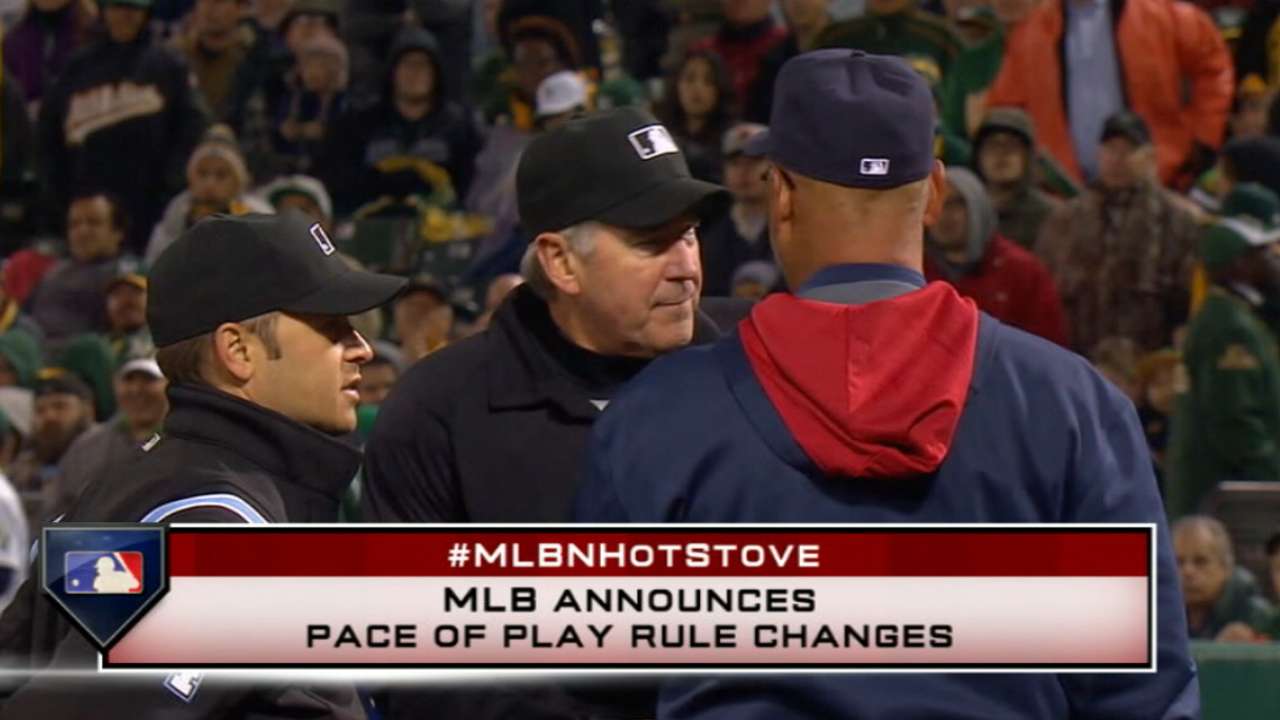 GOODYEAR, Ariz. -- Ongoing efforts to speed up the pace of play moved forward Friday with the announcement on new initiatives that will be enforced in 2015.
Included are enforcing rules that require hitters to keep one foot in the box during an at-bat (subject to certain exceptions). Timers will be used to ensure that games resume immediately at the end of inning breaks, and managers will no longer be required to leave the dugout to make a video replay challenge.
Reds manager Bryan Price will be meeting with MLB executives Joe Torre and Joe Garagiola Jr. on Saturday to be briefed on the rule changes. Price still had concerns.
"From my perspective, it seems like as much as we're working to quicken up the game, there are other parts of it that extend the length of game," Price said. "I certainly think the inning breaks have increased over the years."
Price noted that the use of bullpens and situational pitching changes still lengthen games.
"As much as we use statistical analysis, now it's a matchup game with your bullpen," he said. "We don't use Pedro Borbon for 3 2/3 innings of relief. That's going to add time."
Reds pitcher Homer Bailey felt that the inning-break enforcement was a positive improvement.
"I know there have been more times by far that I'm ready to go in an inning and they're telling me to hold on because of TV," Bailey said. "A lot of times, I think it's more the pitchers are ready than anything. Relievers and stuff, I agree, they should only get so much time to get to the rubber.
"At the end of the day, as long as it's not questioning the integrity of the game, you don't want to rush-rush or take your time. It's hard to enforce the rules that everybody across the board is going to be for. If it's a time-limit thing, then look to your TV times. That's going to be bigger than anything."
Price also liked not having to leave the dugout for challenges.
"I'm glad they made that adjustment," he said. "If we can pause the game without having to take the field as managers, it's a blessing. I didn't like to have to run out there, turn around and have people in the dugout yelling to come back. It's waste of time. It's embarrassing. Nobody wants to do that."
Mark Sheldon is a reporter for MLB.com. Read his blog, Mark My Word, and follow him on Twitter @m_sheldon. This story was not subject to the approval of Major League Baseball or its clubs.