Tribe's Santana aiming for full-season success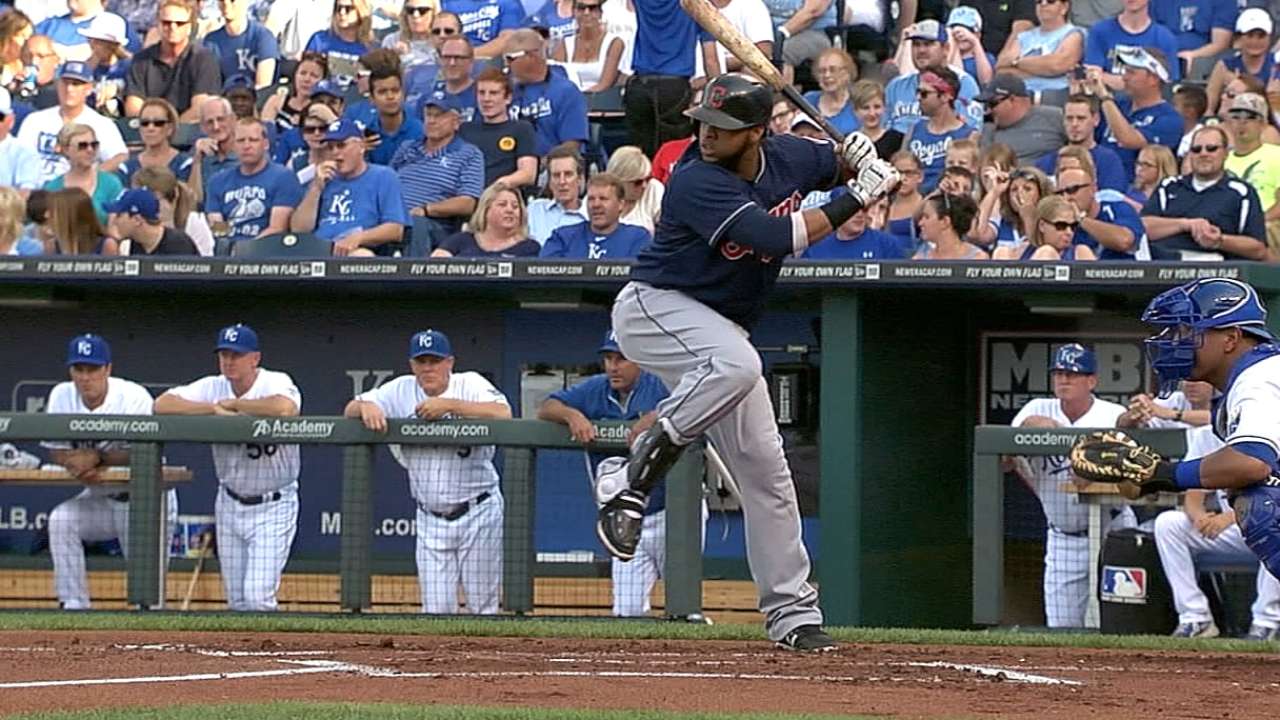 GOODYEAR, Ariz. -- It has become a tradition for Carlos Santana. Each year, shortly before he makes the annual journey from the Dominican Republic to Spring Training, he travels to the city of Higuey on the eastern side of his native island.
That is where the Basilica of La Altagracia is located. Inside the church, which has a unique series of arches and ornate stained glass to create a breath-taking sanctuary, Santana finds a pew and says his prayers. Once this ritual is complete, he feels ready to embrace the challenge of another season.
"I go every year," Santana said on Friday morning. "I do a couple things with a couple friends. One is we go to the church."
Beyond the obvious goal of remaining healthy, Santana's hopes for this season include helping Cleveland reach the postseason again and maintaining a level of consistency throughout the year. Last year, each of those aspirations proved difficult for the Indians' first baseman, who dealt with a brutal early-season slump, endured a concussion and saw the Tribe fall short of the October stage.
Friday marked Santana's first day at Cleveland's complex this spring and he was greeted with plenty of hugs and handshakes as he made his way around the building. Inside the clubhouse, Santana sees a team that he believes is capable of winning the American League Central, even though the Tribe's offseason was relatively quiet in terms of transactions.
"We have a good team," Santana said. "I understand that we didn't have too many moves, but the front office tried to do what was necessary -- Brandon Moss, Gavin Floyd, a couple veteran players. We're fighting for the division. I know Chicago, Detroit, Kansas City, they have good teams, but I'm confident that we'll be fighting for the division."
Santana is a big part of making that happen.
One change that might benefit the switch-hitter this year is he no longer has to concern himself with multiple positions. A year ago, Santana willingly took on a switch to third base, while still doubling as Cleveland's backup catcher. Over the first two months of the season, an offseason slump, combined with bouncing between positions, boiled over in the form of a frustrating start.
Through May 21 last season, Santana was sporting a .146/.303/.268 slash line and he openly griped about moving between third base and catching. He played his final game at third base on May 22 and then caught his last game on May 25, when a mild concussion sent him to the disabled list. After Santana returned, the Indians limited him to first base and designated hitter.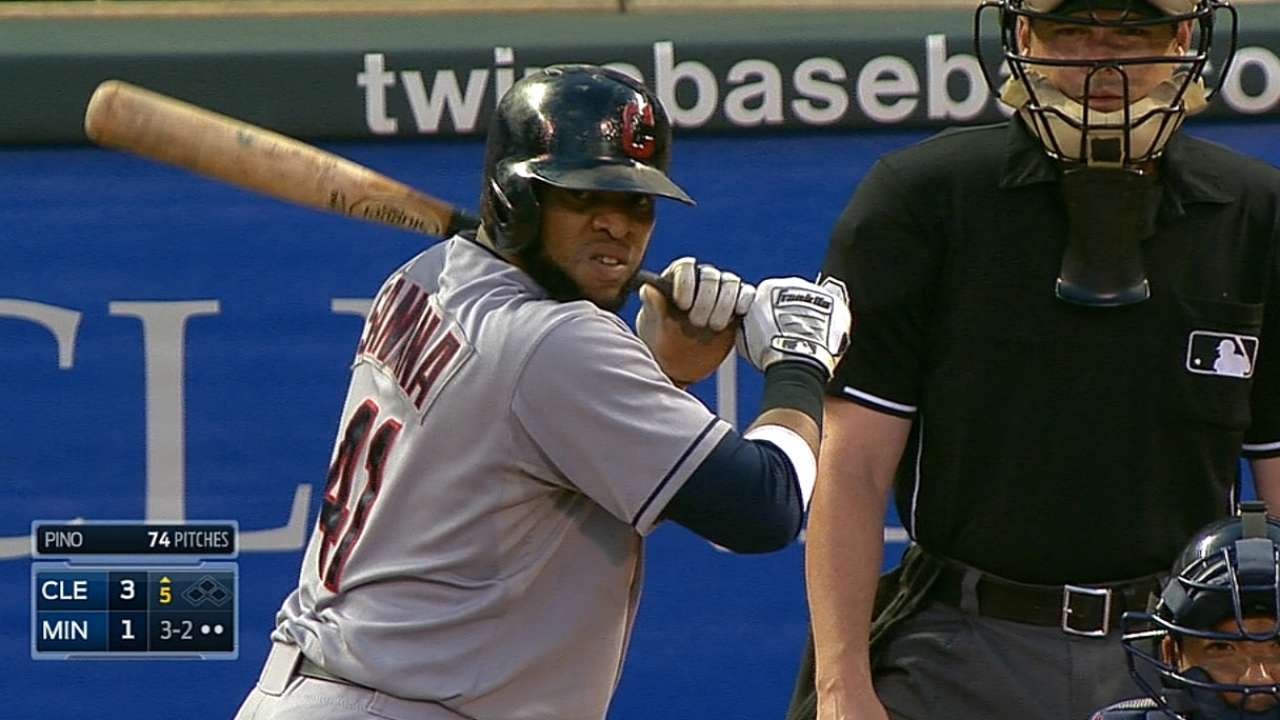 "He started out miserable hitting and then moving positions, I think he got frustrated," Indians manager Terry Francona said. "And, I think when you're hitting .150, you get frustrated quicker. I totally understand that, too. Then he started getting nicked up with foul balls, and all that did was aggravate him. And I get that."
After Santana moved to first base nearly exclusively, his offense began to pick up in a big way for the Tribe.
Francona downplayed the role the positional switch played in Santana's turnaround.
"Carlos is too good a hitter," said the manager. "We could've put him in center field and at some point he was going to get hot. He's a good hitter. I believe that. Now, I do think him being at one position, I do think it helped. But, when he started out, he was so happy to be playing third, so I just think to be fair to everybody, I really don't think that's why he didn't hit at the beginning."
Beginning with May 22, Santana posted a .268/.392/.496 slash line over his final 106 games for Cleveland. He finished hitting just .231 overall, but the 28-year-old first baseman posted a .792 OPS on the year to go along with a team-high 27 home runs, a career-high 85 RBIs and a Major League-leading 113 walks. In fact, Santana became the first Indians player to lead baseball in walks since 1919 (Jack Graney).
Santana believes that sticking with first base has the potential to create more consistency this year.
"Last year, it was a little different, I played a couple positions," Santana said. "This year, I feel so great, because I only play one position, first base. We'll see what happens this year. I'm working hard every day and I'll try to do my best for the team.
"I tried to start normal [last year]. I tried to keep it the same all year. Last year, the first two months, I was struggling. By the second half, I was up and I finished strong. It's very important for me to try to do the same thing all year."
That process began with Santana's annual trip to the Basilica.
Jordan Bastian is a reporter for MLB.com. Read his blog, Major League Bastian, and follow him on Twitter @MLBastian. This story was not subject to the approval of Major League Baseball or its clubs.