Banister emotionally ready for first workout as manager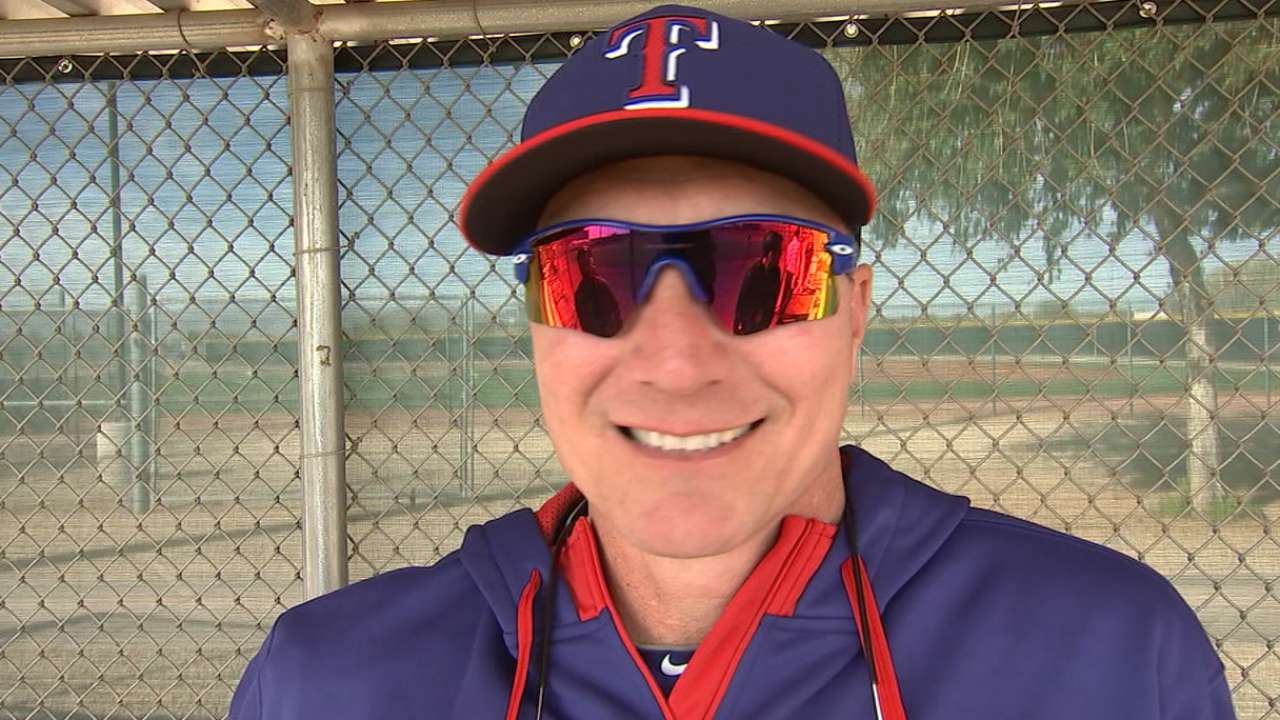 SURPRISE, Ariz. -- Rangers pitchers and catchers formally take the field for the first time on Saturday and Jeff Banister will wear the uniform for the first time as new manager. There are a lot of emotions going through him in his new job.
"Passion, excitement, energy, anticipation," Banister said Friday. "All of the things that go along with it's Christmas Eve for me. I get to wake up tomorrow, come downstairs and be excited. I'll put that uniform on tomorrow and feel like I'm the luckiest guy on the planet."
Banister will meet with his players before the workout. But the first full-squad workout is not until Thursday so Banister will likely save his major team address until then.
"We have some things planned for the pitchers and catchers specifically for tomorrow," Banister said. "And we have things specifically planned for the entire group. As far as expectations, what I see, collective vision, probably leave those for the full squad."
The Rangers have 33 pitchers in camp and just two that are not at full strength. Matt Harrison (back surgery) and Martin Perez (Tommy John surgery) are both limited to flat-ground throwing. Both are not expected to be options until the summer.
General manager Jon Daniels has not ruled out adding more pitching, especially in the bullpen. Free agent left-hander Phil Coke has been a possibility but the Rangers don't appear to be in a rush.
"We've talked about relievers in general, left and right-handed," Daniels said. "We've talked about a free-agent reliever … depending on how we get started here in camp. We like a lot of the guys we have in camp.
"They are not maybe household names but they are talented and they've had success at the upper levels and the Major League level and they are guys we believe in. We want to see the guys we have here compete. But it's always an area you can use depth."
The Rangers will have competition in both the rotation and the bullpen. Theoretically everybody except Harrison and Perez have a chance to make the team. Nick Martinez wasn't even in big league camp last year and ended up in the April rotation.
But the Rangers believe they have acquired enough depth so that a group of talented young pitchers that includes Alex Gonzalez, Alec Asher, Jerad Eickhoff and Keone Kela can continue their development in the Minors. One message that Banister wants to send is not for anybody to come out overthrowing and try to make the team on the first day.
"That's a definite message," Banister said. "The last thing anyone in the organization wants is to lose a player to injury on Day 1, Day 2, Day 3 or Day 37. We can give them that information, we can tell them, but really it's about Day 1, having a slow heart beat, really controlling what you need to control."
T.R. Sullivan is a reporter for MLB.com. Read his blog, Postcards from Elysian Fields, and follow him on Twitter @Sullivan_Ranger. This story was not subject to the approval of Major League Baseball or its clubs.