MLB.com Columnist
Phil Rogers
White Sox open Spring Training in position to contend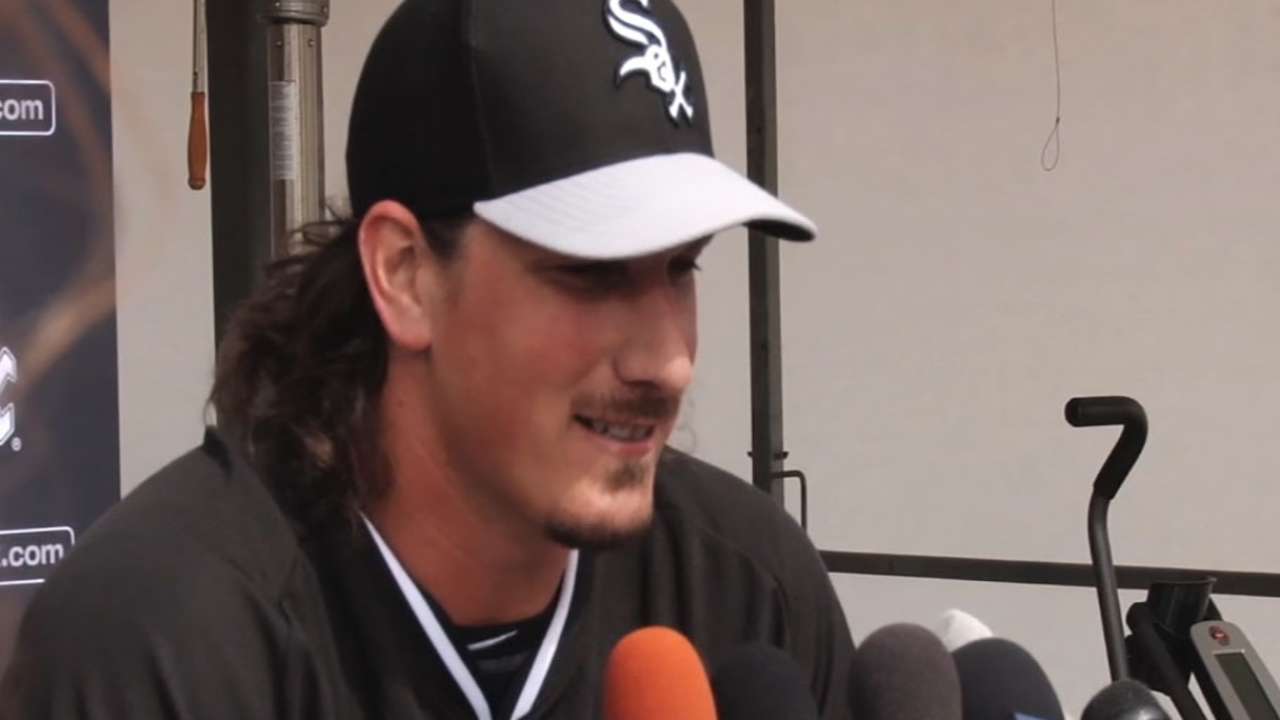 GLENDALE, Ariz. -- Generally as upbeat as he is excitable, White Sox pitching coach Don Cooper was practically levitating as he moved around the workout mounds at Camelback Ranch on Friday.
It was only the first session of Spring Training, but Cooper's excitement was palpable as he watched right-hander Jeff Samardzija throw alongside left-hander Chris Sale. And, if possible, it just grew as he moved on to watch the group of prospects headed by 2014 first-round pick Carlos Rodon, a 22-year-old lefty from North Carolina State, and to consider the professionalism of newcomers such as closer David Robertson and veteran lefty Zach Duke.
Rick Hahn, the White Sox general manager, was asked after the workout how good the club's starting rotation could be.
"I just came from talking to Don Cooper, so it's unfair asking me that now," Hahn said. "We've got four or five Cy Young candidates right now … and they're not even the guys on the 40[-man roster]."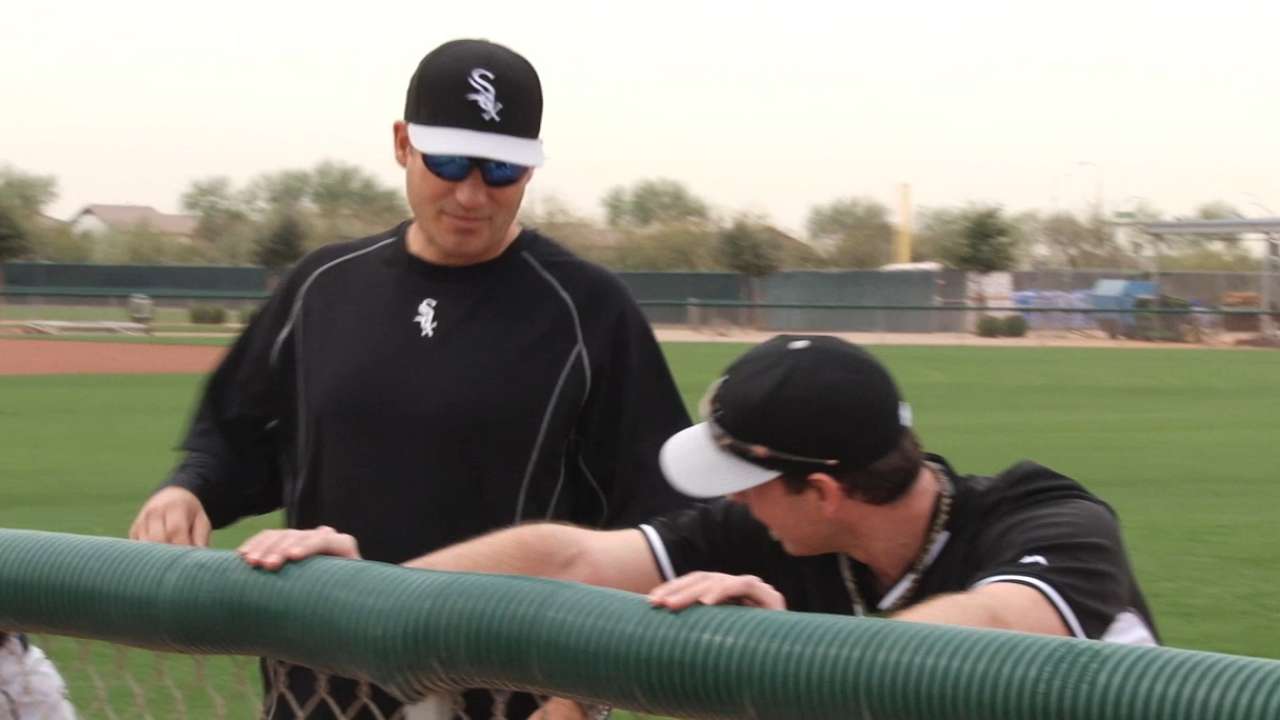 He was kidding about that, at least for the most part. But the front three of Sale, Samardzija and lefty Jose Quintana, along with Rodon in the wings as an X-factor, have significantly altered the outlook for a team that averaged 68 wins over the last two seasons. The same goes for the roster upgrade that has seen Hahn acquire Cuban slugger Jose Abreu, first baseman Adam LaRoche and outfielders Melky Cabrera, Adam Eaton and Avisail Garcia since the 2013 Trade Deadline.
Manager Robin Ventura believes he has a team that can take down the Tigers, Royals, Indians and Twins in the American League Central.
"I expect us to make the playoffs," said Ventura, who replaced Ozzie Guillen in 2012. "I expect us to make a good run at it and make the playoffs. You're looking at the commitment the front office has made, the guys they brought in here. You look at the depth we have. It's all on paper, but you're looking at guys going out with the idea of making the playoffs."
Samardzija is arguably the biggest difference-maker who was added this offseason. He was an All-Star last year, compiling a 2.99 ERA, 1.07 WHIP and 8.3 K/9 ratio over 219 2/3 innings for the Cubs and A's.
Put him alongside Sale and the under-rated Quintana and the White Sox have a front three that statistically stacks up just behind the Nationals' trio of Max Scherzer, Stephen Strasburg and Jordan Zimmermann and is better than the Tigers' David Price, Justin Verlander and Anibal Sanchez.
Factor in Rodon -- the third-overall pick in the Draft -- and some improvement from holdovers John Danks and Hector Noesi and the White Sox could have one of baseball's best rotations. "Sky's the limit," said catcher Tyler Flowers.
The White Sox issued Samardzija his familiar No. 29. He's wearing it with the joy that you'd expect from a kid who grew up in Northwest Indiana rooting for players like Frank Thomas and Ventura.
"Feels great," Samardzija said about his new uniform. "Fits perfect."
The question is how long will he wear it? Samardzija can be a free agent after this season and has seemed intent on letting the open market determine his value.
His status is the biggest question hanging over Chicago baseball. If the White Sox were to sign Samardzija to a multiyear deal, they might be as well-positioned to contend long-term as Joe Maddon's Cubs. Hahn and president of baseball operations Ken Williams wisely have locked up the reigning AL Rookie of the Year Abreu and perennial Cy Young contender Sale through 2019 and and Quintana through '20.
Both Samardzija and Hahn say there is nothing new to report on any contract negotiations.
"It's the same as it's been since we acquired him," Hahn said. "The hope is to make this a long-term relationship at some point. In terms of any progress reports on that, that we're not going to discuss publicly. We're going to keep that all internal as we have with other high-profile impending free agents, many of whom we've been able to work things out with."
There's no bigger bargain in baseball than the 25-year-old Sale, who has gone 40-26 with a 2.80 ERA in 85 career starts. He signed a five-year, $32.5 million extension two springs ago that will pay him $6 million this season.
Luckily for the White Sox, Sale isn't likely to sulk if the White Sox do ultimately give Samardzija or another newcomer $20-plus million. They have the flexibility to do that, which will only increase once Danks' five-year, $65 million deal is off the books after 2016.
Sale was asked Monday if he'd be upset in that situation.
"Not if we're winning," Sale said, laughing. "It's a business. You [people in the media] don't all make the same money, right? None of you guys are mad at each other for any of that. It doesn't bother me. It is what it is. It's a business."
Sale didn't stop there.
"I'm happy with what I'm doing," he said. "I like where I'm at. I'm in a comfortable position. My family's healthy. I've got people who I love. I have people who love me. What could be better than that?"
Not much, although to have all that and win some games in October, that could be pretty cool, too. It could happen sooner rather than later after Hahn's roster reconstruction.
Phil Rogers is a national columnist for MLB.com. This story was not subject to the approval of Major League Baseball or its clubs.