Brewers give mixed reaction on new pace of game rules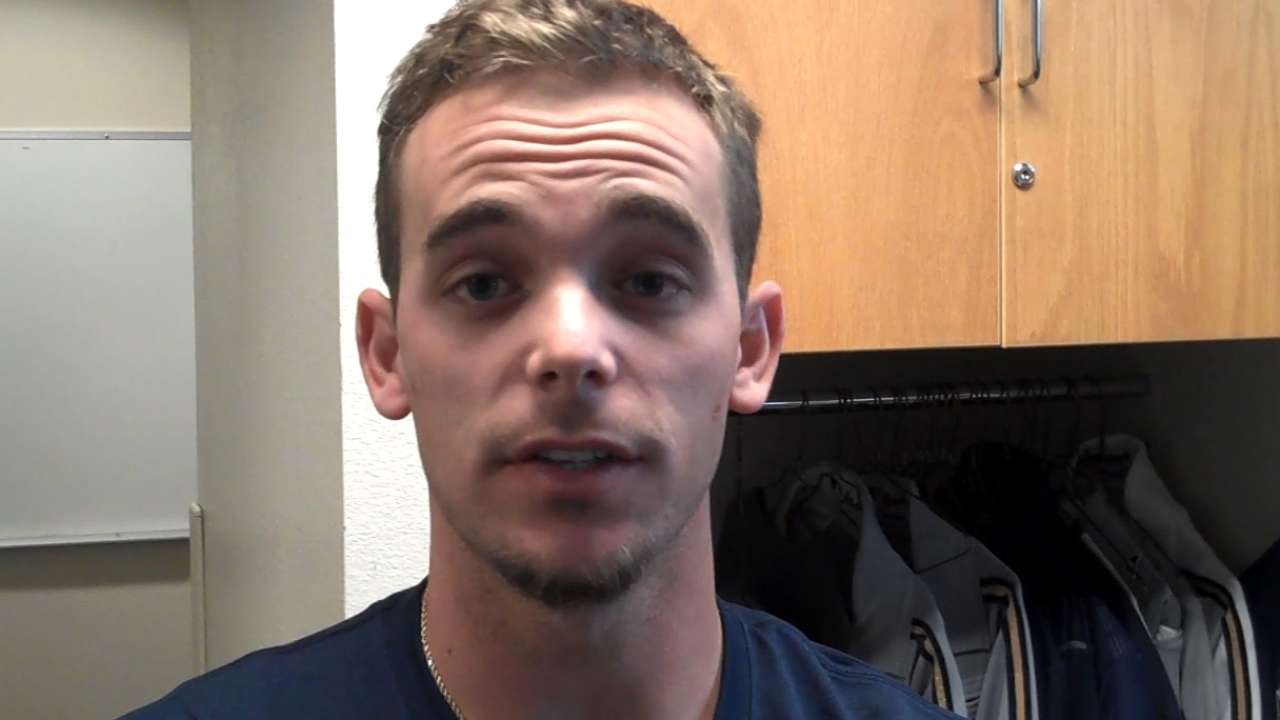 PHOENIX -- Brewers players offered mixed reactions Friday after Major League Baseball announced a series of new rules intended to speed the pace of game. Beginning this spring, league officials will enforce time limits between innings and pitching changes, and umpires will mandate that managers remain in the dugout to challenge a call, and that hitters keep at least one foot in the batter's box between pitches.
"Those measures are fine. I don't have an issue with that," said Brewers right-hander Kyle Lohse, a traditionally fast worked. "I thought they were going to do something with a pitch clock, which -- the game's not on a clock."
Lohse added, "I understand trying to speed up the games. I don't like sitting there through a three and a half hour game on the bench. I get on some of our younger pitchers when they take too much time, because you should already have a good idea of what you want to do. There are certain times in a game where you have to slow it down, but it still shouldn't take a minute in between every pitch."
A handful of hitters surveyed were less enthusiastic about the batter's box rule, which has been enforced in the Minor Leagues in 2014.
"My thing is, if people are rushed, [the pitcher] is rushed, hitters are rushed, I think you're going to see a decline in the quality of play," catcher Jonathan Lucroy said. "I like to relax and gather my thoughts. This game is tough enough already."
Lucroy did not buy the argument that longer game times were equally a threat to the quality of the game.
"I think there's a lot more strategy in the game nowadays, and information," Lucroy said. "Back then, they would drink two beers and eat three hot dogs and they were ready to go. They'd go up there and hit and hack. Guys threw two pitches; a fastball and a curveball. That was it."
According to Fangraphs.com, Lucroy took the longest between pitches (25.8 seconds) among Brewers regulars, tied with Atlanta's Justin Upton for the sixth-most time in the Majors among batting title qualifiers. But it's a tricky stat, since that leaderboard is dotted with excellent hitters, including runaway "leader" Hanley Ramirez (28.1 seconds) and runner-up Victor Martinez (27.2 seconds) against whom pitchers would be understandably deliberate. Lucroy was that sort of hitter in 2014, when he batted .301 and finished fourth in National League MVP balloting.
Among Brewers, Carlos Gomez took the least time between pitches, averaging 22.4 seconds.
"No one wants the game to be slower," said second baseman Scooter Gennett (24.3 seconds). "But at the same time, there are things that we have to do as players, and my mind is not going to be on whether I'm taking too much time. My mind is going to be on the game."
Adam McCalvy is a reporter for MLB.com. Read his blog, Brew Beat, and follow him on Twitter at @AdamMcCalvy. This story was not subject to the approval of Major League Baseball or its clubs.