Big Unit advises D-backs' hurlers to be mentally tough
SCOTTSDALE, Ariz. -- As the D-backs' coaching staff wrapped up its meeting early Friday morning, manager Chip Hale asked the 6-foot-10 guest if he had anything he wanted to add.
Turns out Hall of Fame electee Randy Johnson did.
"We asked him, 'Hey what do you think?'" Hale said with a smile. "And he told us. It was great."
What Johnson told the coaches is that a key for success in pitching is mental toughness, and that's what Johnson hopes to get through to the D-backs' pitchers this spring as he spends more time at Salt River Fields.
Friday, Johnson stood behind the bullpen mounds while pitchers went through their sessions. He occasionally offered a tidbit of advice here and there. He's hoping that players will feel comfortable to approach him at any time with questions.
"Everybody has good stuff or they wouldn't be here," Johnson said. "All I'm going to try to do is lend a little bit of advice. I will speak truthfully and honestly, because I've been in that boat. I'm not afraid to speak my mind. I want to do it in a positive way."
Johnson appeared animated at one point when talking with right-hander Trevor Cahill during his bullpen session.
Cahill has struggled the past two seasons, particularly last year, when he wound up back in Class A to work out some mechanical issues.
Cahill said Johnson explained to him how to work on certain weaknesses during his bullpen sessions, and that Johnson emphasized the importance of getting something out of each and every one of the workouts.
"It's really just a mentality," Johnson said. "How deep do you want to dig? How good do you want to be?"
Johnson will address the pitchers as a group Monday, but what impressed Hale more than anything was that Johnson told him he was most excited about getting out on the back fields and working with the team's Minor Leaguers once they report to camp.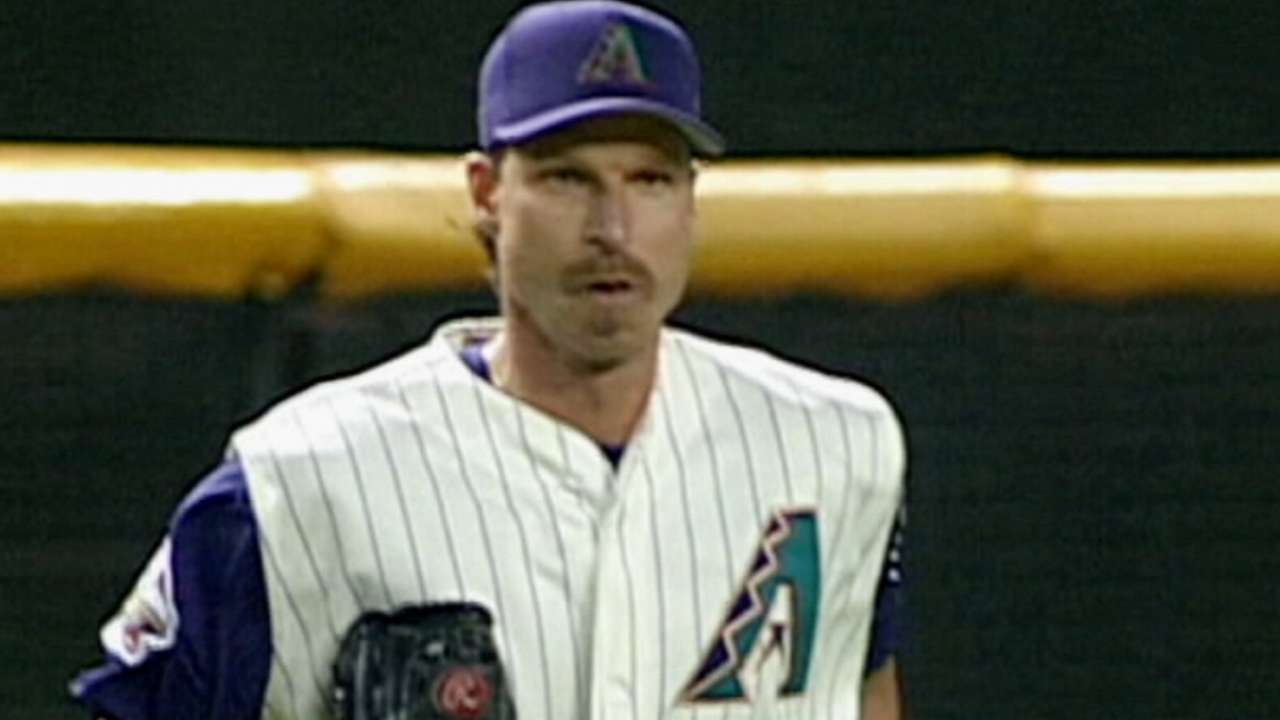 "I think he brings a lot of knowledge and a guy that had to go through a lot of tough times," Hale said of Johnson, who struggled early in his career to harness his electric stuff. "Guys like to listen to guys that have had a lot of success."
It's no secret that Johnson was not happy with the way his time in Arizona ended following the 2008 season, and he kept the organization at arm's length after he retired.
Over the last few years, however, he has gradually taken part in more club functions, and in January, when he was elected to the National Baseball Hall of Fame, the team announced he was going to become a special assistant to team president/CEO Derrick Hall. In his role, he will also visit the team's Minor League affiliates.
More than an overpowering fastball and a devastating slider, Johnson -- who will go into Cooperstown as a D-back -- said it was his determination to always get better that led him to his 303 victories over a 22-year career.
"I think the attribute that I had was my mental toughness," Johnson said. "That had to be developed. It's just a mindset."
Steve Gilbert is a reporter for MLB.com. Read his blog, Inside the D-backs, and follow him on Twitter @SteveGilbertMLB. This story was not subject to the approval of Major League Baseball or its clubs.