MLB.com Columnist
Barry M. Bloom
Revitalized Padres have throwback appeal
New roster reminiscent of '84 and '98 championships squads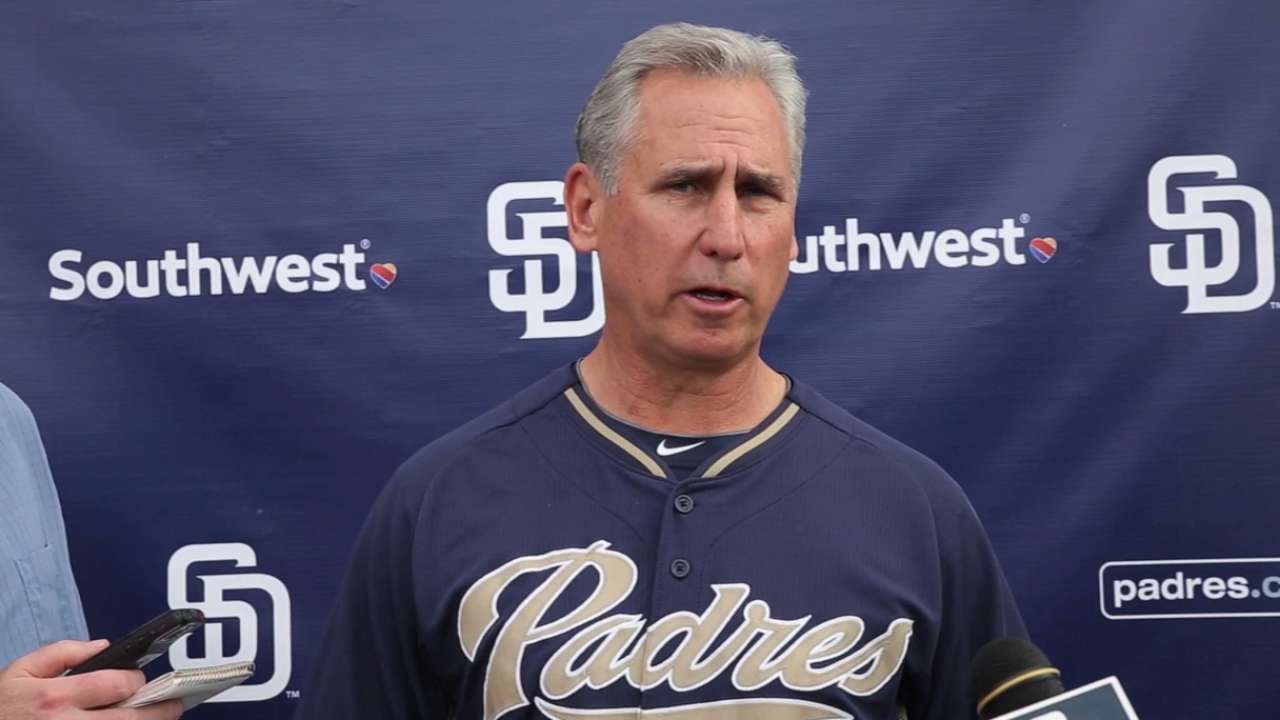 PEORIA, Ariz. -- Padres camp opened Friday with pitchers and catchers working out for the first time at the Peoria Sports Complex and, after a winter of high-profile trades and free-agent signings, the clubhouse has a whole new positive feel to it.
On Friday, James Shields was there on one side of the oval-shaped room and Matt Kemp on the other. The nameplates boast a veritable buffet of star players who weren't around when the Padres lost 85 games a year ago. And manager Bud Black is already toying around with a lineup when the Padres open the regular season against the Dodgers and, undoubtedly, ace left-hander Clayton Kershaw at Dodger Stadium on April 6.
"This is a little bit different, a little bit of a different group," Black said. "The thing that sticks out is that the middle of the order looks a lot better, obviously, with Kemp and [Justin] Upton right there in the middle."
When pressed to determine who would bat where, Black added: "We'll see. Those guys are going to bat either third or fourth, which one we don't know. How about Kemp three and Upton four? How about Upton three and Kemp four? That's the stuff we talk about."
It's a nice problem to have, considering that last season the Padres were dead last in Major League Baseball with a .220 batting average, 535 runs scored and 500 knocked in. But those days are seemingly over.
"As an organization we're excited," Black said. "From the top on down there's a different vibe, so we're excited about that. The players are excited. That's the thing I'm pumped about. The guys are excited about each other, getting to know each other and about getting this thing going on the field."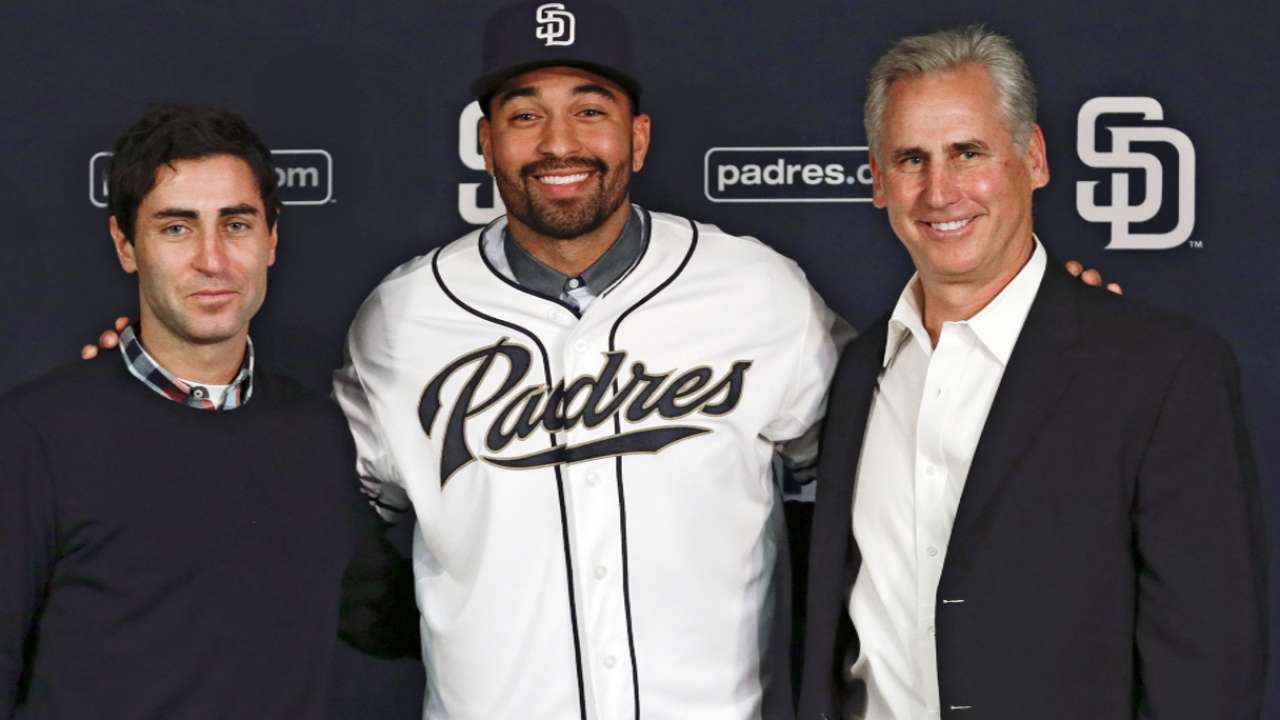 For older Padres fans, the build-up to the 2015 season is remarkably like the ones leading up to 1984 and 1998, the only two times in club history the team has played in the World Series, losing to the Tigers and Yankees, respectively.
Trying to win while then-owner Ray Kroc was still alive, the 1984 team was put together over time by general manager Jack McKeon, who traded Ozzie Smith to St. Louis for Garry Templeton, signed Steve Garvey and Goose Gossage as free agents and, at the end of 1984 Spring Training, made a trade with the Yankees for Graig Nettles. That team opened 8-1 and really never looked back, winning 92 games and the National League West by 12 games over the Braves and Astros. Sadly, Kroc died prior to the season.
As part of the campaign to build public support for construction of Petco Park, the 1998 team, owned by John Moores, was also put together over the course of several seasons by general manager Randy Smith and his replacement Kevin Towers. Smith sent Gary Sheffield to Florida in the deal that brought Trevor Hoffman to San Diego. Before leaving for Detroit, Smith made the megadeal with Houston that netted the Padres Ken Caminiti and Steve Finley. Towers signed free-agent slugger Greg Vaughn and made the months-before-the-season trade with the Marlins for right-hander Kevin Brown.
That season the Padres opened 11-2, won a club record 98 games and finished 9 1/2 games ahead of the Giants. A non-binding referendum on the new ballpark resoundingly passed shortly after the Padres were swept in the World Series.
This time around new ownership is simply trying to put the Padres back on the map and make them relevant again to fans in the community. The moves made by new general manager A.J. Preller that netted Shields, Kemp, Upton, Wil Myers, Shawn Kelley, Brandon Maurer, Brandon Morrow, Will Middlebrooks and Derek Norris are well documented and came in an avalanche of transactions.
"Being a part of the '98 season, this has a very similar feel to it coming in with the potential of what can happen," said Hoffman, who had a career-high 53 saves in 54 opportunities for that team and is an organizational pitching coach for this one. "We had a core group there to build upon. This happened pretty fast. It's going to take Spring Training for this group to come together and believe that the potential can be a reality. But it has a very similar feel."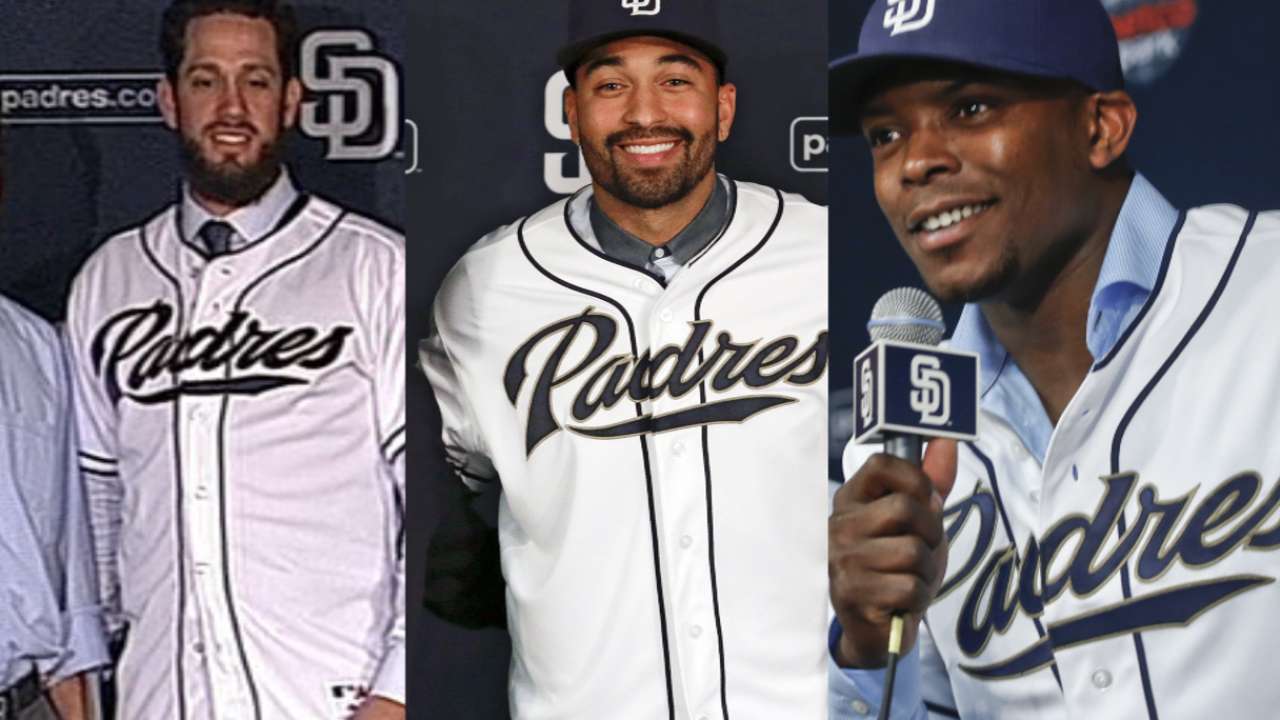 The Dec. 18 trade with the Dodgers for Kemp and the Feb. 11 signing of Shields are very much like the additions of Brown and Vaughn, who hit a club-record 50 homers in '98. Kemp, if healthy, has a chance to reclaim the near-MVP numbers of 2011 when he batted .324 with 39 homers and 126 RBIs for the Dodgers. Unlike this past spring, when he was handled gingerly by the Dodgers in his return from debilitating ankle and shoulder injuries, Kemp is completely healthy.
He is sporting a full head of hair, has a big smile and is ready to make an impact.
"I just like the feel of it around here," Kemp said. "I think this club has a chance to win a lot of games."
Shields is a top-of-the-rotation starter and, like Brown -- who pitched only that one season in San Diego -- is an innings-eater. Shields has averaged 212 innings a season over his nine-year career, including 227 last year for the Royals. The fact that Shields, a Los Angeles native, moved to San Diego a few years ago is just a bonus. He lives in the same North County neighborhood as Hoffman.
"I'm excited," Shields said. "I'm looking forward to it. We've got tremendous depth on our starting side and our bullpen depth is amazing. The Padres were always on my radar and the moves they made in the offseason were incredible. My whole main goal was to go to a team that has a chance to win and I feel like this team is going to win."
Plus there's all this, Shields added: "It's sunshine all day, every day, and it's the same weather all year around. I'm used to playing in humidity every day so I'm looking forward to it."
In the past, club executives used to call that "the San Diego discount," meaning anyone should take less to play there because of the great weather. Shields signed a four-year pact worth $75 million, which is the largest monetary deal in Padres history.
The old San Diego discount is dead and so is the dour environment.
Barry M. Bloom is a national reporter for MLB.com and writes an MLBlog, Boomskie on Baseball. Follow @boomskie on Twitter. This story was not subject to the approval of Major League Baseball or its clubs.