Schmidt set to help Brown, other Phils bats this spring
Hall of Famer will look to challenge outfielder to raise his mental game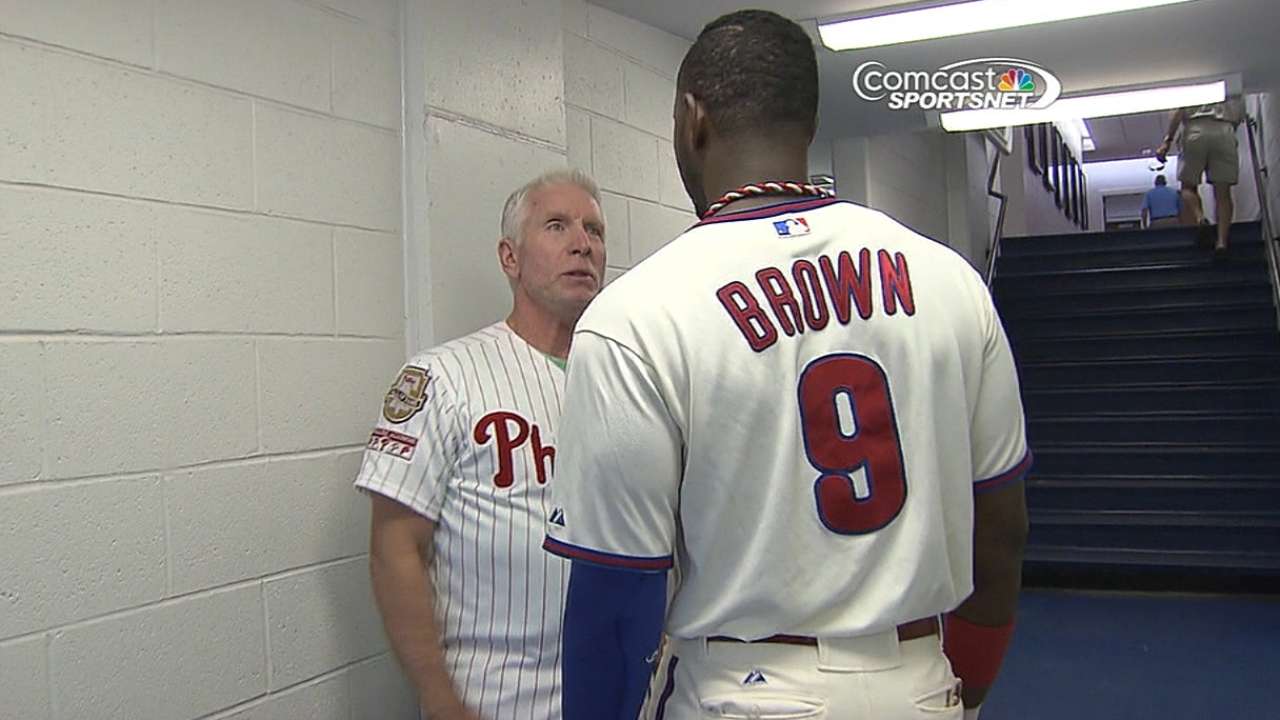 CLEARWATER, Fla. -- The last time Mike Schmidt offered Domonic Brown a hitting tip, the power-swinging left fielder knocked one out of the park.
It happened in June, when Schmidt was in Philadelphia to watch Jimmy Rollins break his franchise-hits record. Brown caught Schmidt inside the clubhouse and asked what he was doing wrong at the plate. Schmidt's suggestion was to use his top hand more.
Brown responded with a three run-homer in his next at-bat.
"We went nuts," said Schmidt, who watched Brown's at-bat on TV in a room with Phillies owner John Middleton and others. "It was so much fun."
The Hall of Fame third baseman will be working with Brown, Cody Asche, Darin Ruf and other Phillies hitters this spring as a guest instructor, but he sees Brown as a challenge. Brown made the National League All-Star team in 2013 with 27 home runs and an .818 OPS, but regressed in 2014. His .634 OPS in 144 games last season ranked 139th out of 147 qualified hitters in baseball.
This essentially is Brown's last chance to make the Phillies believe he should be part of their future.
No pressure, Mike.
"I don't think Domonic necessarily did what I said," Schmidt admitted. "I think it was coincidence. But I'm challenged. I know his history. I watched a great majority of his at-bats last year. I hope to get him to open up a bit in talking and trusting [me]. I'm not going to try to impart any mechanical things that I did as a right-handed power hitter. I searched for the ball with my hands. Domonic is more of a rotational, sit-on-the-back-leg guy. The core makes the swing happen.
"Domonic needs to be challenged to get back to where he was. But at the same time, not told he's bad or regressing. Search for positives. I wouldn't call it starting over. [I would tell him] 'Get this in your mind: I'm going to win the Comeback Player of the Year Award, starting now.'"
Todd Zolecki is a reporter for MLB.com. This story was not subject to the approval of Major League Baseball or its clubs.