Pace-of-game rules provoke thoughts across baseball
Players, managers offer opinions on recent announcement from league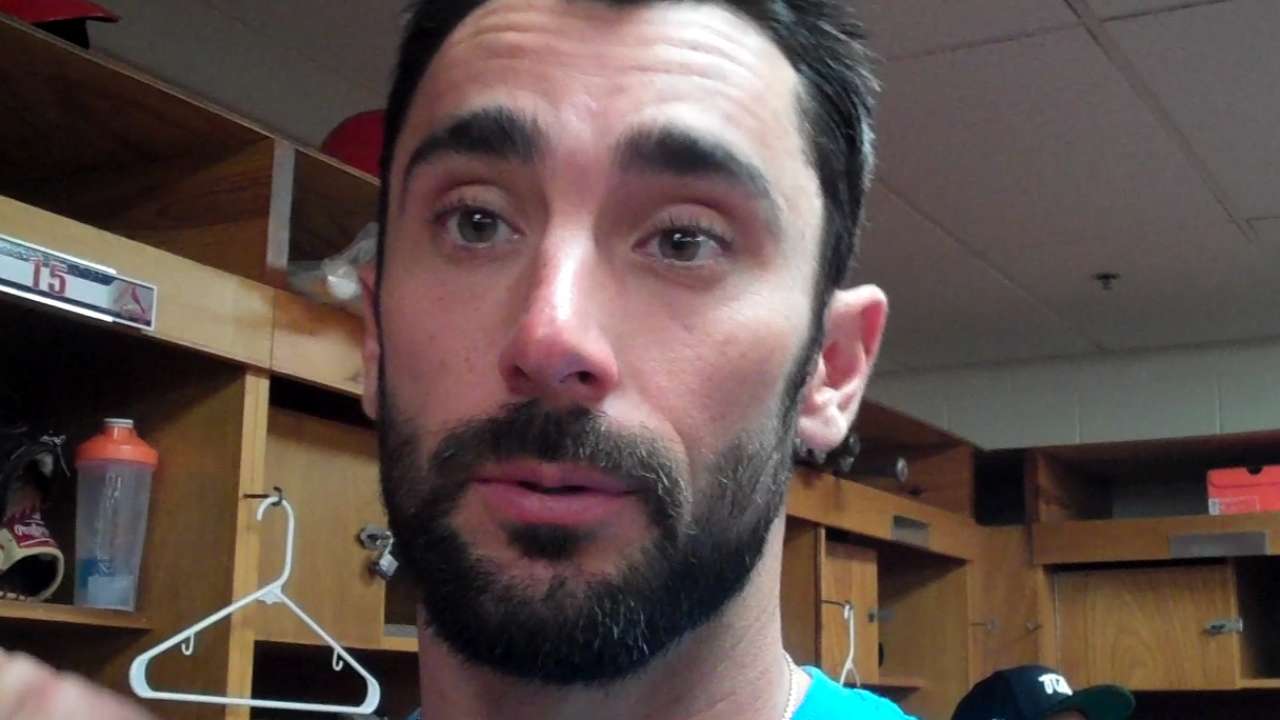 The reaction across Major League camps to immediate changes in rules governing pace of game and instant replay was swift upon the announcement of those initiatives Friday, and there was a range of opinions about just what those changes might mean.
Pace of game has been a hot subject for years now, and the moves to include a timer for between-innings breaks as well as strictly enforcing Rule 6.02(d), which requires batters to keep one foot in the batter's box with few exceptions, certainly provoked thoughts alongside the Spring Training fields of Arizona and Florida. So, too, did the adjustments to replay, including that managers do not need to leave the dugout to challenge a call, which was unanimous in its approval.
What also is unanimous is that this is all the law of the land now, as decided by the Commissioner's Office and the MLB Players Association.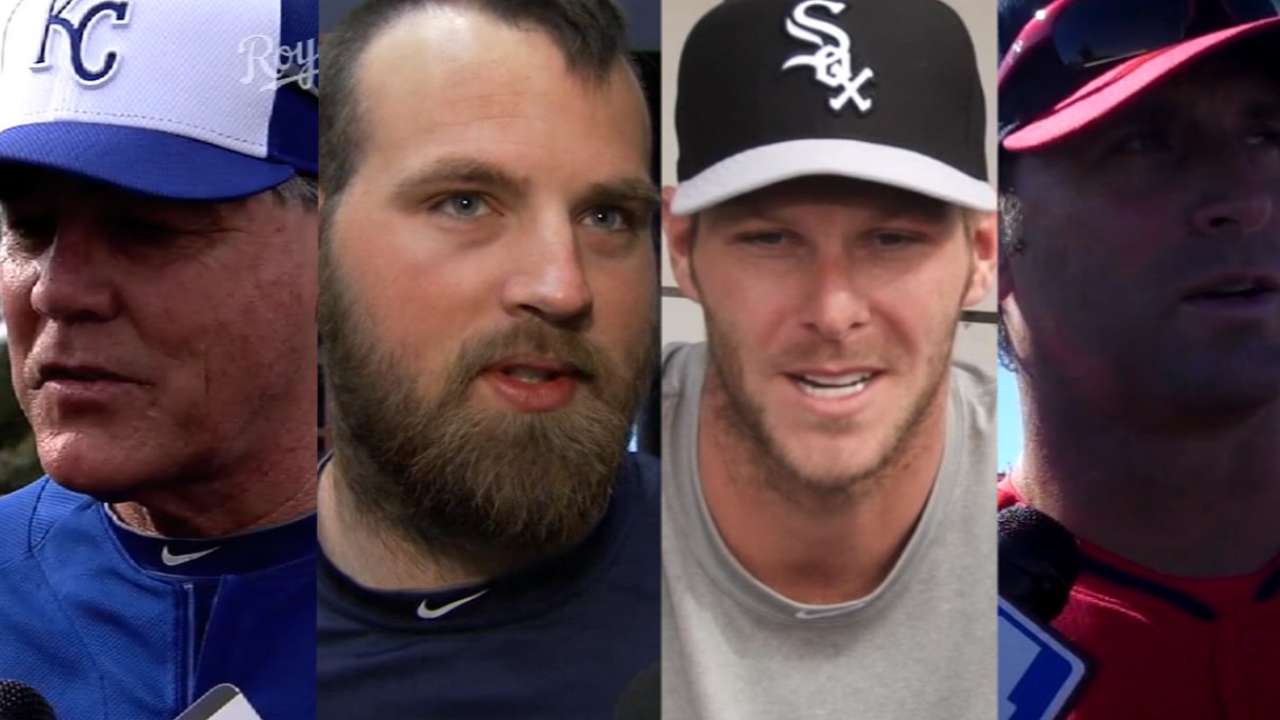 "I know that the pace of game is something that baseball has been addressing for years, and I know it's really important to the Commissioner, and to the owners, and I think we have to respect that, and try to do the best we can," Yankees manager Joe Girardi said. "Hopefully, it is effective. I think people just don't want as much down time in between innings and in between changes. That's what they're really striving for.
"We're going to get a sample of it in Spring Training, and how it works. We will try to incorporate it, practice it, and see how it goes. Hopefully, it works and we don't have to worry about pace of game anymore."
Rockies veteran Justin Morneau is among those less enamored with the new focus on the batter's box. Morneau knew changes were being discussed because he was in contact with MLB Players Association chief Tony Clark over the winter. But he was hoping there would be less of a focus on the batter, saying that a multitude of pitching changes and television timeouts are more the culprits when it comes to games going longer.
"That's where the time of game is coming from," he said.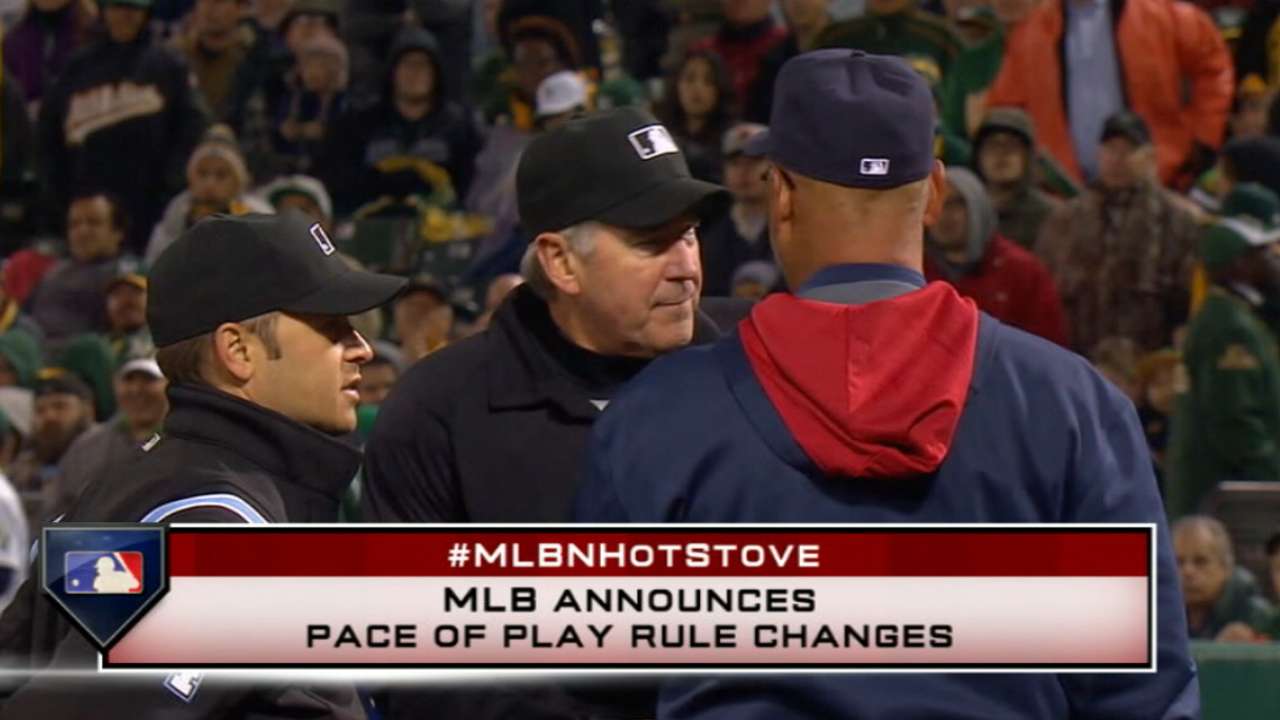 Morneau, who has had the same routine when getting into the batter's box for the last seven or eight years, says that being too stringent on the give-and-take that exists with each pitch during the course of the ballgame could be detrimental, that resetting after a pitch is the "hardest thing to do in this game," and that sometimes a hitter could use just a few seconds to clear his head.
"There's a lot of thought in this game, and that's what makes this game so fun -- the mental battle between you and the pitcher and the catcher," Morneau said. "Hopefully, it doesn't affect that too much. At the same time, I don't think there's anything wrong with trying to speed some of this stuff up, coming out of the TV breaks being ready."
Those hitters who do spend some time out of the batter's box know they'll have to consider a new routine between pitches. Kansas City's Lorenzo Cain admits with a smile that he has a rather involved one -- stepping out of the box, adjusting his gloves, stretching his neck.
"It's just something I'll have to adjust to," Cain said. "It'll be OK. We're always having to make adjustments anyway, so this is just another one. It might take me awhile to get used to it."
Said Padres catcher Derek Norris: "I think it's something that's going to take some time. You've got guys playing for seven, eight years who have always stepped out of the box and taken a practice swing. [Umpires] might have to be a little lenient for a few weeks."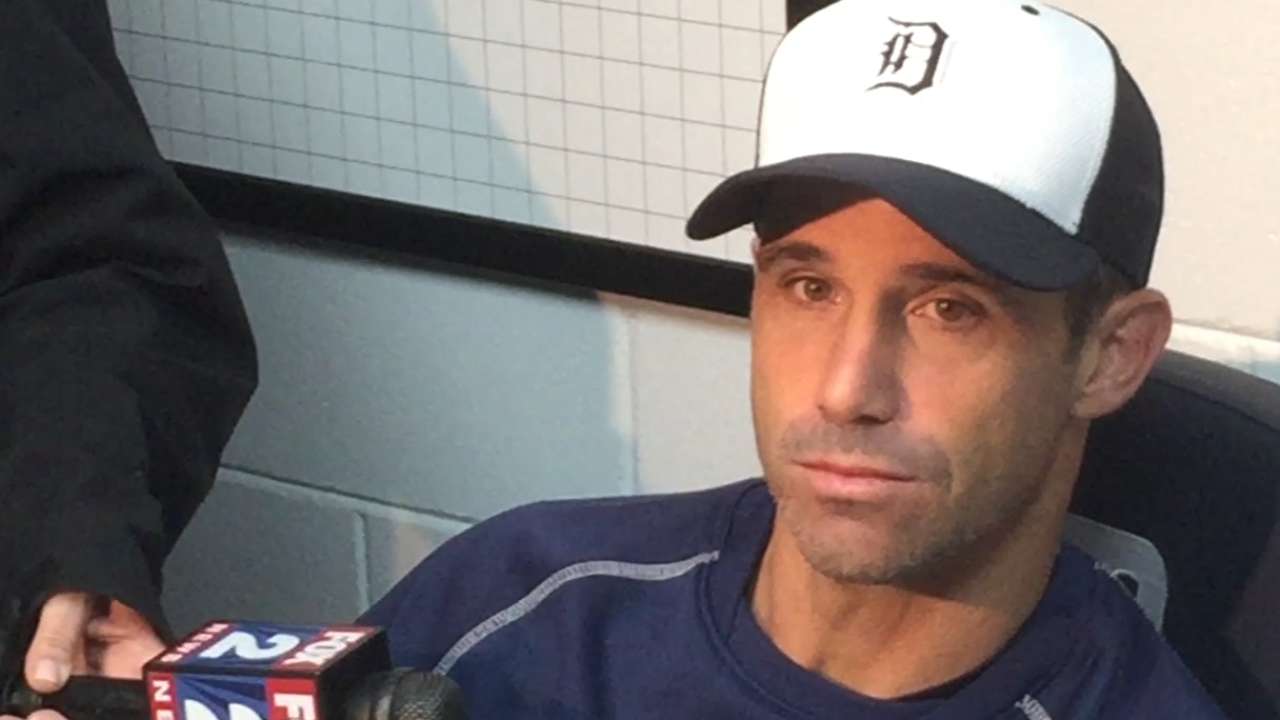 Tigers manager Brad Ausmus, a catcher for almost two decades in the Majors, believes it's likely going to take more than just a few weeks for hitters to adjust to keeping a foot in the box other than after a swing or other exceptions.
"I think what has to happen is this has to be done at the Minor League level for a course of a number of years, so as these players come up, it's ingrained in them to kind of stay in the box," Ausmus said.
In the short term, one aspect many believe will be interesting to watch will be how the changes will be enforced.
"I think it's probably how strict it's enforced, and what are the penalties? That could cause the adjustment to be pretty quick," Red Sox manager John Farrell said.
The consensus among managers seems to be that the change in replay procedure is welcome. They'll be able to signal the umpire from the dugout when considering a challenge, as opposed to walking out to the field and awaiting a signal from the dugout while standing next to the umpire.
"There's no reason to leave the dugout for that," Dodgers manager Don Mattingly said.
While many considered how the between-innings clock would work, there was much more discussion about the batter's box and how big a change that would be to the game as a whole and to individuals' routines.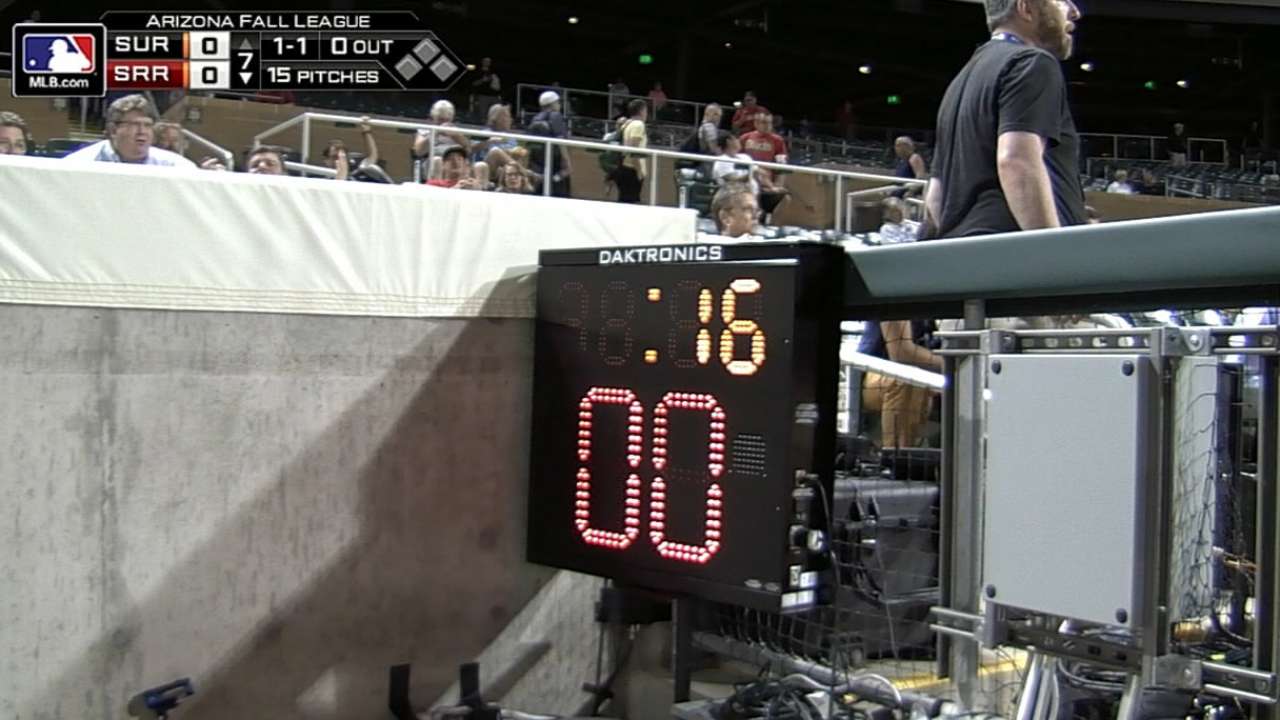 "My thing is, if people are rushed, [the pitcher] is rushed, hitters are rushed, I think you're going to see a decline in the quality of play," said the Brewers' Jonathan Lucroy. "I like to relax and gather my thoughts. This game is tough enough already."
Said A's catcher Stephen Vogt: "If nothing else, it's just a good rule to have because, for one, it keeps the game moving along and, two, it's just the right thing to do. I think when people are wandering far away from the box, it takes away unnecessary time."
Royals right-hander Wade Davis, meanwhile, is all for keeping the pace of the game moving right along -- that's how he rolls.
"Generally, I'm kind of waiting on the batter anyway," Davis said. "So whatever helps the pace, I'm for. A lot of times we're ready and then we have to wait. I think it will help the pitcher because the hitter won't have as long to adjust mentally on each pitch."
As Astros catcher Jason Castro, his team's player representative, points out, this is a subject that has been discussed at length over the last few years, but the proof will be in just how effective the transition is while keeping a focus on the integrity of the game.
"From a player's standpoint, as long as things being implemented don't affect guys in a negative way, we're definitely for trimming the fat in some of the games and make sure they're staying on pace and have a good tempo to them," Castro said.
Added Reds manager Bryan Price, among those wary of making too many changes in the traditional way baseball's pace plays out: "I get it. I think we all enjoy the quality of a two-hour and 40-minute game."
Finding a pace that works best for the game itself is the goal here, after all, and as Mattingly says, that doesn't necessarily mean suddenly everything has to be done in a rush.
"I like the word pace opposed to speeding the game up, we should have a good pace to the game," he said. "I think some of the rules have been there, we just have to enforce it. I'm all for playing at a better pace. We can cut out some of the down time."
Said Angels manager Mike Scioscia: "I think Major League Baseball wants to put in some common-sense things that will help keep the flow of the game going the way it has to without interfering on the ability of a hitter to get mentally back into another pitch. Some guys are going to have to adjust what they do. Walking 15-20 feet out of the box between pitches serves no purpose, and that needs to be eliminated."
John Schlegel is a national reporter for MLB.com. You can follow him on Twitter @JohnSchlegelMLB. This story was not subject to the approval of Major League Baseball or its clubs.