Lester wants Cubs to have winning mindset
After signing six-year deal in offseason, lefty prepared to lead pitching staff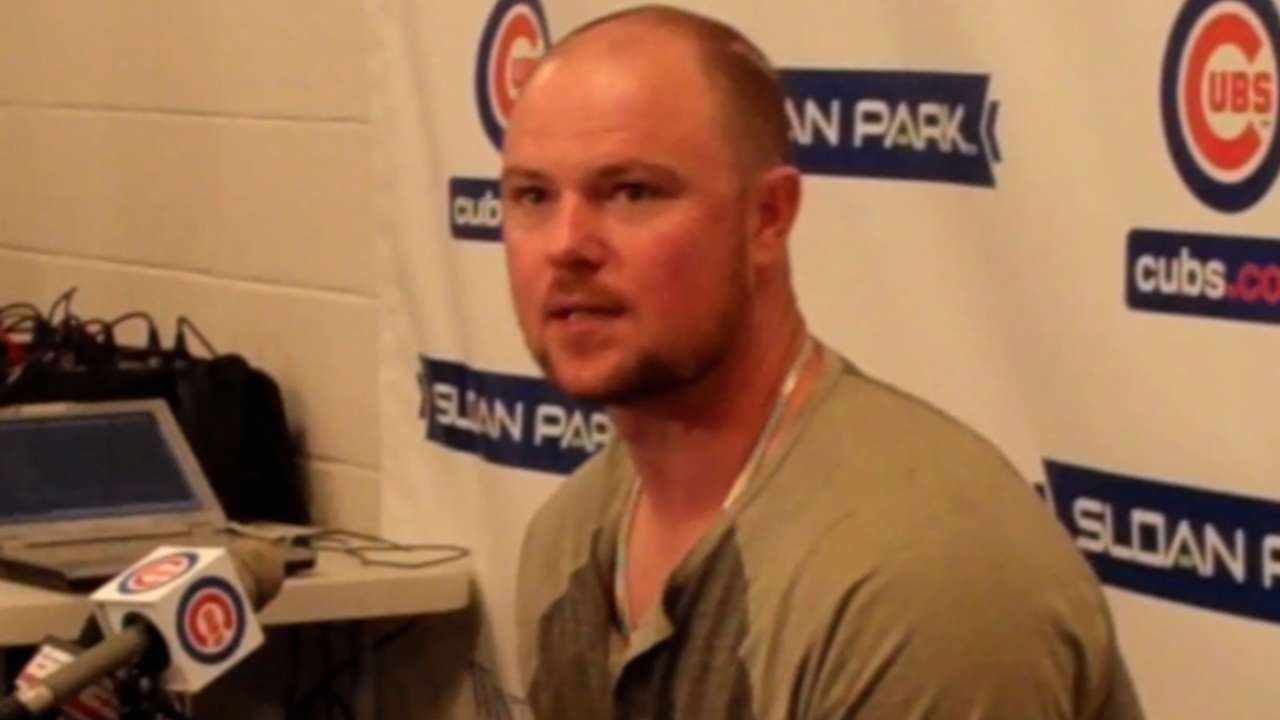 MESA, Ariz. -- Jon Lester's side session on the first day of workouts for Cubs pitchers and catchers was probably like his initial session a year ago. David Ross was his catcher and Lester was wearing his camouflage spikes.
But on Friday, Lester was in the desert, far from his favorite Florida fishing holes. And he was wearing a Cubs uniform, thanks to a six-year, $155 million contract he signed in the offseason. Life's been good for Lester so far. He recorded his first hole-in-one during his first round of golf this year.
"I know [the ball] went in, but I missed it by 20 yards and it just kicked dead left and rolled in," Lester said of the shot on the seventh hole at Estancia. "It's not how you draw it up, but it went in."
It could be a sign. Lester finds himself as the anchor of the Cubs' pitching staff, and he is a huge reason for the shift to optimism in camp.
"I don't know if I've met a more sincere player than he is," Cubs manager Joe Maddon said. "He's all about winning, period."
Lester has done a lot of winning, compiling a 116-67 record in nine seasons, and making all but 11 of his career 252 starts with the Red Sox. He gives the Cubs a solid veteran presence, which has been missing from the pitching staff in recent years.
"I go about my business and try to have fun doing it, and that's really it," Lester said. "I don't have any magic secrets or any formulas or anything to give these guys. I put my head down and do my work, and if that, in turn, makes guys want to follow me, great. If that program doesn't work for them, it's no big deal."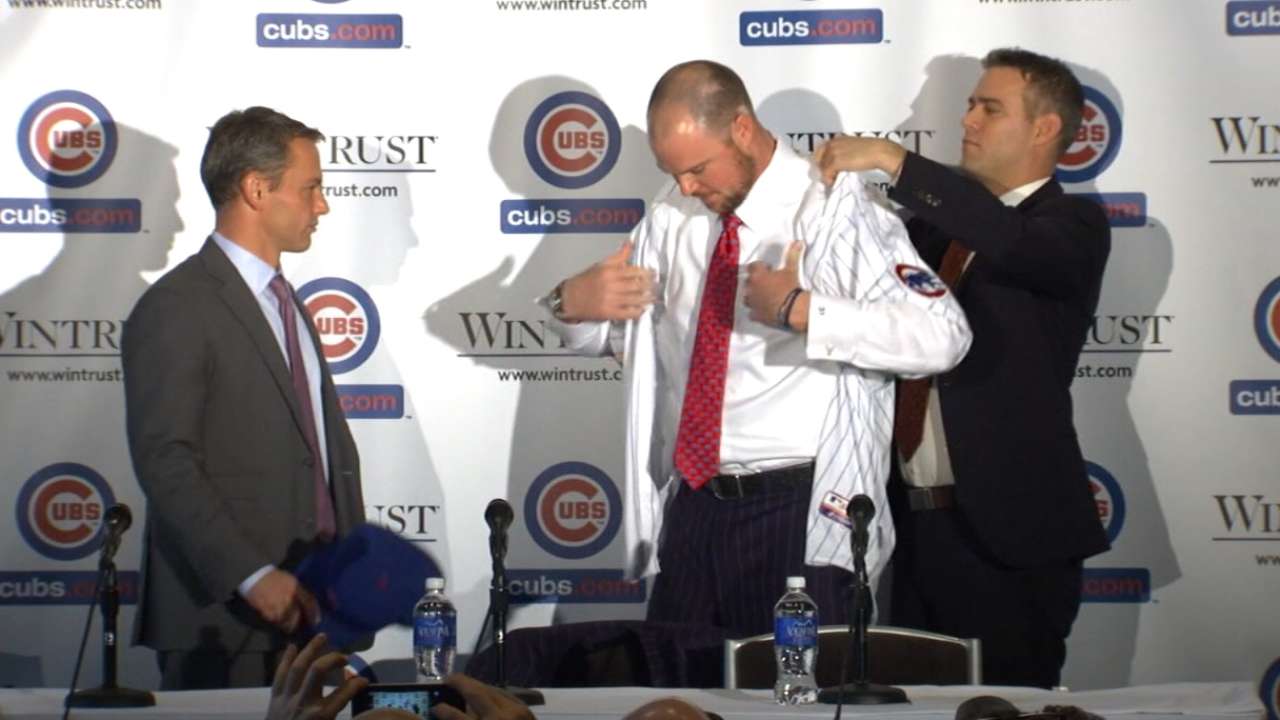 The young Cubs pitchers have been watching Lester as he goes about his business. The lefty arrived early to get settled in his new surroundings. What's been different?
"The desert," Lester said. "It's a welcome change. When it gets down to it, it's Spring Training. We're here for the baseball side of it. I'll miss my fishing time, but at the same time, as long as we still have a pool for my kids, we'll be all right.
"It's hard to get adjusted to this weather," he said, tongue in cheek. "It's a grind every day to go out there in that weather, 75 and sunny every day. It's a tough life."
Lester does join a Cubs team that's struggled the last five years, finishing in fifth place each of those seasons. Lester is convinced the club can win.
"I think you have to be confident," Lester said. "If you come in and go, 'I hope, I hope, I hope,' it doesn't get you anywhere. There's a fine line between confidence and arrogance. If you can walk that line, you're in the right frame of mind. If you come in here and just go, 'It's another year, we'll see what happens,' that's not going to get you anywhere. You have to come in with the mindset that we're going to the World Series."
It wasn't a prediction, just what can happen. Lester knows. He's pitched in two World Series, and has a 6-4 record and a 2.57 ERA in 14 playoff games. Maddon hopes the other pitchers shadow Lester and learn.
"I think he provides courage for people around him -- I'm talking in a baseball sense right now, in a pitching sense," Maddon said. "If you have Jon Lester out there and you see him warming up next to you and playing catch, and you have a resource like that to go to, it can help you."
Lester can tell the Cubs are hungry.
"You can see they want it, they want to win," Lester said. "Now it's just a matter of getting our work in and trying to do that."
Lester knows all about the angst of long-suffering Cubs fans. Remember, he pitched for the Red Sox. His goal is to be prepared, and if he is, Lester can handle anything. And he's not thinking about the contract, which was the largest in Cubs history.
"My contract doesn't justify me or represent me," Lester said. "I represent myself and how I go about my business. My competitiveness doesn't change because I have X-amount of dollars in the bank. I want to win, you'll hear that a lot. If I don't win, we don't win, and you probably really don't want to be around me too much. I'm not real happy -- you can talk to my wife about that."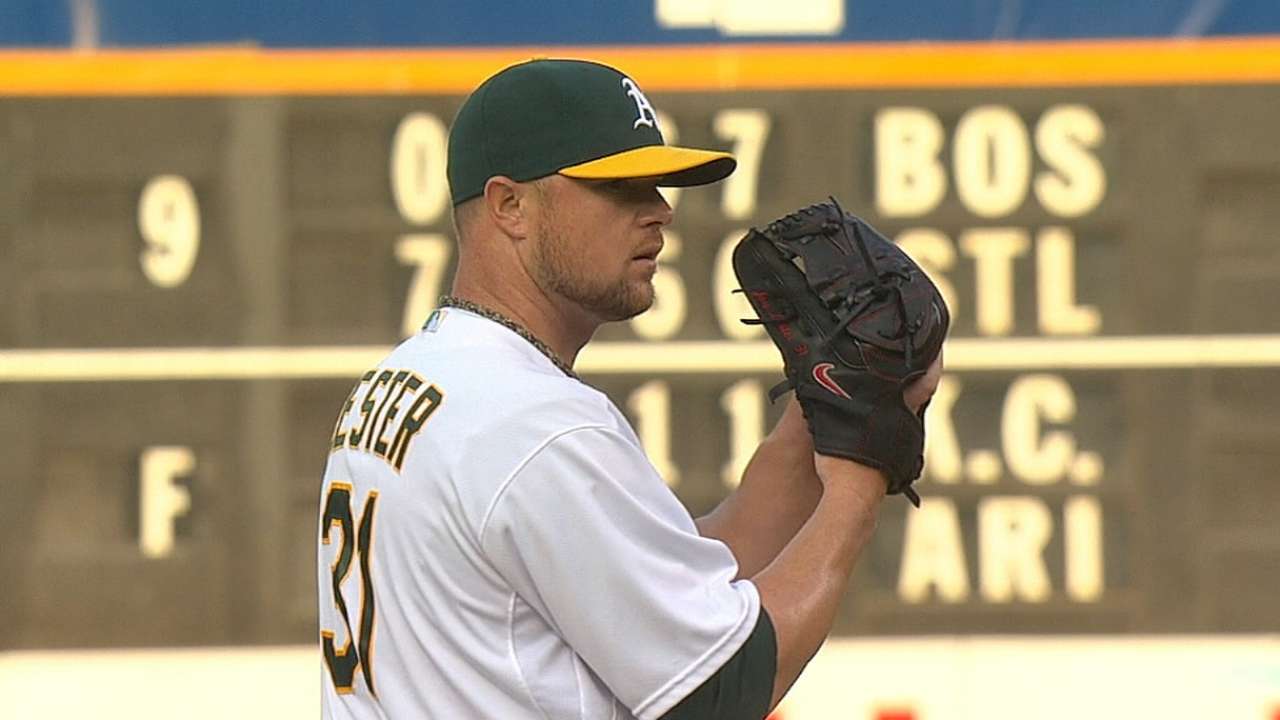 Carrie Muskat is a reporter for MLB.com. She writes a blog, Muskat Ramblings, and you can follow her on Twitter @CarrieMuskat. This story was not subject to the approval of Major League Baseball or its clubs.