Hanrahan gives pitching one more shot for Tigers
Veteran righty throwing again after Tommy John, could contribute to bullpen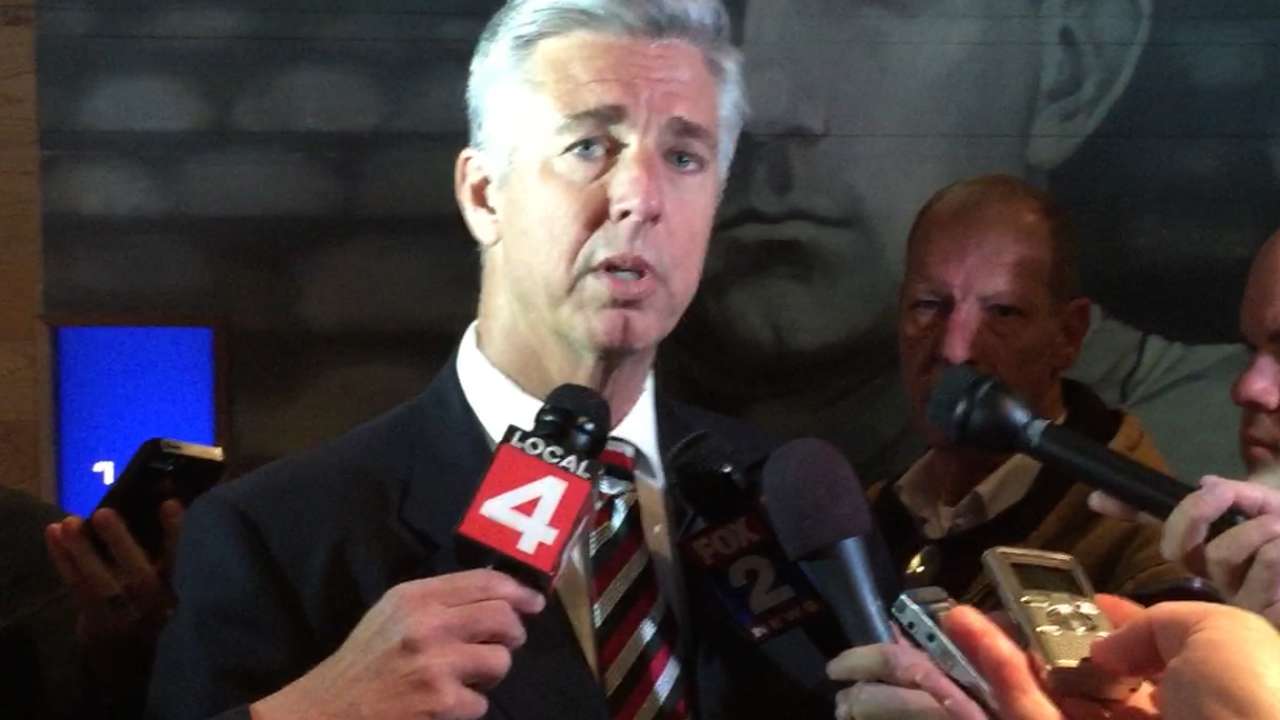 LAKELAND, Fla. -- The last time Joel Hanrahan was here, he wondered if he was done. He was a 32-year-old in Tigertown, where kids start their baseball careers, and he was thinking about college.
Hanrahan's return from Tommy John surgery hit a snag, and a doctor suggested he might need it again. His family had bounced around all summer to be with him while he rehabbed, and he had to think about starting over.
"I basically called my wife, and we talked," he said. "I was looking at, 'What am I going to do? Am I going to enroll in school in the offseason? Because this could be it.'"
Sitting in the Tigers' clubhouse again Friday morning for the start of Spring Training was a feat in itself. Dr. James Andrews, who performed Hanrahan's surgery, said he didn't need another, and four months of rest seemed to breathe new life into his arm. He still knows he's not back just yet.
Hanrahan is scheduled to throw off a mound Saturday morning and then keep throwing every other day. Officially, he's on the same schedule as every healthy reliever in camp. Yet both Hanrahan and the Tigers acknowledge he has a lot of pitches to throw before he can be considered the same.
"We'll just deal with it on a day-to-day basis," manager Brad Ausmus said. "We hope for the best, but it's been a bumpy road for him. Really, we don't know what's going to happen. … He's on the schedule right now, but I would characterize him as less than 100 percent at this point."
Said Hanrahan: "Somebody asked me the other day for a percentage, and I told them I couldn't really give a percentage. I'm feeling OK. I'm throwing with everybody else, so in my eyes, that's a positive sign. I don't know what kind of velocity I'm throwing at or anything like that, but I'm able to throw."
It's the potential of what Hanrahan could mean at 100 percent that drew the Tigers to sign him last May. He saved 76 games from 2011-12, made nine appearances with the Red Sox in '13, then was diagnosed with a torn elbow ligament. He threw well in a showcase last April, and he led the Tigers -- who had just lost Bruce Rondon and watched Joe Nathan struggle -- to sign him.
What followed was a reminder that Tommy John surgery isn't an automatic recovery for pitchers in their 30s.
"I felt good when I came [here]," Hanrahan said, "and then, the first time I faced a hitter, I kind of had a little setback."
He kept trying to throw for weeks, but he never got back to that point.
"We did everything you could think of," he said. "Some days it would feel good, and then the next day I'd come in and could barely straighten my arm out and barely get the ball 60 feet."
Instead of surgery, Andrews drained fluid from Hanrahan's elbow and recommended rest until December. The Tigers re-signed him on a Minor League deal with no guarantees.
He has had good days and bad since, soreness he attributes to rust, but has been able to keep throwing. Andrews, who has become a friend through their visits the past couple years, assures him his arm is structurally sound.
"I think I'm past that hump," Hanrahan said.
If it's all good, the Tigers will find room. He's nearly two years removed from pitching, but could be the veteran piece that solidifies their bullpen.
"Obviously if Hanrahan's healthy and can pitch like pre-surgery, it would be a huge bonus for us," Ausmus said. "But right now, he has to get 100 percent healthy."
Jason Beck is a reporter for MLB.com. Read Beck's Blog and follow him on Twitter @beckjason. This story was not subject to the approval of Major League Baseball or its clubs.