Melvin wishes Giants skipper Bochy well
A's manager impressed with bullpen sessions by Parker, Griffin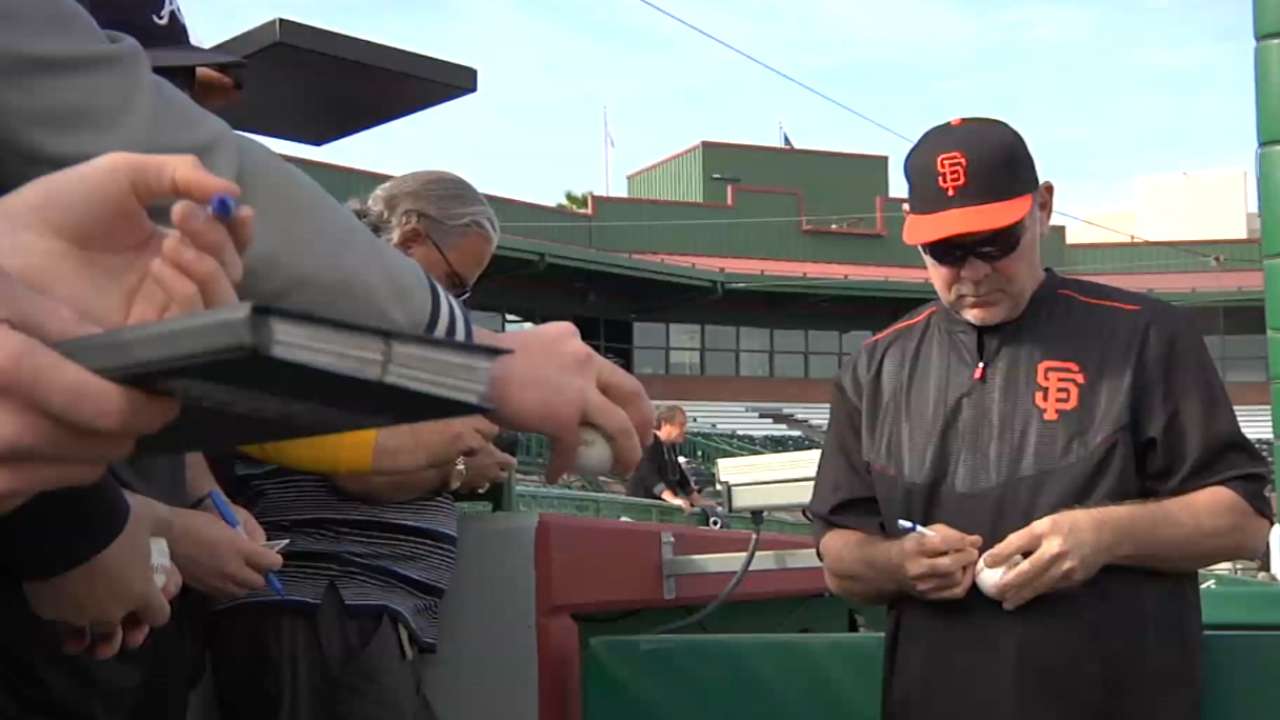 MESA, Ariz. -- A's manager Bob Melvin concluded his Friday morning media session relaying best wishes to friend and peer Bruce Bochy. The Giants skipper was hospitalized Thursday evening and had two stents inserted in his heart.
"Best to Bruce Bochy today," said Melvin. "I sent him a message and, man, talk about scary, and he's playing it off like it's no big deal."
Bochy is expected to be released from the hospital by the end of Friday.
"Best manager in the big leagues," said Melvin. "I'm sure he got a lot of messages today, including one from me."
Melvin touched on several other topics during his two media sessions Friday:
• Tommy John rehabbers Jarrod Parker and A.J. Griffin, both expected back as early as June, were among a group of pitchers to throw bullpens Friday. Melvin said he was impressed with Parker's fastball and changeup -- spinning breaking balls is the righty's next step -- and noted Griffin "looked as lively as we've seen him in quite some time."
"You can see both of them are starting to see the light at the end of the tunnel," Melvin said. "Good command out of both."
• Melvin was also greatly impressed by right-handers Jesse Hahn and R.J. Alvarez, who came over from the Padres in the Derek Norris deal. Hahn is in competition for a rotation spot and the hard-throwing Alvarez a bullpen spot.
"The ball was screaming out of his hand," Melvin said of Alvarez.
• Left-hander Sean Nolin has been slightly slowed by a groin injury he incurred in the offseason but is scheduled to throw from flat ground Saturday and should be throwing off a mound sometime in the ensuing days. The 25-year-old, acquired from Toronto in the Josh Donaldson trade, is among several rotation candidates.
• Non-roster pitcher Angel Castro is expected to arrive in Arizona on Saturday and be on the field Sunday, after being delayed in the Dominican Republic by visa issues. All other pitchers and catchers were in attendance for Friday's workout.
Jane Lee is a reporter for MLB.com. This story was not subject to the approval of Major League Baseball or its clubs.