MLB.com Columnist
Anthony Castrovince
Dodgers' offensive success may rest on Puig's shoulders
Outfielder gets to work early, adjusts mechanics in cage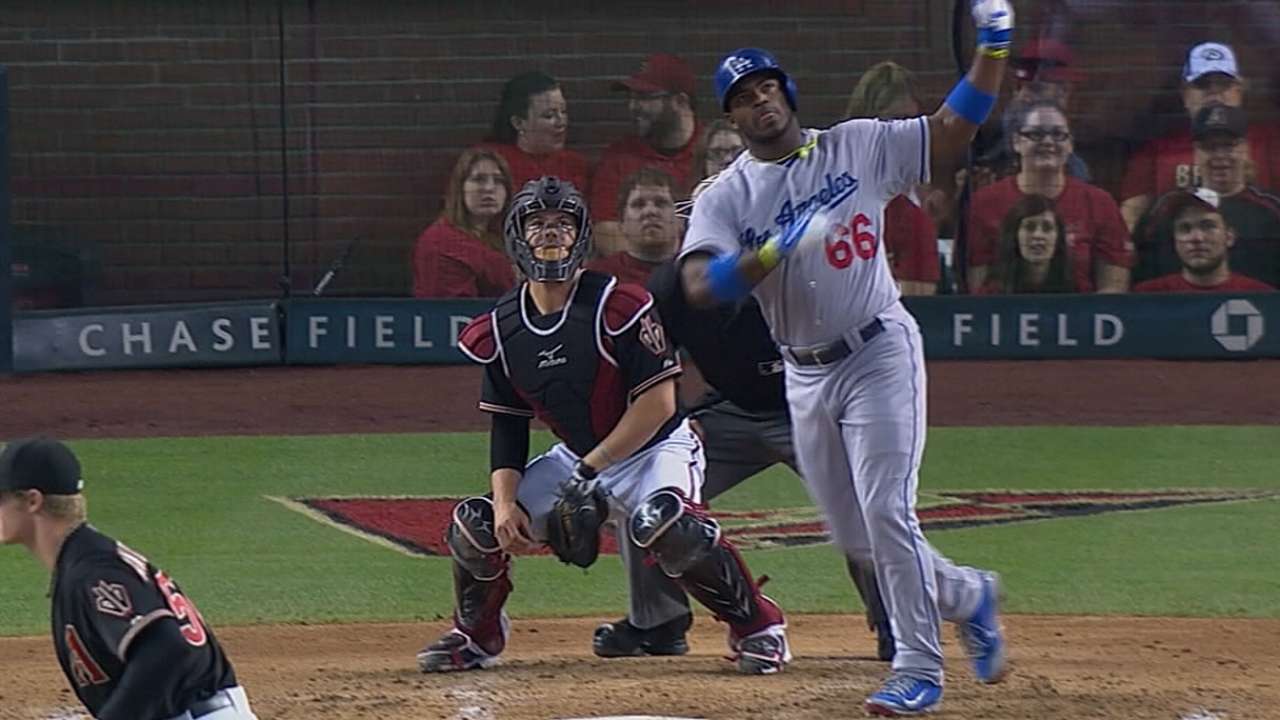 GLENDALE, Ariz. -- On the back fields, on the pitching rubbers, the Dodgers' pitchers and catchers held the annual ritual that is their first workout of the spring, with Clayton Kershaw testing out a rusty curveball and Brett Anderson debuting for his new bosses and the candidates to temporarily replace ailing closer Kenley Jansen just beginning to get loose. At this very early stage of camp, there was, unsurprisingly, far less activity in the batting cages, but the man who bolted straight to them after a morning meeting was unmistakable.
It was Yasiel Puig, one of the game's most fascinating and, yes, polarizing figures.
The guy who so many times has shown up late for batting practice is, in fact, an early arrival here, and on this morning, he was taking hacks off the pitching machine with a slightly different mechanical intention, trying not to wrap the bat over his head as much in his stance and keeping his hands just a tad farther from his right shoulder.
"That's something we've always tried to work on with him," hitting coach Mark McGwire said. "It's usually the minute stuff like that -- you work on small things, and they can become a big thing."
McGwire, as you'd expect from any hitting coach in mid-February, sees big things for Puig and for this Dodgers offense in 2015. Those two concepts have run hand in hand before, but it's true now more than ever, given that a significant amount of this club's power potential has gone elsewhere -- Hanley Ramirez to Boston, Matt Kemp to San Diego.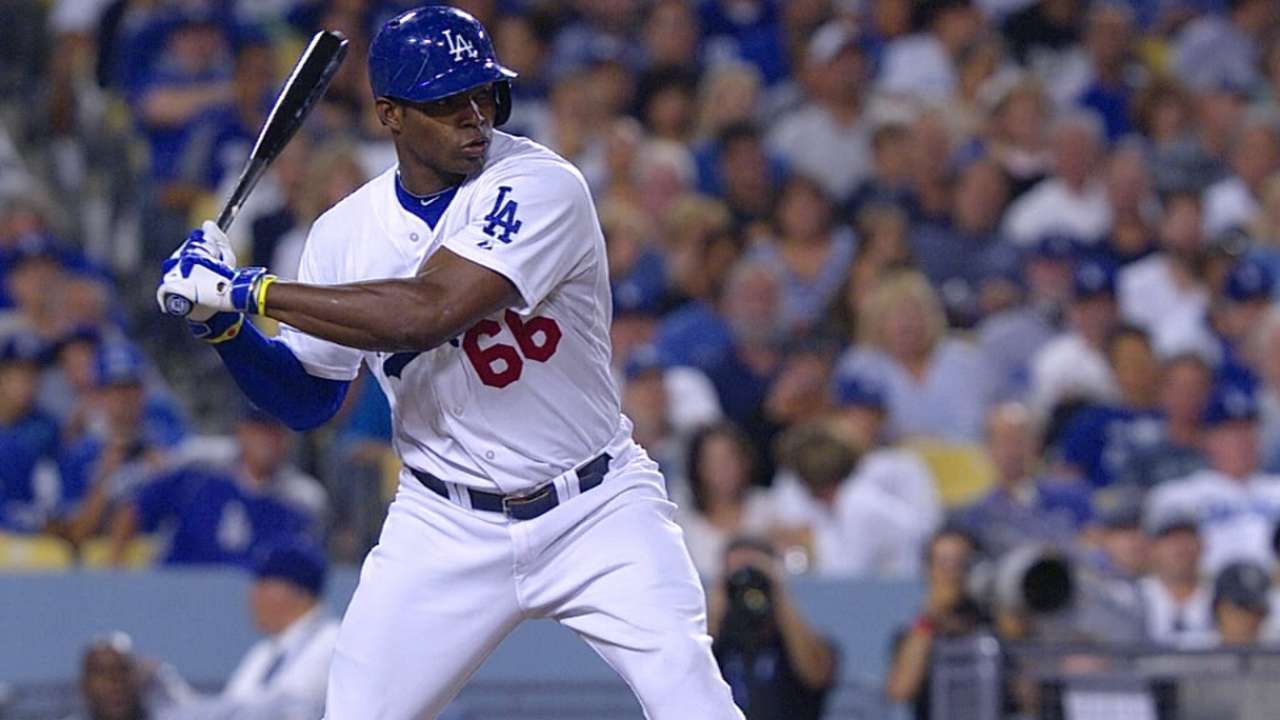 In several facets, this profiles as a fundamentally different Dodgers team than the one that won 94 games last season. The new front-office regime fronted by Andrew Friedman and Farhan Zaidi prioritized pitching staff depth and defense. The offensive production, which was at an elite rate in 2014 (the Coors Field-aided Rockies were the only National League club to score more runs), could be the casualty, even ever so slightly, of the Dodgers' improvements elsewhere on the roster.
Or -- who knows -- maybe the production will improve. There's an argument that it could, primarily if Puig can sustain a full season of MVP-type output instead of more sporadic bursts of brilliance.
Puig's month-by-month OPS totals from '14 are a statistical rollercoaster:
April: .835
May: 1.224
June: .657
July: 1.114
August: .544
September: .808
And in October, Puig was famously benched in Game 4 of the Division Series against the Cardinals, the night the Dodgers' big dreams were officially dashed.
So, yeah, it's encouraging to see Puig taking these early hacks in the cage and engaging in the minor mechanical tweak McGwire has been impressing upon him. It's also possible that Puig, having now completed his first full season in the Major Leagues, has a better understanding of the game's grind -- something all Cuban imports, accustomed to a 90-game season, must adjust to. As American League Rookie of the Year Jose Abreu told USA Today last August, "[The 162-game schedule] is too much, but that's what you have to deal with and you've got to be strong."
For the Dodgers, a primary struggle, obviously, has been getting Puig to conform to Major League norms in terms of pregame prep, and perhaps that struggle will continue in '15. But if Puig learns to properly pace himself, there's no denying the game-changing, eye-catching impact he can unleash.
"It's like playing against Bo Jackson," McGwire said. "I was always in awe watching him. You didn't know where the ball was going to travel, he ran fast as could be and could turn a single into a double, easily. That's what we have in Puig."
What McGwire, now in his third season at the helm of the L.A. hitters, hopes to have, after a winter that dramatically altered his lineup, is a contact- and on-base-oriented club that can come through situationally.
The Dodgers led baseball in OBP last year (.333) and were more middle-of-the-pack in contact percentage (79.4). Where they struggled was situationally, profiling as below-average in scoring a runner from third with less than two outs and in the realm of productive outs.
"Those are the things that have hurt us in the playoffs the last couple years," McGwire said.
It's hard to say how the winter changes -- Jimmy Rollins replacing Ramirez at short, Howie Kendrick replacing Dee Gordon at second, Yasmani Grandal supplanting A.J. Ellis behind the plate and Joc Pederson ascending to the starting center-field job -- affect those areas. Kendrick is an OBP upgrade over Gordon, but he and Grandal both rated in the lower tier at their positions in contact rate. And the primary knock on the young Pederson is his strikeout rate, which could be a '15 factor.
McGwire wants this club to follow his merry-go-round mantra, passing the baton on down the line instead of consistently relying on the three-run homer.
"We're not going to have the home runs we did," he admitted. "But as a team, we have gap to gap line-drive hitters, guys who put the ball in play, and that's the way I've always loved it. When you put the ball in play, things happen, people move, you don't know what's going to go on. Especially in RBI situations, early in the game.
"With our pitching staff, if you get a run or two in the first few innings -- say, with a one-out groundball to second base with a man on third, and you get that run in -- that's huge."
There's no denying the potential for this starting staff, especially if Anderson, Hyun-Jin Ryu and Brandon McCarthy can remain healthy. And there's no denying the Dodgers will be a better defensive team. The news that Jansen is out 8-12 weeks is an early hiccup, but Friedman has a history of piecing together effective bullpens, and the Dodgers, even with Jansen absent for April, appear to have the pieces to do just that.
It's the offense that is arguably the most fascinating area of interest for the defending NL West champs, and much of its potential revolves around that guy who, notably, was the first to hit the cage post-meeting Friday.
"I expect great things out of Puig," McGwire said. "I think we all do. It's just his mindset. We have to get his mindset right to where he comes hungry every day."
Anthony Castrovince is a reporter for MLB.com. Read his columns and follow him on Twitter at @Castrovince. This story was not subject to the approval of Major League Baseball or its clubs.