MLB.com Columnist
Richard Justice
Yankees embracing unlikely role of underdog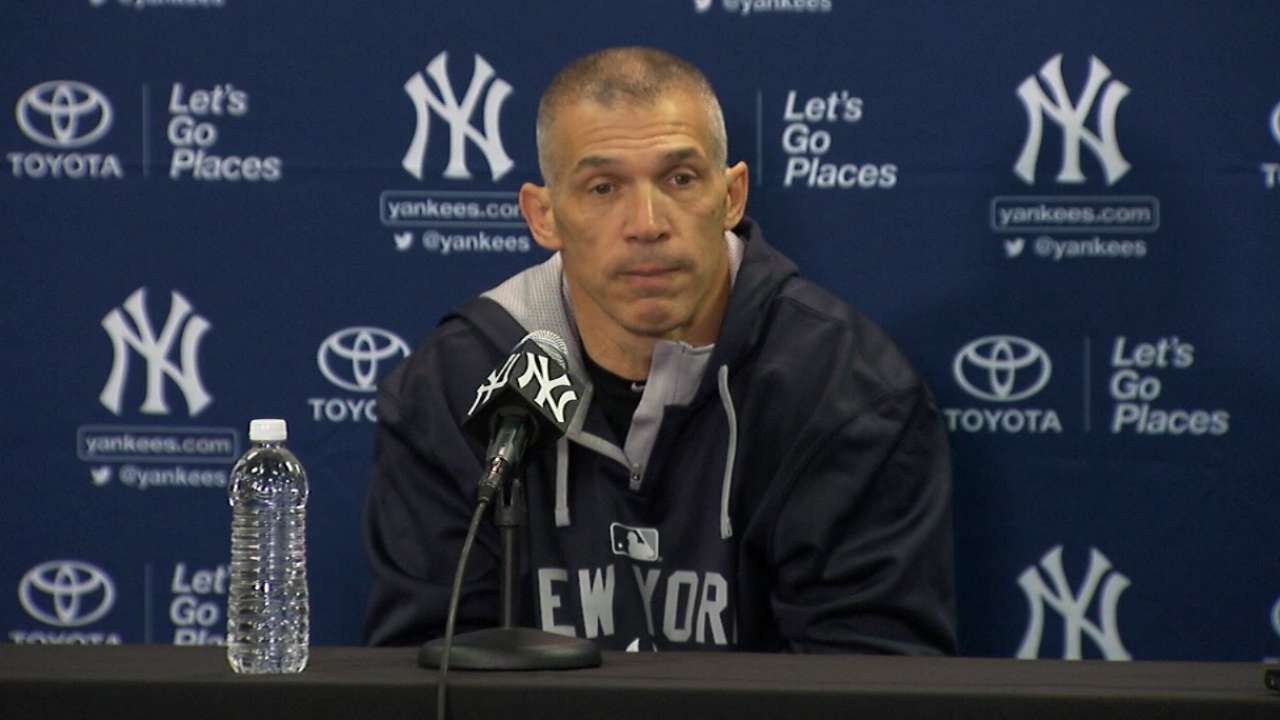 TAMPA, Fla. -- He spoke of unknowns, too many to count. He spoke of age, a looming issue. He spoke of new faces.
"I think name tags are an option," Yankees manager Joe Girardi said.
Strip it all away, though, and one thing won't change for the New York Yankees: Expectations. That's the beauty of the Yankees. They don't make excuses. Nor do they lower the bar.
Girardi made that point several times during a Friday morning news conference as he began his eighth spring as Yankees manager. Despite all the uncertainty, Girardi believes the Yankees could still be good enough to win the World Series in 2015.
"If that's not what you're working for, you don't belong here," he said.
It may be months before the Yankees have all of their questions answered. First, there are the health issues. CC Sabathia, Masahiro Tanaka, Carlos Beltran, Michael Pineda and Ivan Nova are among the prominent players who had their 2014 seasons cut short by injuries.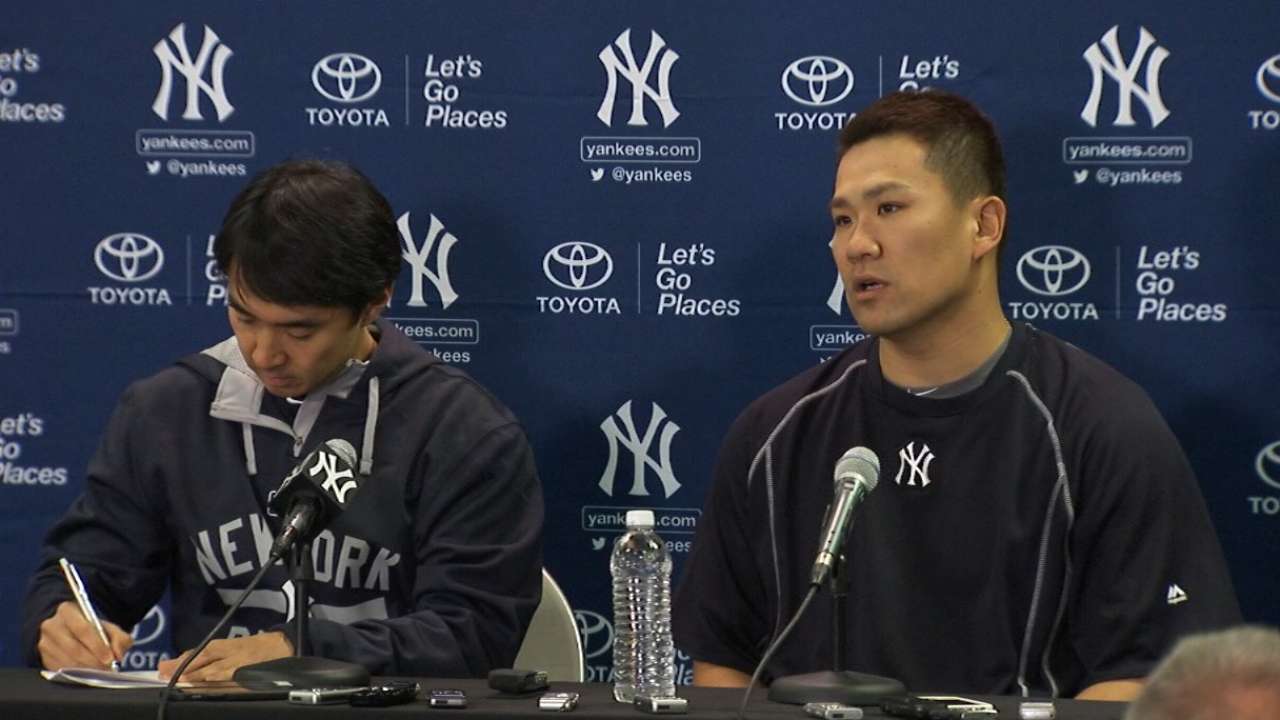 And then there's age. Beltran is 37, Mark Teixeira 34, Sabathia 34. And Alex Rodriguez, who is 39, has played 44 games the last two seasons. One of the most watched players in camp will be 25-year-old Didi Gregorius, who was acquired from the D-backs to replace Derek Jeter.
All in all, questions abound.
"There are a lot of things that we do need to iron out, probably more than I can remember," Girardi said.
To be clear, Girardi isn't pessimistic.
"I think this team has a chance to be really good," he said. "I like the group of players that we've assembled. We need to do a better job of staying healthy than we've done the last two years, but I think we have a chance to be really good."
The Yankees most likely will be picked third or fourth in the American League East, and that's fine with them. On the other hand, there's an internal optimism about the future.
The Yankees believe their farm system has a nice wave of young players on the way, and that some of them will have an impact in 2015. Right-hander Luis Severino is at the top of the list. The 21-year-old boasts an above-average fastball and a devastating changeup. Think Pedro Martinez.
And there's second baseman Rob Refsnyder, a potential impact bat, and outfielders Ramon Flores and Tyler Austin. There are others, too, enough that the Yankees felt comfortable not making any big-ticket free-agent signings during an offseason in which general manager Brian Cashman added an assortment of pieces: Gregorius, infielder Stephen Drew, right-hander Nathan Eovaldi, reliever Andrew Miller and designated hitter Garrett Jones. Cashman also re-signed third baseman Chase Headley and left-hander Chris Capuano.
"I think there's probably a little bit more open competition this year," Girardi said. "I'll try to reiterate to the players on a constant basis that, 'You're not going to impress me the first day of camp [and] you're not going to impress me the first week of camp. Let's get into this, let's make sure you're in a good place and are physically ready to go before we start evaluating.'"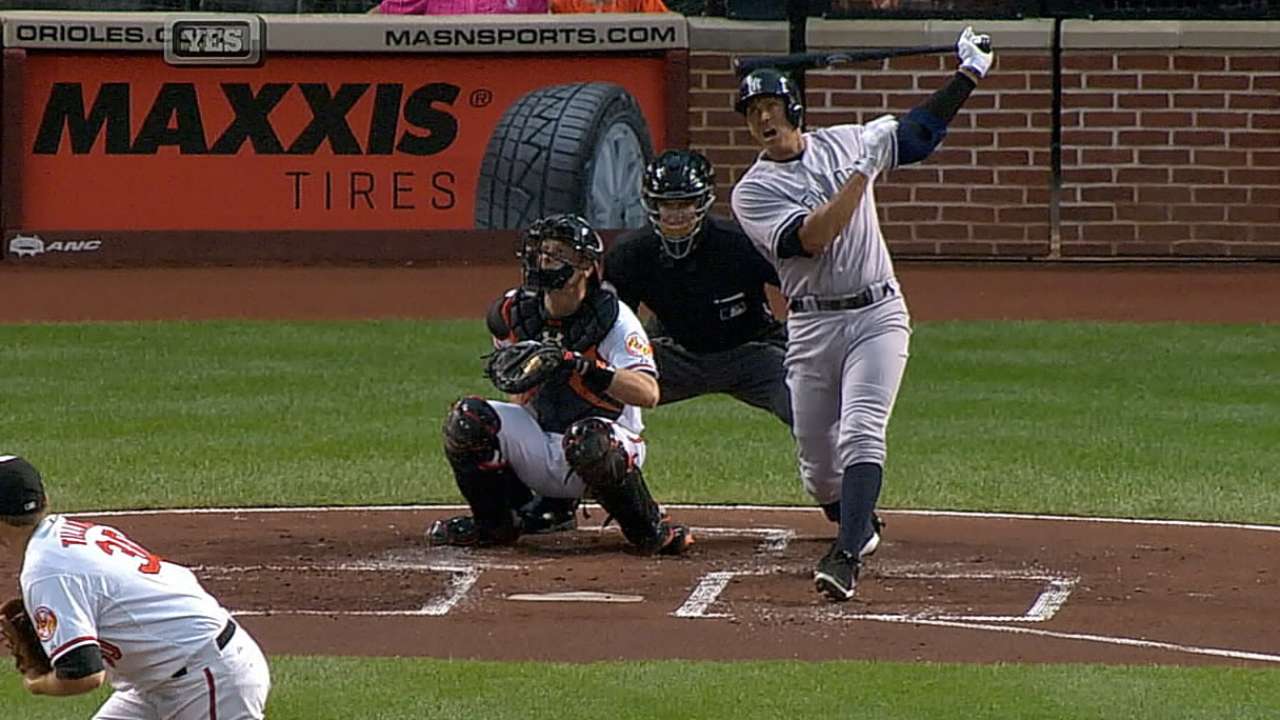 Rodriguez will dominate so much of the spring coverage that it may allow young players like Gregorius and Refsnyder to go about their business and reach a comfort level.
As for Rodriguez as a potential distraction, that's probably not going to be an issue. First, the Yankees make news even in the quietest springs. To play for them is to understand that everything is important.
Also, Cashman has done a phenomenal job of adding consummate pros like catcher Brian McCann, Teixeira, Beltran, Sabathia, etc. They're simply not going to allow a few TV cameras to interrupt their preparation.
And Girardi is the other part of this equation. The Yankees have missed the playoffs in two straight years, but along the way, Girardi has proven time and again that he deserves to be mentioned among baseball's elite managers. He has put his players in position to succeed and hasn't gotten distracted by the noise. When the manager keeps his cool in the toughest of times, it can set a tone for an entire organization.
"I'm anxious to get to work," Girardi said, "and to get better as a club and to be prepared on Opening Day. But I like the people that we've put in our clubhouse."
Richard Justice is a columnist for MLB.com. Read his blog, Justice4U. This story was not subject to the approval of Major League Baseball or its clubs.