Cole's grounded attitude on display as camp begins
Young righty in unique position as bridge between prospects, vets on staff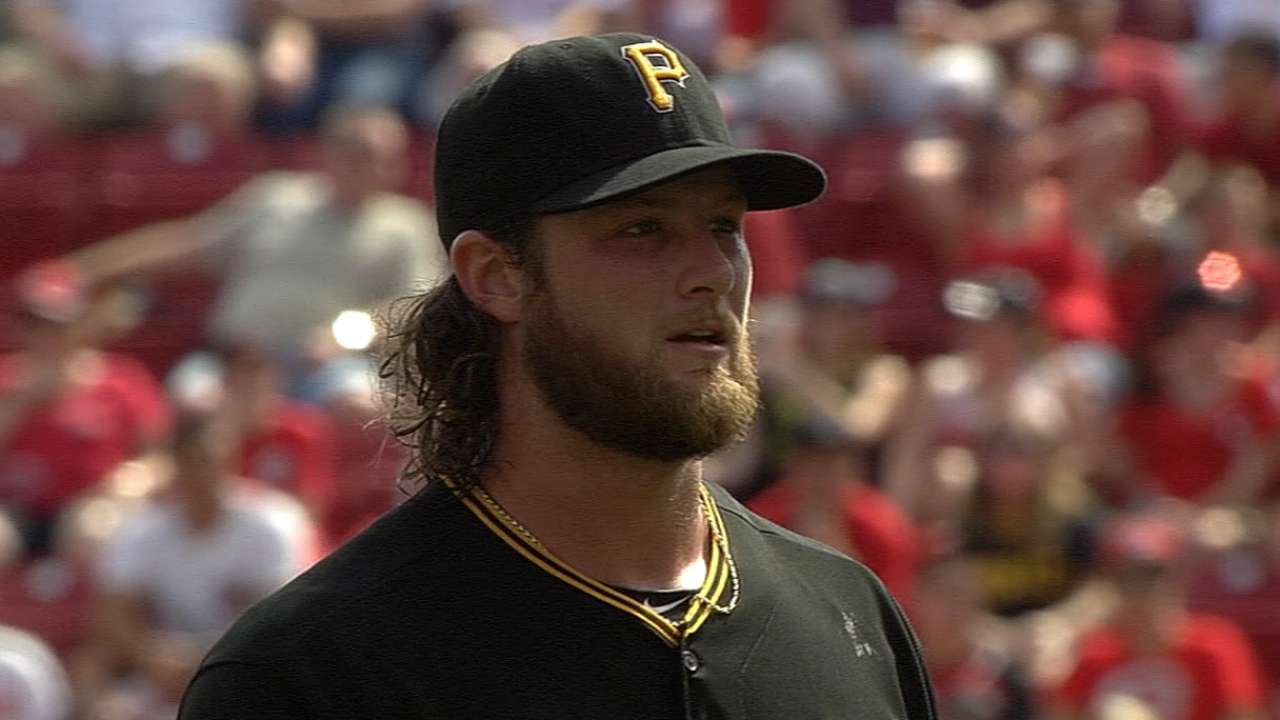 BRADENTON, Fla. -- Friday morning was a good time to be around Gerrit Cole.
For Florida, it was cold, but the competitive fire that always smolders within Cole could warm up anyone who crossed his path.
A year-and-a-half, 41 starts, 21 wins and two instructive injuries into his Major League career, Cole is a different person in his third big league camp. The (Spring) Training wheels are off. Before, he had to be a sponge, listening to everything and watching everyone. Now he is watched by others.
"For the most part, this is really familiar to me now. I've done this a couple of times, and can prepare myself accordingly. It's easier to get into a routine," said Cole, after a Friday that included his favorite avocation -- batting, with others in his pitchers group.
At 24 and one lap into validating his overall No. 1 pick in the 2011 First-Year Player Draft, Cole occupies a unique place on the Bucs' 2015 rotation.
He is the bridge between the current seasoned staff and the bright lights on the horizon. But you're not going to draw him into premature fantasies about being joined by Tyler Glasnow and Jameson Taillon, the team's top two prospects, as the Pirates' "Three Pillars."
"It's fun to dream about that kind of stuff," Cole said. "But for now we have our horses in A.J. [Burnett] and Charlie [Morton] and Frankie [Liriano]. I'm probably more excited to go to battle with those guys, and whoever fills the fifth spot -- Vance [Worley] or Jeff [Locke]. I'm excited to work with this crew and try to get stuff done."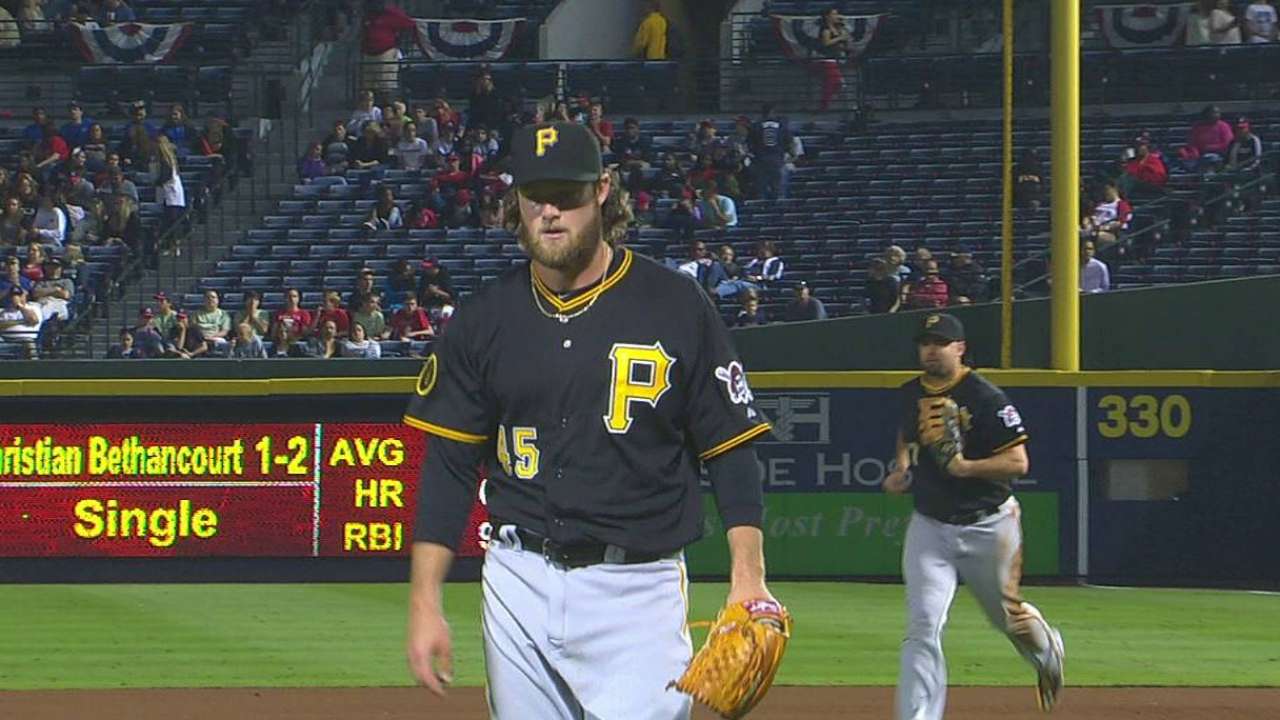 Spoken like a true … ace? That No. 1 status seems to be Cole's destiny, and his destination. Any offseason assessment of the Pirates' rotation included the caveat, "Cole is the one guy who could step up as an ace."
"It's a tremendous honor to be talked about in those terms, but that's something earned over time," Cole said. "I'm not quite there yet. Fortunately, I'm in a really great position to be able to pitch with guys I not only enjoy being around, but look up to as well. And they provide leadership -- because they've done it for so long."
If you think there is anything awkward about the reunion with Burnett -- whose final act of his first Buccos tenure was getting upset when Cole got the ball in Game 5 of the 2013 National League Division Series -- forget it. The two right-handers are locker room neighbors at Pirate City, and Burnett is a man after Cole's own fire.
"We never [talked about it]," Cole said. "Those type of situations bring up a lot of competitive juices. It's the postseason … everybody is excited, wants to get out there and compete, and help the team win. I really think that's where it all stemmed from."
Looking around the clubhouse, Cole could see a lot of familiar people anxious to help this team win.
"It's definitely a different scene with the roster being kinda set, barring any injuries or setbacks," said Cole. "We got a couple of battles, is all."
Tom Singer is a reporter for MLB.com. This story was not subject to the approval of Major League Baseball or its clubs.