Minor wins case, but more pleased with shoulder
Lefty, who will make $5.6M, reports no lingering problems with issue that plagued him in '14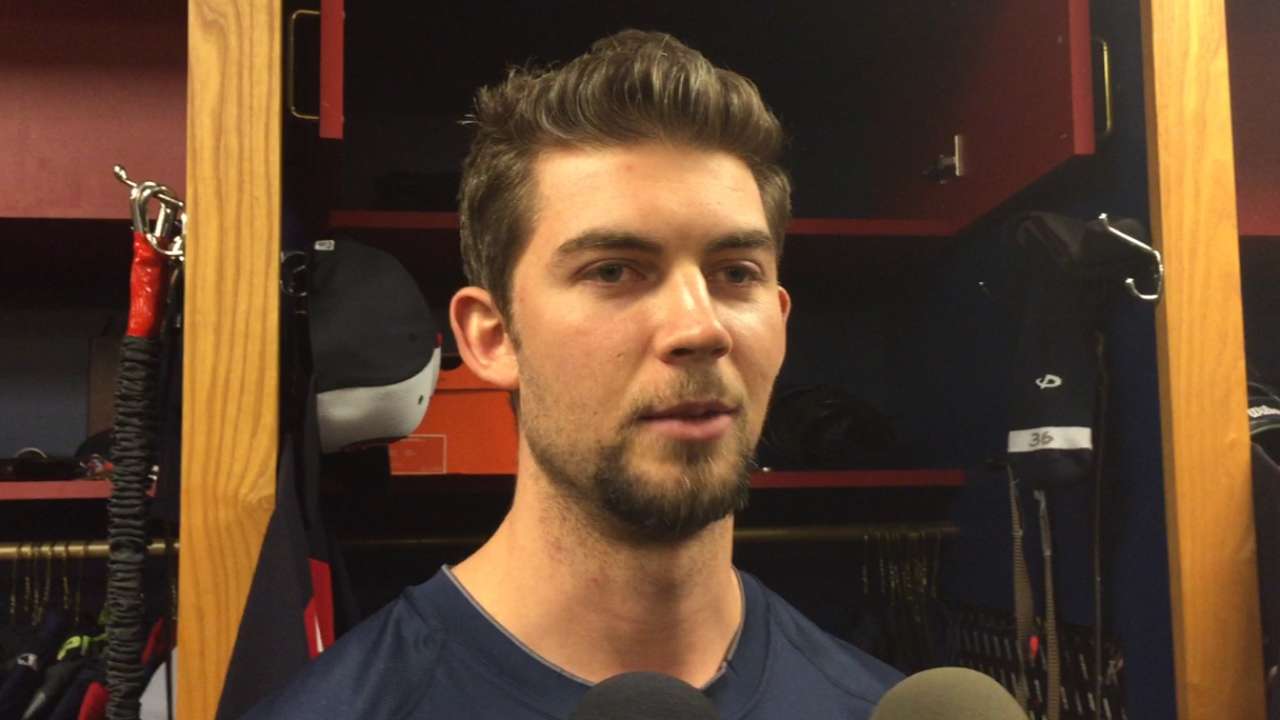 LAKE BUENA VISTA, Fla. -- Shortly after completing his workout at ESPN Wide World of Sports complex on Friday morning, Mike Minor learned he won his arbitration case against the Braves. But the left-hander was every bit as excited about the fact that he has distanced himself from the left shoulder ailment that began plaguing him around this same time last year.
An arbitrator who heard Thursday's hearing in St. Petersburg awarded Minor the $5.6 million salary that he was seeking. The Braves had offered $5.1 million.
"During the case, it gets heated a little bit," Minor said. "But at the end, everybody knows it's business. The club is doing what it can to save some money, and I'm trying to get more money. So, it's just business."
This marked the first time the Braves experienced an arbitration hearing since winning their 2001 case against John Rocker.
Because he compiled enough service time to qualify as a Super Two player, Minor is entering the second of four arbitration-eligible seasons. He made $3.85 million last year while posting a 4.77 ERA in 25 starts.
Minor underwent a Dec. 31, 2013 urinary tract procedure that left him sedentary for approximately one month, and he developed left shoulder discomfort when he accelerated his 2014 preseason preparations after that. The lefty was shut down during the first week of Spring Training and never found consistent comfort after making his regular-season debut in early May.
While throwing over the past two months and completing regular bullpen sessions over the past few weeks, Minor has not experienced any lingering problems with his shoulder. He said he will not be limited whatsoever when Braves pitchers and catchers hold their first workout on Saturday morning.
"Last year, I felt weak, I felt rushed, I felt behind and all of those emotions of coming in here and not really being able to do anything," Minor said. "This year, I feel like I've had a good offseason. I've been throwing bullpens, working out and doing all the right things. So it feels more normal coming in here."
Minor went 20-13 with a 2.90 ERA in the 47 starts he made from July 1, 2012 through the end of the 2013 season. Clayton Kershaw and Cliff Lee were the only left-handers to post a better ERA than Minor during that span.
Mark Bowman is a reporter for MLB.com. This story was not subject to the approval of Major League Baseball or its clubs.