Catcher Norris getting ahead of the curve
Former A's backstop spent offseason studying video of Padres' staff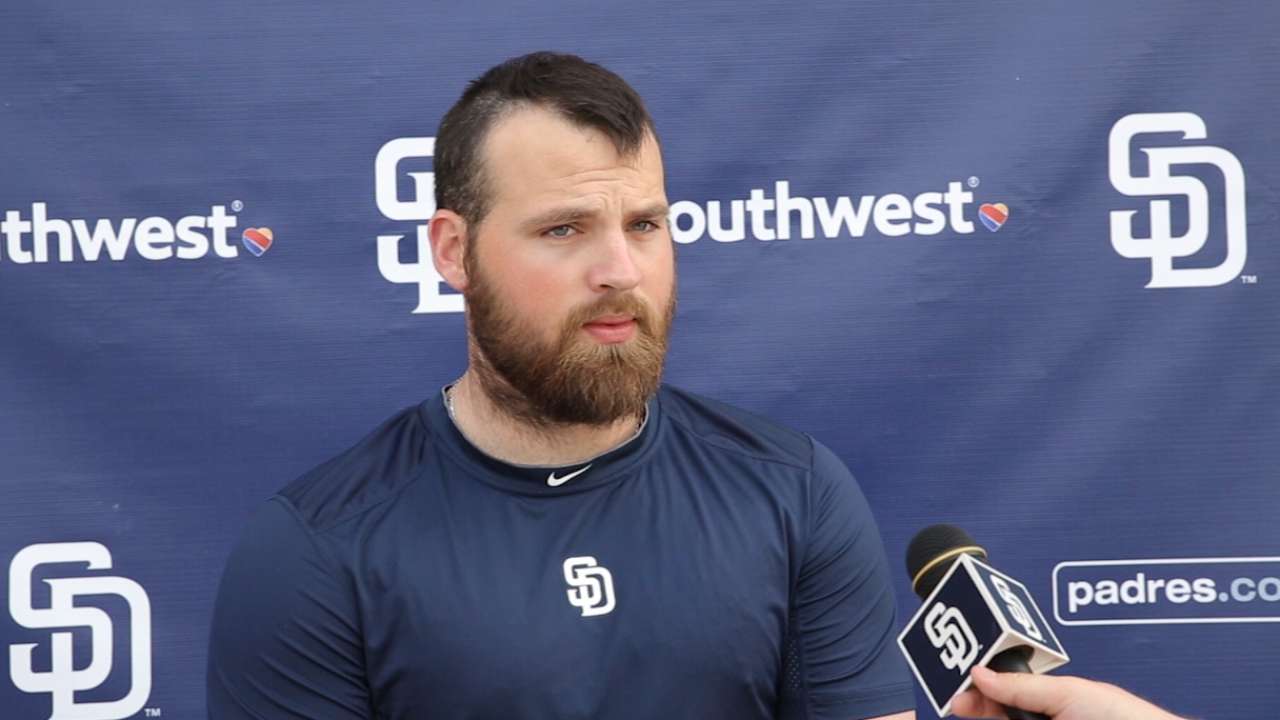 PEORIA, Ariz. -- Derek Norris caught his first bullpen session on Friday, though the Padres' new catcher didn't feel completely blind in terms of working with a new staff.
Norris, acquired from the A's in December, got a head start this offseason in learning about the pitchers that he'll be catching this season -- and he didn't have to strap on the tools of ignorance to do so.
"The great thing about modern technology is I've got all of these guys on my iPad already," Norris said.
On those cold and wintry days and nights in his hometown of Wichita, Kan., Norris often found himself studying the staff he'll be charged with, as he will handle the main catching duties after the Padres traded Rene Rivera (Rays) and Yasmani Grandal (Dodgers) this winter.
What was Norris specifically looking for?
"I watched their outings from last year, looking at their stuff, seeing what they like to do," he said. "And [asked myself], 'When push comes to shove, does he like to throw a heater at 95 [mph]? Does he like a changeup on the outside corner?' Going through that process, I learned a lot."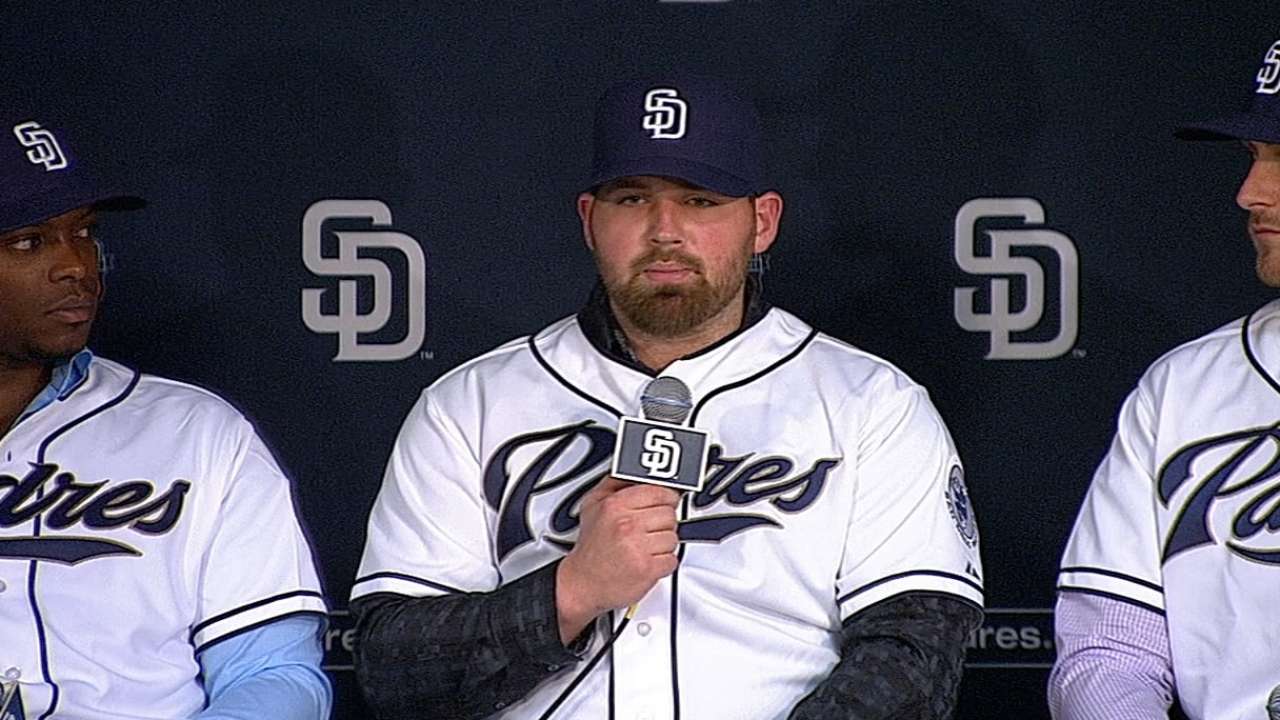 The pitcher-catcher relationship is one Norris, 26, takes very seriously. During his three seasons with the A's, he devoted extra time to learning as much as he could about the staff: big things, little things, subtle nuances. The process reveals a lot, he said.
Norris arrived in Peoria about two weeks ago -- not just to escape the Kansas cold, but to work on his swing so that when camp started in earnest with Friday's first workout, he could devote more time to learning the staff.
"I want to be ahead of the curve so I can pick these guys' brains when I'm catching their bullpens," he said. "I want to make sure I'm on top of my game."
This will no doubt resonate well with his new manager, Bud Black. A former pitcher, Black has said in the past that he's tough on catchers, mostly because he understands how important that synergy can be.
Recalling his own experience as a pitcher, Black said he wants to know, "Does this catcher truly care about me?"
It didn't take Norris long during his video sessions to see what he knew already about the Padres' staff -- that has some dynamic arms in James Shields, Andrew Cashner, Tyson Ross and Ian Kennedy, among some power arms in the back end of the bullpen.
Norris said his video study reveals a lot and provides some perspective on how he can help pitchers moving forward in 2015.
"I watched Cashner against the Dodgers on Opening Day [in 2014]," Norris said. "What's he like day one? He's pumping 95, 96 [mph]. Where did he get in trouble? Which one of these guys gave him trouble? Why did he give him trouble? Could he have thrown on the inner half to open up the outside slider?
"It's taking some of the great things they did and putting my mold on it to see if we can do things a little better."
Corey Brock is a reporter for MLB.com. Keep track of @FollowThePadres on Twitter. This story was not subject to the approval of Major League Baseball or its clubs.