Backe reflects on career, '05 Astros' World Series run
Former postseason hero recalls most successful team in Houston franchise history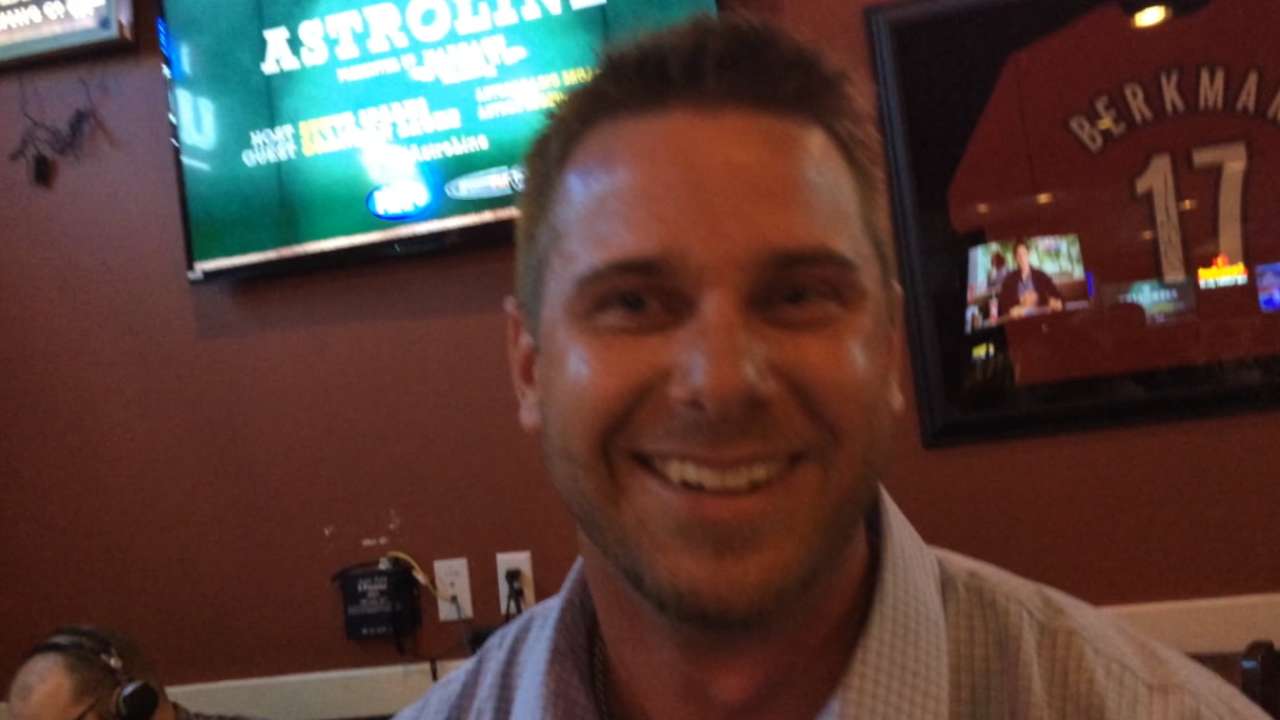 HOUSTON -- The fact that the Houston Astros were the first Texas team to win a Major League pennant when they clinched the National League crown in 2005 comes up from time to time as a source of pride for the players who were involved with it. Craig Biggio, for example, mentioned it during his first public comments after being elected to the Hall of Fame in January. It was also talked about a lot in the initial weeks and months following the Astros' appearance in the World Series.
Native Texans take special pride in this as well, including one energetic Type-A pitcher from that era who in many ways came to define the fearless underdog Astros that made it further into the postseason than any team in their history. While Brandon Backe's career wasn't as decorated as some of his teammates from the 2004 and '05 teams, his contributions during those years haven't been forgotten. That's mainly because he seemed to be in the middle of many of the heart-stopping moments as the Astros made their way through October, twice.
"Being a Houston native all my life and an Astros fan, having a big part in us getting to the World Series and making that first World Series in Texas happen, I take great pride in that," Backe said.
Speaking from an appearance Thursday night on the club's offseason radio show,"Astroline," Backe spoke enthusiastically about the season-long celebration the Astros have planned this year to commemorate the 2005 pennant-winning club. Reunion week will take place August 14 and 15, with the 15th designated as the day the 2005 World Series 25-man roster will gather on the field to salute -- and be saluted by -- the Minute Maid Park crowd.
The 2005 season will be the highlight, but the 2004 season -- during which they made it to Game 7 of the NL Championship Series before losing to the Cardinals -- is equally as revered by Astros fans. They fell short of the World Series, but it was significant in so many ways. It was the first time they got past the Braves in the NL Division Series, on their fourth try. It was the first time the franchise had won a postseason series.
Right in the middle of it was Backe, who pitched the game that clinched the Wild Card spot on about 90 minutes' notice when Roger Clemens was knocked out by the flu. Two weeks later, Backe was knee-deep in a showdown with Cardinals right-hander Woody Williams in a pivotal Game 5 of the NLCS, allowing one hit over eight innings in a game that ended with Jeff Kent's walk-off three-run homer.
Backe's grit made him hugely popular in these parts. It didn't hurt that he grew up in Galveston as a lifelong Astros fan and his heroes were Biggio and Jeff Bagwell, who both reached the big leagues right around the same time Backe was entering his teenage years.
Backe attended Biggio's Hall of Fame news conference in Houston and told him exactly what he meant to him.
"They were a big influence on my success as a kid," Backe said. "[Biggio] had a huge impact on me and my career. And all of my friends around me, he had a huge impact on them. I saw it, even if he didn't. He probably feels it and it's pretty much understood, but it's always nice to hear. I just wanted him to know that."
Backe learned from all of his idols during his time with the Astros. In addition to Biggio and Bagwell, he had two pitching teammates -- and fellow Texans -- to look up to as well. Backe wonders if his successes those years would have happened if not for the tutelage of Clemens and Andy Pettitte.
"I think ultimately in those two or three years that Pettitte and Clemens were there, they taught me a lot about being a professional, having a routine and sticking to it," Backe said. "I think it helped me compete and play the way I did during those years, especially in the '05 season."
Five years into retirement, Backe runs a baseball academy in League City, works in sales for an industrial construction company and is raising two boys, ages 3 and 18 months, with his wife, Dana.
He's still recognized from time to time, and he appreciates the mark he made on Astros fans from a generation ago.
"They knew what they were going to get from me, because I wore it on my sleeve," Backe said. "That's what I hear from fans these days that recognize me -- 'Man, I loved the way you played.' I think ultimately as any athlete, no matter what sport you're in, to be recognized for how you played and not for anything negative, is the greatest compliment you can get. I hold it dear to my heart."
Alyson Footer is a national correspondent for MLB.com. Follow her on Twitter @alysonfooter. This story was not subject to the approval of Major League Baseball or its clubs.