Cautious Fernandez could throw off mound by March 1
Unsure when he'll debut in 2015, Marlins ace feeling good in rehab from Tommy John surgery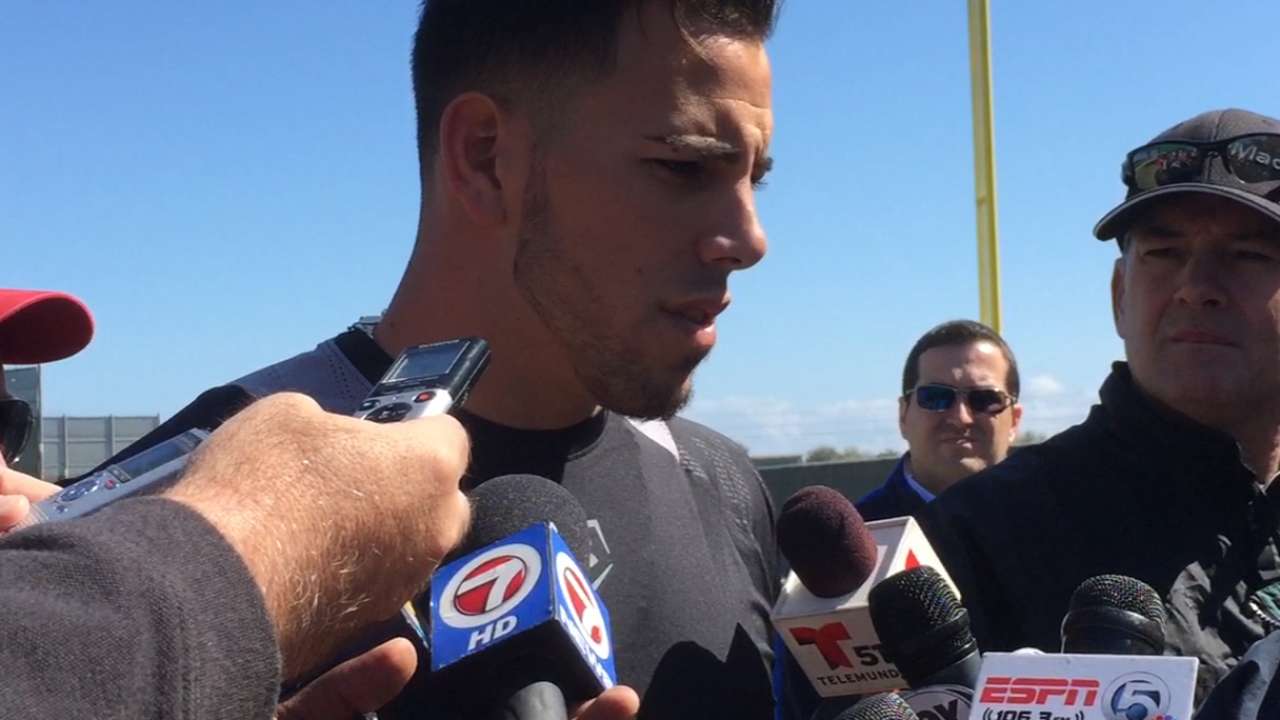 JUPITER, Fla. -- Jose Fernandez continues to play catch every day, but when it comes to his return from Tommy John surgery, the Marlins' ace is playing it smart.
Fernandez and the Marlins are approaching the comeback cautiously. The 22-year-old remains on his long-toss throwing schedule, and he could be tossing off a mound as early as March 1.
"I want to pitch tomorrow in the big leagues. Are you kidding me?" Fernandez said. "I want to go out there and pitch tomorrow. That's just who I am. I think you have to be smart."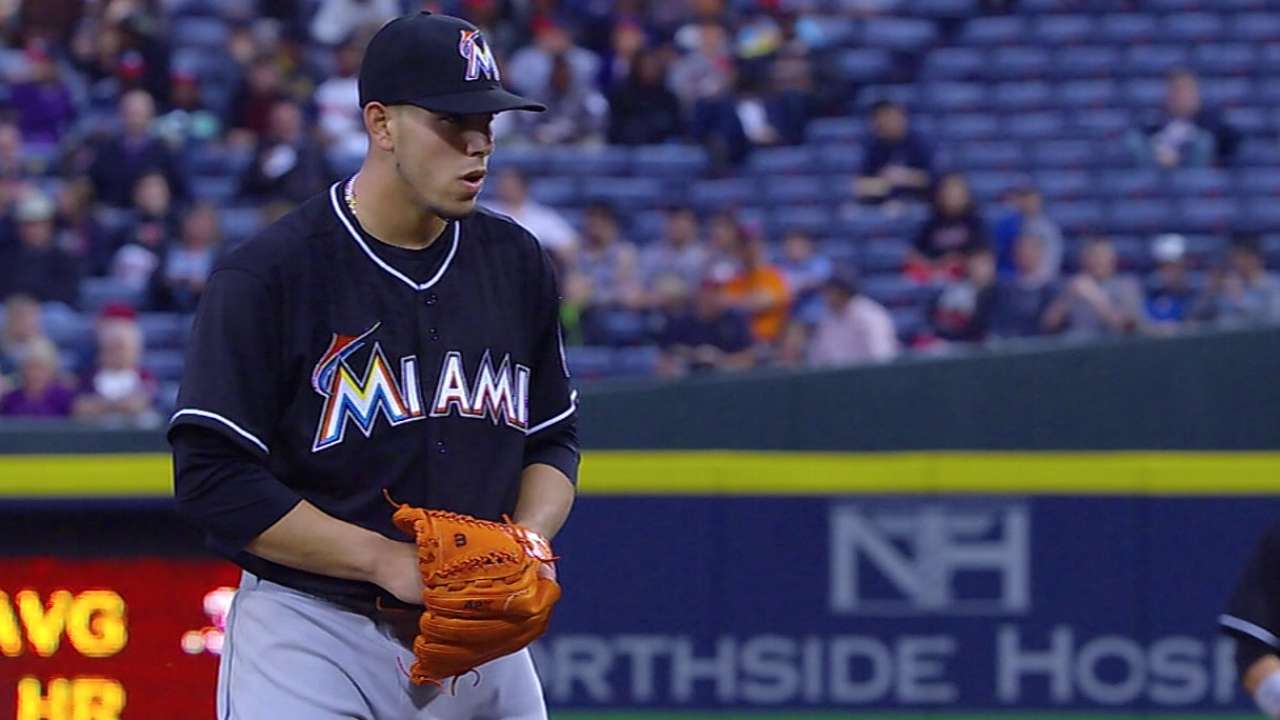 Fernandez has maintained his sense of responsibility since he had surgery to repair his torn right elbow ligament last May 16. Barring any setbacks, he could join Miami between June 15-July 15.
"Who knows when I'm going to come back?" Fernandez said. "That depends on how I feel. We really are not going to have a day until probably like five days before that start. We just have to follow a plan. Everything depends on how I'm feeling. We're going to go like that."
More immediately, Fernandez is advancing his throwing program, which started Oct. 1. He currently is tossing as far as 150 feet on flat ground. Fernandez is also started spinning some of his breaking pitches.
"I started to throw breaking balls this week," he said. "So far, I'm feeling really good."
The Marlins have 32 pitchers in camp. But Fernandez is on his own separate program. If all goes well, he says he will be on the mound the first week of March.
"It's around nine, 10 days [from now]," Fernandez said. "Somewhere around there. We're following everything really closely. So far, there hasn't been any discomfort, any setbacks. I've been feeling great so far."
The 2013 National League Rookie of the Year Award winner, Fernandez made just eight starts in 2014, going 4-2 with a 2.44 ERA. The hard-throwing right-hander struck out 70 in 51 2/3 innings.
"We don't want him 98 percent, we want him 100 percent," veteran Mat Latos said he told Fernandez. "Take your time. ... Come back when you're good and ready."
Miami's projected rotation is Henderson Alvarez, Latos, Jarred Cosart, Dan Haren and either Tom Koehler, Brad Hand or David Phelps.
With all the upgrades the team has made, Fernandez sees no reason why the Marlins can't contend.
"I think we have a winning team," Fernandez said. "I think we have a playoff team. The only thing that we need is we need health. We need to play 100 percent like we did last year, every game.
"The fans deserve that. All the players deserve that. The coaches deserve that, because we're all a team."
Joe Frisaro is a reporter for MLB.com. He writes a blog, called The Fish Pond. Follow him on Twitter @JoeFrisaro. This story was not subject to the approval of Major League Baseball or its clubs.