MLB.com Columnist
Terence Moore
Aaron worthy of a second statue at Braves' new ballpark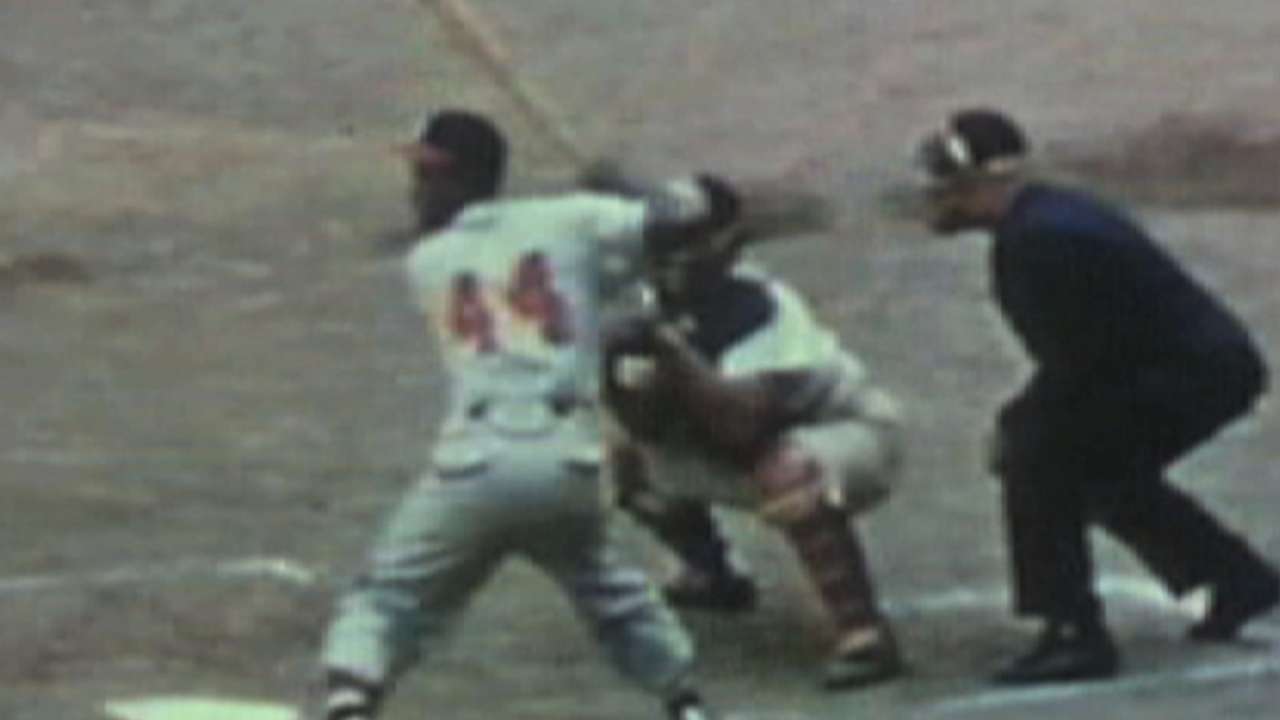 Throughout northern Georgia, there is a debate percolating toward a boil over what to do with the Hank Aaron statue at Turner Field. Does it remain at its present location in downtown Atlanta, or do you move it to a northern suburb with the Braves when they open their new ballpark in 2017?
To me, there is no debate.
Why not two Aaron statues?
End of debate.
Let's start with some perspective. Outside of Martin Luther King Jr., Aaron did as much as anybody to integrate Atlanta. This goes back to 1966, when a talented Braves team moved to town from Milwaukee, with an African-American from Mobile, Ala., as its star among stars. Suddenly, professional sports was in the largest city in the South for the first time ever. Not only that, courtesy of his classy nature and his penchant for slamming home runs, Aaron went from huge nationally to otherworldly in the minds of locals.
We're talking about black and white locals. For verification, we have the recollections of Andrew Young, the former Atlanta mayor who was a top lieutenant of Dr. King and the U.S. Ambassador to the United Nations. Young told me recently, "When the Braves came to Atlanta with Hank Aaron, it was the first time you saw blacks and whites sitting together in a social setting on a consistent basis. He made it acceptable, because they all were at a ballgame, cheering for the same cause. He, along with the Braves, made Atlanta a big league city, and nobody took us seriously until that happened.
"Starting with Hank and that move, the course was set for the southeast to become the future of the country. We had Maynard Jackson (as Atlanta's first African-American) mayor. We had MARTA (as a new public transportation system for the area). We grew from there, right up to the coming of the Olympics to Atlanta, and we've been on a roll ever since."
All of those things involved Atlanta, by the way. In addition, there was the building of Atlanta Fulton-County Stadium for the Braves, and the city eventually got an NFL team called the Falcons. After the Olympics came and went in 1996, the stadium that held the opening and closing ceremonies among other things was converted into Turner Field. That's Turner Field, as in the ballpark located on Hank Aaron Drive. The fanciest room in the place for events is called the 755 Club in honor of Aaron's career home run total. Atlanta Fulton-County Stadium was located close to the center of town, and Turner Field was built across the street from the old place.
See a pattern here involving Aaron and the "Atlanta" Braves?
Atlanta, Atlanta, Atlanta.
Before we get too far ahead of ourselves, let's return to April of 1974, when Aaron made baseball history at Atlanta Fulton-County Stadium. There, before a nationally televised audience, he broke Babe Ruth's all-time record for lifetime homers with No. 715. Eight years later, former Braves public relations man Bob Hope decided Atlanta needed to commemorate Aaron's contributions to baseball in general and to the city in particular with a statue.
Hope formed a non-profit organization to seek money from the public, and the Atlanta Journal-Constitution agreed to match donations. He told the paper last week that 527 folks contributed to the project . He added that the average contribution was $200. He also told the paper that iconic people in the state such as former University of Georgia football coach Vince Dooley and former U.S. Senator Sam Nunn each gave $5,000. Then he mentioned the grand total for the statue was between $120,000 to $130,000.
So, with the help of funds mostly from Atlantans, a bigger-than-life statue of Aaron was erected in bronze in 1982 outside of Atlanta-Fulton County Stadium, and it was moved across the street for Turner Field.
Keep that statue where it is.
That statue honors the Aaron of Atlanta-Fulton County Stadium, the Aaron of Turner Field (courtesy of that street and that banquet room) and the Aaron of Atlanta, period. His highly successful Chasing The Dream foundation is a non-profit business based in Atlanta, where it gives thousands of dollars for college scholarship to youth across the country. In addition, Aaron and his wife, Billye, have spent decades in their southwest Atlanta home.
That said, Aaron always will be the eternal face of the Braves, and he remains an executive with the team. So, after the Braves finish building their new place 15 miles north in Cobb County, where they plan to have shopping, eating and housing areas surrounding the ballpark, they should have something else ready to place on the premises.
A brand-new Aaron statue.
Just like the current Aaron statue at Turner Field, the new Aaron statue also should be bigger-than-life in bronze.
The bottom line is, you can't have enough Aaron statues. There is the one outside of Miller Park in Milwaukee, where the Brewers call home. Aaron finished his last couple of years as a player with the Brewers, and remember: He spent his first 12 seasons in the Major Leagues with the Milwaukee Braves. There also is that Aaron statue in Eau Claire, Wis., where he began his professional baseball career in the Minor Leagues as a shortstop.
In Mobile, the Double-A Mobile BayBears play in Hank Aaron Stadium, featuring his boyhood home, which was moved next door to the place. There is no Aaron statue in Mobile, but that combination of the ballpark, his boyhood home and Hank Aaron Museum is the ultimate statue.
So two Aaron statues involving the Braves?
Makes perfect sense.
Terence Moore has covered a variety of sports for more than three decades and contributes columns to MLB.com.
This story was not subject to the approval of Major League Baseball or its clubs.