MLB.com Columnist
Jonathan Mayo
Pipeline Inbox: Top international signings of 2013?
Jonathan Mayo responds to fans' questions about baseball's top future stars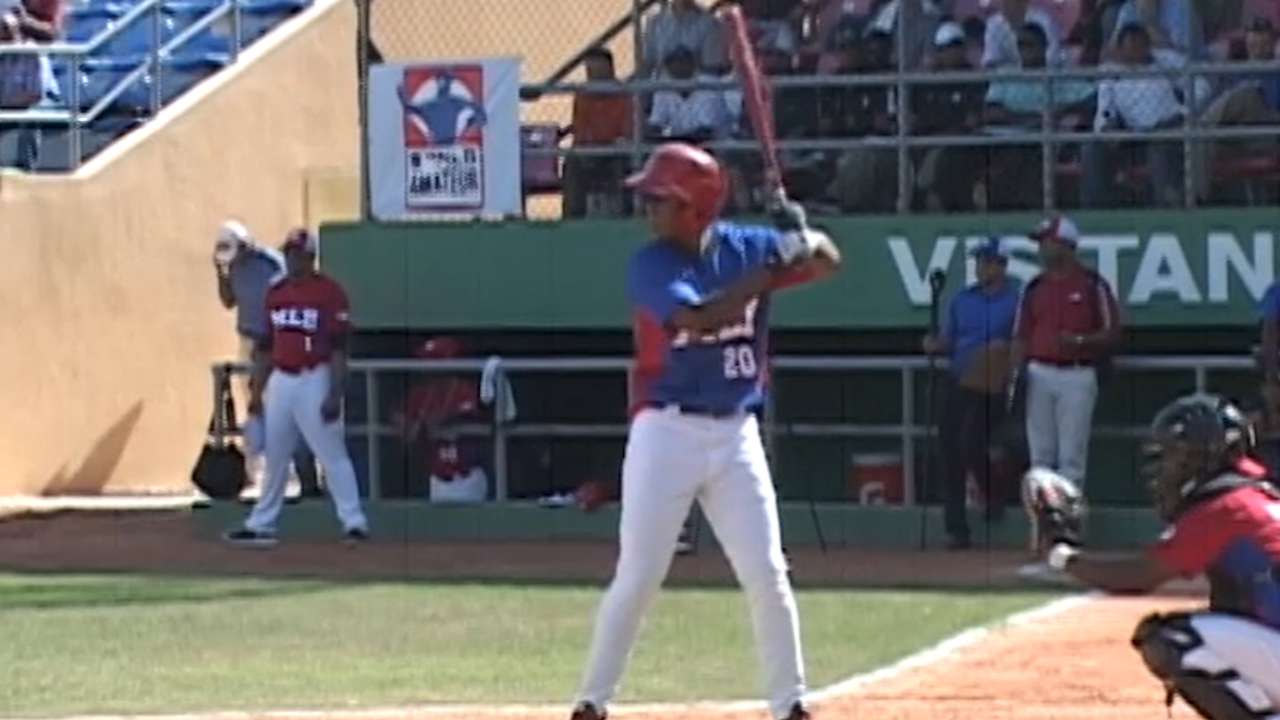 What teenage international signing(s) from 2013 excited you most with their first pro season in 2014?
-- David B., St. Paul, Minn.
With all of the hullabaloo surrounding Yoan Moncada, I thought it fitting to talk about international signings. And with this question, we can talk about guy(s) who have actually already signed and played. Novel idea, no?
Any answer to this question has to be accompanied by a fairly large caveat. Many players from the 2013 signing period haven't even made their United States debuts yet. And if they did, they're still a long way from making an impact. So much can happen, positively and negatively, with these teenagers, that the best players that will come out of this group may very well have yet to make any kind of statement. Conversely, those who started off well could very well fizzle.
Click here to submit an Inbox question
OK, that's out of the way. I think there are two names that really jump out. The first is Rafael Devers of the Red Sox, the clear winner of your question. Signed for $1.5 million out of the Dominican Republic, Devers got off to such a strong start that he's already on our Top 100 Prospects list. The left-handed-hitting third baseman began the year in the Dominican Summer League, but after hitting .337/.445/.538 in 28 games, Boston felt comfortable with sending him to the States and the Gulf Coast League, way ahead of schedule. Devers kept on hitting, with a .312/.374/.484 line in 42 games. Keep in mind this was all at age 17. Watching what he does for an encore at age 18, in his first full year in the U.S., should be exciting.
I'll give a quick runner-up to Michael De Leon of the Rangers. He's not the "wow" kind of toolsy prospect that Devers is, but the Dominican shortstop who signed for $550,000 held his own playing in full-season ball at age 17, taking advantage of playing opportunities. De Leon even competed well in the Arizona Fall League as the youngest player in that league's history. He's more steady than spectacular, but he's way ahead of the curve.
What are the chances Delino DeShields is motivated and will make Rangers? Can he make an impact?
-- James, Dallas
One interesting subplot of every Spring Training is whether any Rule 5 Draft picks will make enough of an impression to stick with their new teams on the big league roster.
DeShields was one of the "bigger" names taken in last December's Rule 5 Draft, partially because of the big league bloodlines and partially because he once was a highly-thought of prospect who was in the Top 100 in the past.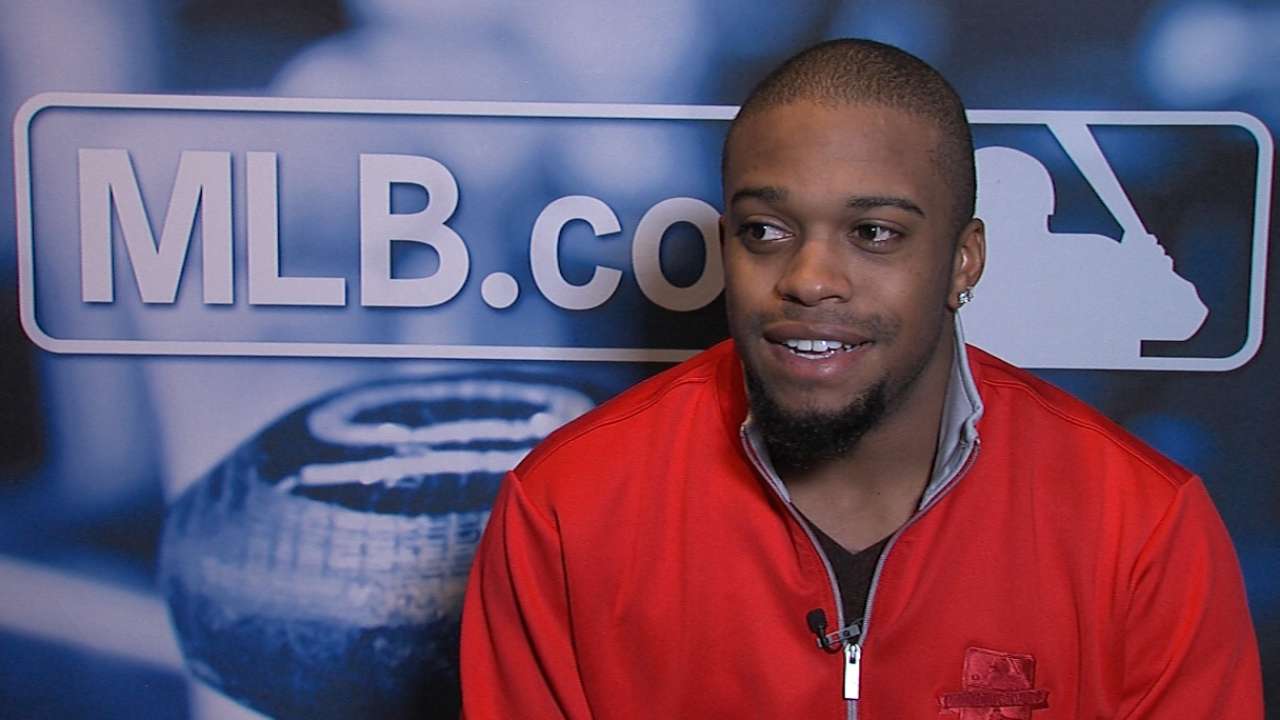 DeShields' best tool is his speed, and it's legit. He can steal bases at any level. The fact that DeShields can play the outfield and maybe return to second base a little bit will help him, as flexibility is always a plus for a Rule 5 Draft guy. Whether he's motivated may not matter, if there's no space for him. I know there's been talk about DeShields' lack of effort at times, but I also see a guy who came back in a hurry after being hit in the face last year. I think the Rangers will get his best, and yes, I think it will be enough for him to stick. DeShields' legs alone should allow him to make an impact.
Do you believe Braves are on the right track in the rebuilding phase?
-- Tyler B., Oxford, Miss.
I thought about letting Jim Callis answer this question in the future, since he did tout the Braves as having acquired the most offseason prospect talent in our most recent Pipeline Perspectives. But even though I picked the Rays, I still think the Braves have done a lot of good work in restocking the farm system.
Yes, Atlanta gave up some big league talent. But it was big league talent that led to a 79-83 record last year. The slew of trades by John Hart, as Callis points out, has brought in 12 players who will be on the Braves' Top 30 list released in March. A dozen new prospects is a huge haul, especially when it's led by a Top 100 player in Mike Foltynewicz, a former Top 100 pitcher in Max Fried, who could easily climb back on the list post-Tommy John surgery, and third baseman Rio Ruiz, on our Top 10 third basemen list, and the hitter I touted as being the best bat not on the Top 100 currently.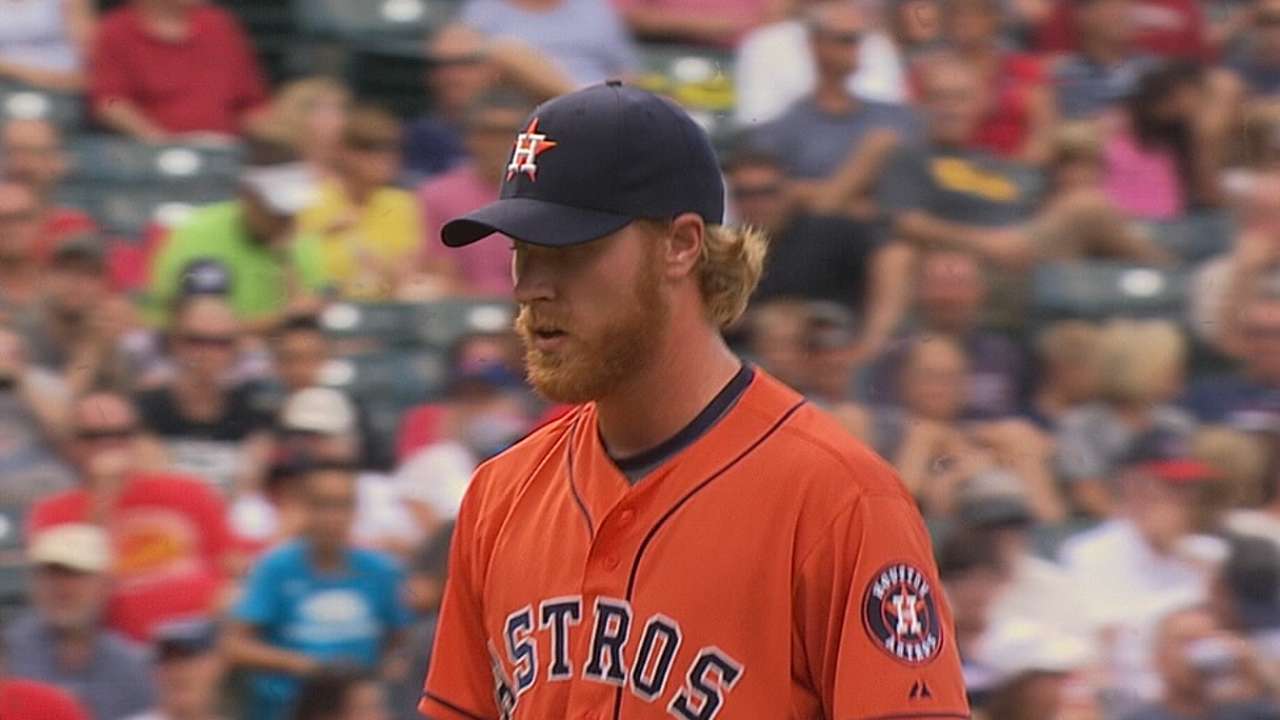 That's just the tip of the iceberg. The Braves not only added high-end talent, they added a ton of depth, infusing a system that sorely needed it. That's the biggest reason why I think they're on the right track.
Will Micah Johnson and Carlos Sanchez prevent Gordon Beckham from getting 300-400 AB? Please say yes.
-- Johnny P., Chicago
OK, yes. Next question ...
It'll be a fun competition to watch, that's for sure. Throw in Emilio Bonifacio while you're at it. There are a couple of things to consider with this. One is the positional flexibility many have here. Beckham showed an ability to defend at multiple positions last year. Sanchez has moved around for much of his pro career and had a nice bounce-back season with the bat in 2014. Bonifacio plays the outfield, too, and brings speed to the table. So does Johnson, who is hamstrung by being a second baseman only, as well as not currently being on the 40-man roster.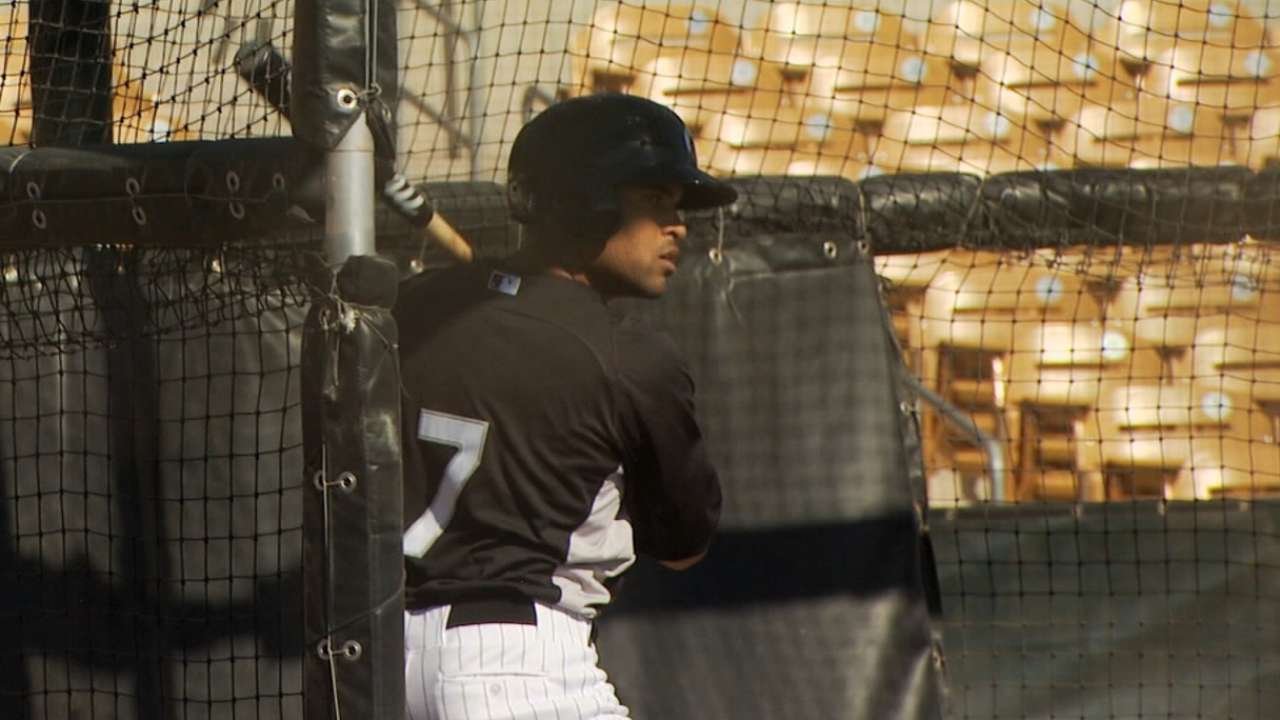 So, actually, when I think about it, the answer to your question is probably no. Even if one of the other players settles in as the regular at second, Beckham could move around enough to pick up the 300-plus at-bats you're hoping to avoid.
Jonathan Mayo is a reporter for MLBPipeline.com and writes a blog, B3. Follow @JonathanMayoB3 on Twitter. This story was not subject to the approval of Major League Baseball or its clubs.