MLB.com Columnist
Barry M. Bloom
Friedman still in 'reactive' mode with Dodgers
President of baseball operations will take next six weeks to figure out bullpen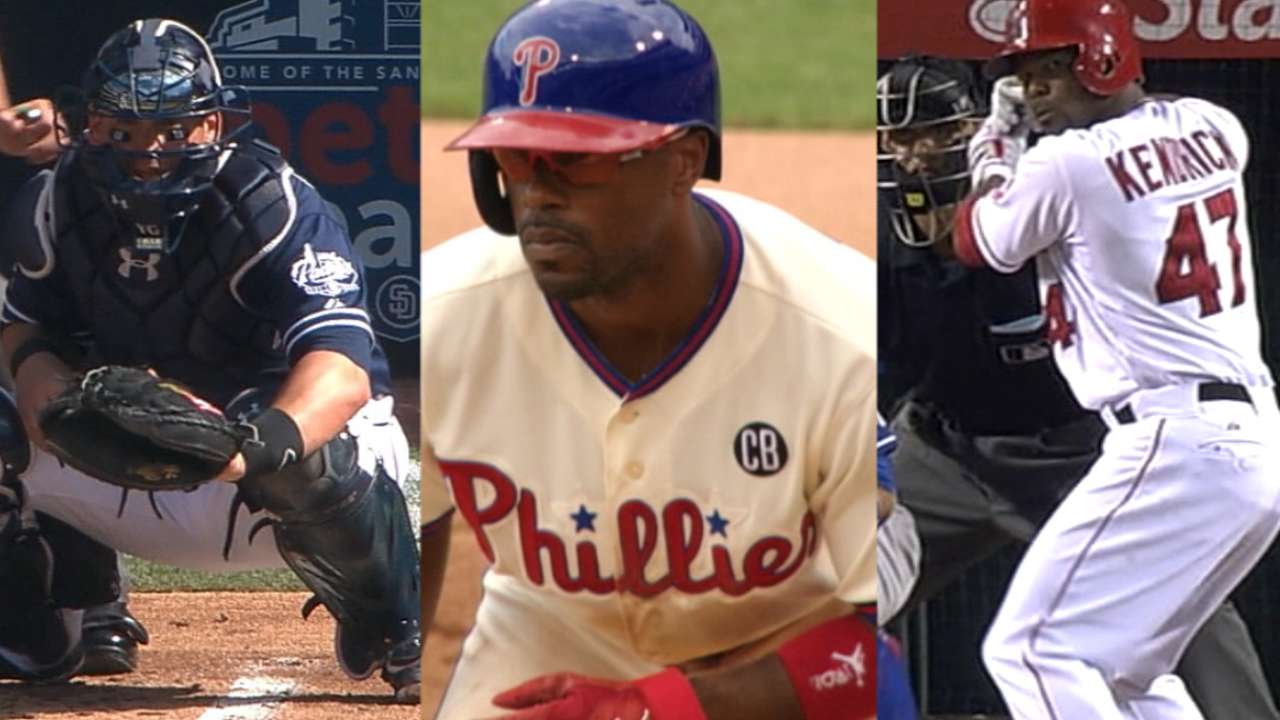 GLENDALE, Ariz. -- Andrew Friedman's first spring with the Dodgers began in earnest Thursday on a veranda of the club's offices at Camelback Ranch as the new president of baseball operations took his seat at a news conference together with incumbent manager Don Mattingly for the first time. The pair has spoken incessantly during Friedman's first offseason away from Tampa Bay, but not as a joint venture to the media.
Friedman joked about sitting on a high metal chair, looking down at the dozen or so reporters, the ballpark looming over his shoulder in the background. But he was dead serious about remaining in a stiff learning curve about the National League in general, and the Dodgers in particular. He said he's been in a "reactive" mode since leaving the Rays for the West Coast to replace Ned Colletti this past Oct. 14.
"It's been like an out-of-body experience," Friedman said. "So much of my winter has been reacting. I'm getting to know our guys a lot better. I'm looking forward to getting to know the guys in the NL West a lot better. I have some catching up to do as far as appreciating the players in this division. There are a lot of things I don't have a good feel for right now as I will a year from now."
Front and center is the shape of the Dodgers' bullpen. Of all the moves Friedman made in the offseason, filling the gap between his staff of stellar starters to closer Kenley Jansen has been the most difficult. And before the first Spring Training practice pitch was even thrown, Jansen already has been sidelined for eight to 12 weeks after surgery on Tuesday to remove a growth of bone from his left foot.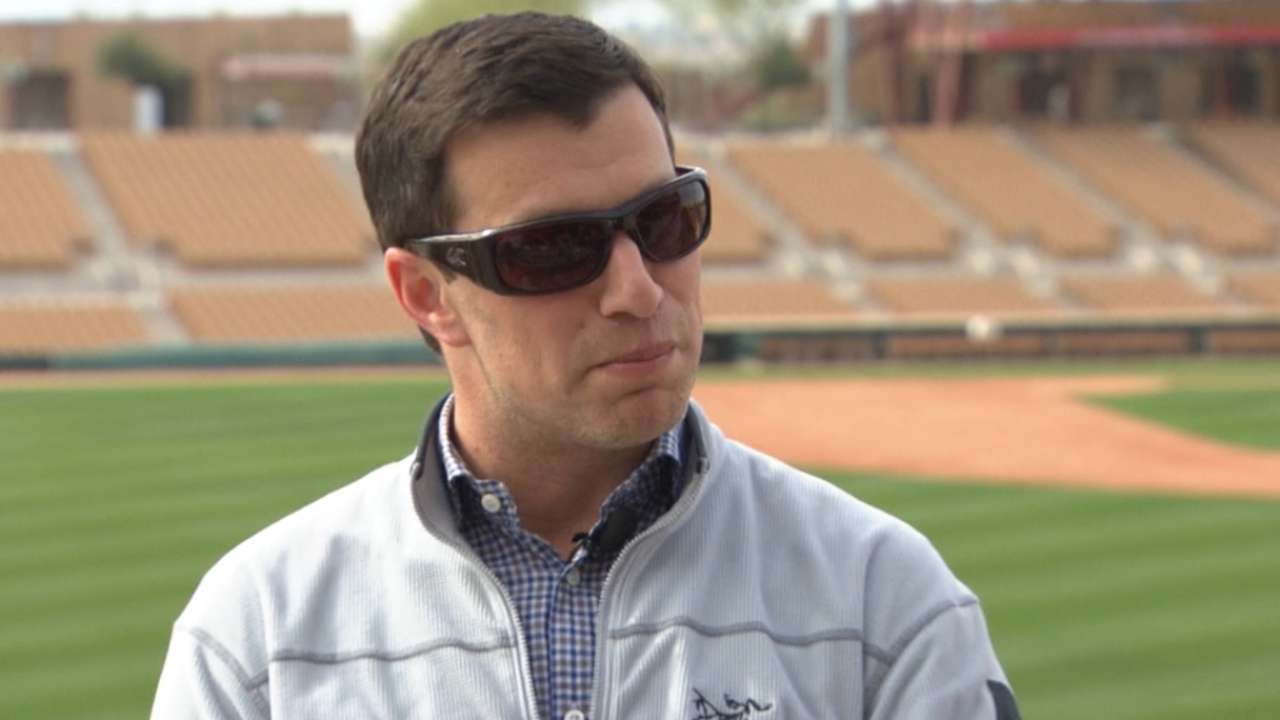 No one said it was going to be easy.
Friedman expects Jansen, who emerged as an elite closer this past season with 44 saves in 49 opportunities, to be back by mid-May, including any rehab period in the Minors building his arm and stamina into shape. That, of course, is a guesstimate.
Friedman added that he's been combing the 29 other clubs for trade opportunities and wouldn't completely discount the signing of a free agent like Rafael Soriano or Francisco Rodriguez, who's seeking $10 million for this season. But he's not inclined to do that right now.
"I'm not positive what we're going to do," Friedman said. "But we're going to take these six weeks to figure it out."
Friedman is reluctant to make a move now, because this is Jansen's prognosis: a unique one-time injury and the right-hander will be back in due course. Friedman isn't sure he wants multiples in the closer's slot, although he has it behind the plate with the addition of Yasmani Grandal from the Padres to veteran A.J. Ellis, plus all those extra bodies in the outfield even with the trade of Matt Kemp.
It is doubtful anyway that either Soriano or K-Rod would sign with the Dodgers knowing that the closer's job could eventually shift to Jansen, or not. Depth can't be a bad thing. Friedman cleared that hurdle last offseason when he traded for Heath Bell and signed Grant Balfour to instantly rebuild the Rays' bullpen. In the end, Jake McGee was the closer.
"Every year at the end of Spring Training, people ask me if I feel good about my bullpen, and I never do," Friedman said. "It's incredibly volatile by nature, so I think the best way to have success out there is to have as many options as you can and to have as much depth as you can have. I promise you that by the end of the year, there are going to be guys who have tremendous years that aren't necessarily on the radar this second."
The lack of a gap reliever is undoubtedly the primary reason why the Dodgers lost their NL Division Series this past October in four games to the Cardinals. Clayton Kershaw was all-everything during the regular season, but in Games 1 and 4, he tired when his pitch count reached the century mark in the seventh inning. The Cards scored eight times in the seventh of Game 1. In Game 4, Matt Adams followed a pair of singles with a three-run homer to win the series. No matter what Mattingly tried, it didn't work.
"Honestly, I had trouble going to get Clayton," Mattingly said. "It's hard to take Clayton Kershaw out of a game. When you make that decision, is there ever anybody in the bullpen who's going to give you a better chance?"
Last October, the answer for Mattingly was a resounding "no." He wasn't close enough to the end of the game to bring in Jansen, who saved Game 2 at Dodger Stadium, Los Angeles' only win of the postseason.
Now Mattingly doesn't even have that option. Without a temporary replacement for Jansen, that leaves Mattingly with the task of mixing and matching his relievers for at least the first six weeks of the regular season, which could certainly get away from the Dodgers during that period.
But there are certainly some options. As he was "reacting" in his first offseason with the Dodgers, Friedman jettisoned relievers Brian Wilson and Chris Perez, adding Joel Peralta, Chris Hatcher and Juan Nicasio. Perhaps Brandon League can return to his old form of 2011, when he saved 37 games for the Mariners. Or perhaps someone else steps into the breach.
"Having a good bullpen is obviously a key to a team's success," Friedman said. "I just don't know if there's any clear cut way to do it."
As he said, the Dodgers have six weeks to figure it out. And that's the way Friedman's first spring with the Dodgers began.
Barry M. Bloom is a national reporter for MLB.com and writes an MLBlog, Boomskie on Baseball. Follow @boomskie on Twitter. This story was not subject to the approval of Major League Baseball or its clubs.