Melvin: A's 'excited' about having Zito in camp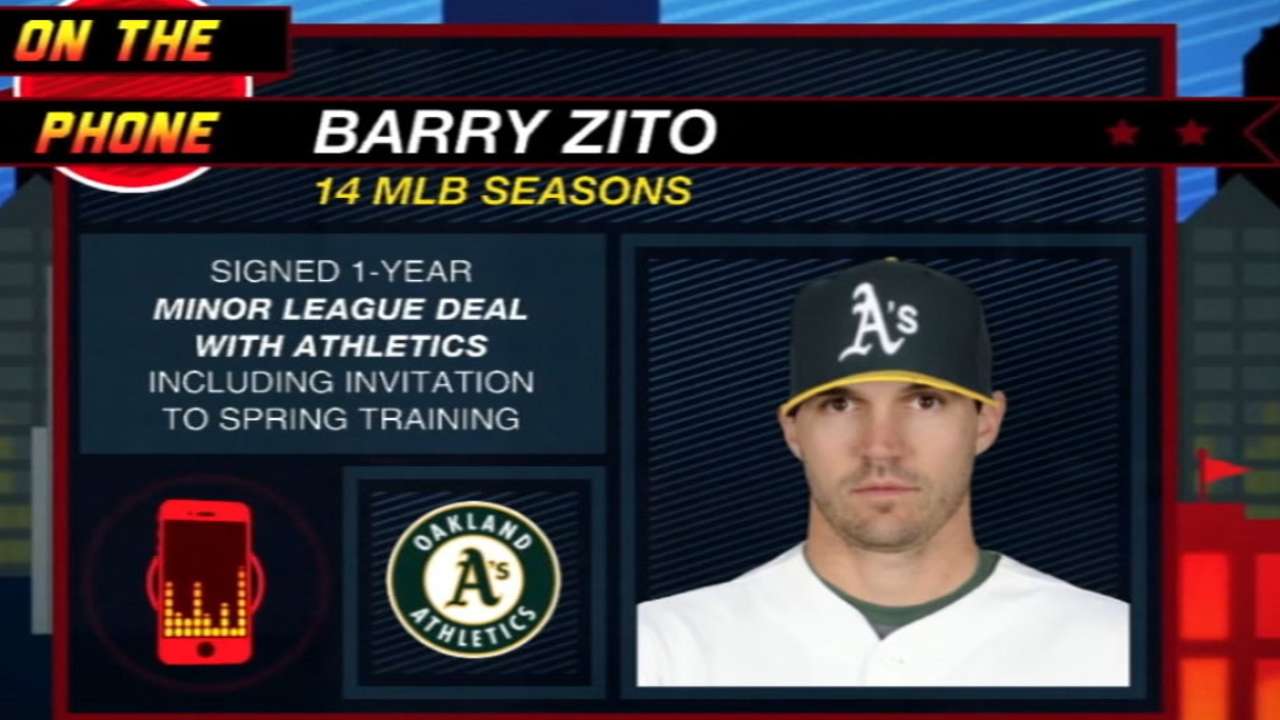 MESA, Ariz. -- A's manager Bob Melvin has penciled in Barry Zito for one Cactus League start. The comeback hopeful will have to earn a second, though.
Even before Zito inked a Minor League deal with the A's, the club that drafted him in the first round 16 years ago, Oakland already had six candidates vying for three open rotation spots behind Sonny Gray and Scott Kazmir.
"You don't bring a guy into camp if there's no shot," said Melvin. "Now, there are a lot of young guys here we like, but it's always nice to have a veteran guy who still has the passion and desire.
"I caught the tail end of his [bullpen session] a couple days ago. He looked good. You know he's going to be in good shape. You know he's a great resource for some of the younger pitching we have here, and a guy that we brought in here to give him a chance and give him a look, and I know he's reinvigorated about his love for the game and passion for pitching, so we're excited about seeing him."
Zito ducked out of Hohokam Park following his physical exam on Thursday without speaking to media. He's already relayed to A's public relations officials his desire to limit such interactions so the spotlight can remain on his new teammates -- the group that general manager Billy Beane so carefully assembled this winter, while Zito was working in Houston with the same pitching instructor who helped reignite Kazmir's career.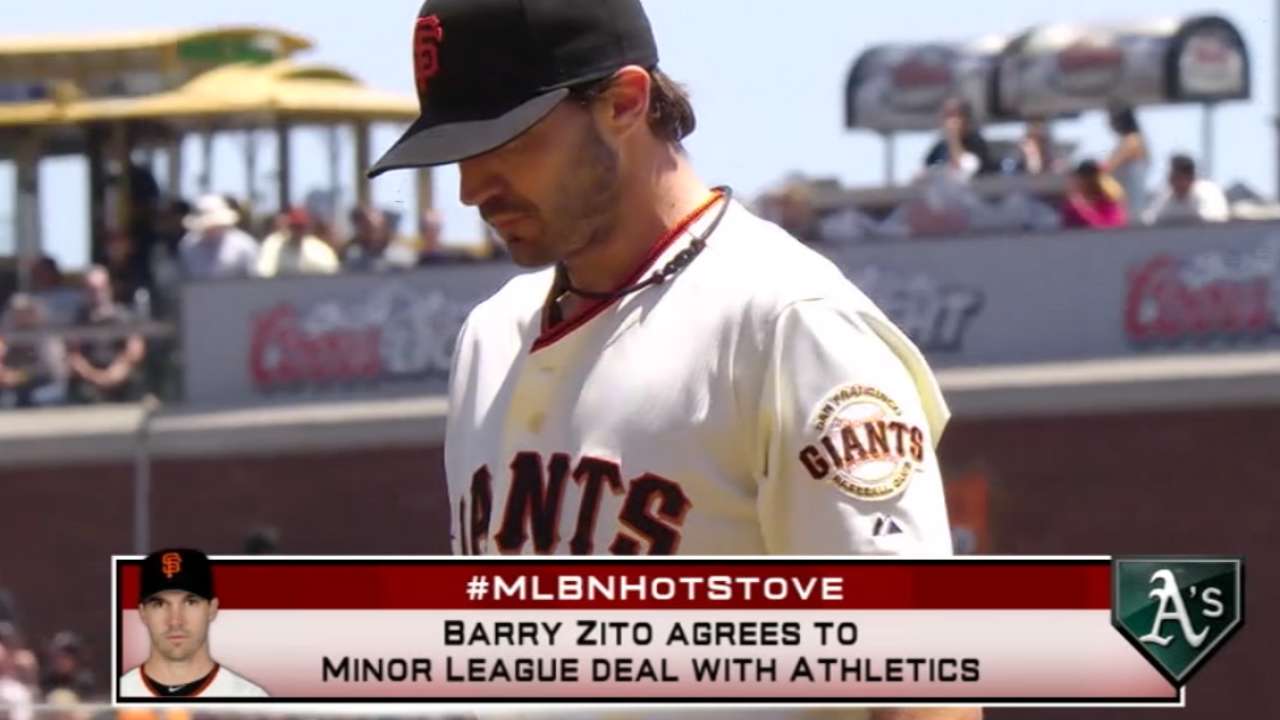 Come Friday, when pitchers and catchers gather for their first official workout, the 36-year-old Zito will don an A's uniform for the first time since 2006, when he crossed the Bay Bridge to sign a seven-year, $126 million deal with the Giants. He didn't pitch at all in 2014.
Zito was a three-time All-Star in Oakland and won the American League Cy Young Award in 2002, forming one-third of the "Big Three" pitching combo -- along with Tim Hudson and Mark Mulder -- that helped the A's to four consecutive postseason appearances from 2000-03.
"He took a year off and really feels reinvigorated about going out there and playing baseball for the love of the game," said Melvin. "We'll see how it all plays out. I know I have at least one start for him early on. Innings tend to dry up as camp goes along. We'll see where it goes. But we're excited about having him here."
Melvin did not rule out a relief role for Zito, who occasionally pitched out of the bullpen in San Francisco.
"I think anything's potential here," Melvin said. "I haven't even talked to him about that. I've talked to him some, but not really about what his workload is. But he's up for anything, so we'll see where it goes."
Jane Lee is a reporter for MLB.com. This story was not subject to the approval of Major League Baseball or its clubs.